AOL Real Estate - Blog
AOL Real Estate - Blog
Comparing a $13.9 Million Home to a $139 Million Home

Filed under: Buying, Lifestyle
By Michael Schreiber
Perusing homes out of one's price range online may as well be a national pastime in America. Who doesn't love imagining what it would be like to live someplace palatial, or even just gawk at these monster homes and their even bigger price tags?
In the world of real estate, however, there's expensive and then there's insanely expensive. The Credit.com team decided to take a look at two homes for this article, one of which is way out of our price range, the other of which is way, way, way, way, waaaaaaaaaay out of our price range.
(Or maybe one of these is within your price range. This calculator can tell you how much house you can afford, and this free credit scoring tool can tell you where you stand in case you'd like to apply for a mortgage for either of these fine homes -- or any home, really.)
The former is a seven-bedroom, nine-bath Florida home in Coral Gables, selling for $13.9 million. The latter is an 11-bedroom, 17-bath house, just up the road in Hillsboro Beach. The Hillsboro mansion was on the market for a mere $139 million before the listing was removed -- perhaps indicating a sale, or perhaps a change of heart by the seller.
We wanted to see what the real difference is between the two places. Is the Hillsboro Beach place really 10 times the house? How could one even arrive at that price?
Who are we kidding? We really just wanted to look at the pretty pictures.
Let's Start with the "Small" Place

According to the listing on Zillow, here are the basics for the $13.9 million property in Coral Gables.
Seven bedrooms.

Nine bathrooms.

12,636 square feet.

2.07-acre lot.

Built in 1999.

Price per square foot: $1,104.

2014 property taxes: $96,863.

Parking: attached garage, four spaces.
And here are some of the highlights from description:
"A foyer with a grand chandelier and 28-foot ceilings opens to a formal living room with 30-foot tall ceilings....
"Perfectly manicured gardens permeate the scenery, and are complemented by a babbling brook, a resort-style pool with waterfall bridge, a sophisticated cabana with gourmet summer kitchen...
"While the canal does not support a large vessel, the estate comes with a deeded boat slip allowing up to a 60-foot yacht.
"Two downstairs wet bars, including one in a library lounge offers plenty of variety for entertaining...
"Across the hall from the library lounge is a home cinema....
"Take the elevator or the stairs to the second floor where a split plan finds the master suite set away from the other bedrooms.
"Special features include a 80 (kilowatt) generator with two buried 1,000 gallon propane tanks, mosquito misting system."

So What Could $139 Million Get You?

For those of you with $139 million burning a hole in your pocket, here are the basics of the Hillsboro Beach property also known as "Le Palais Royal" that recently was pulled from the market. The listing is courtesy of Zillow.
11 bedrooms.

17 bathrooms.

41,774 square feet.

2.48-acre lot.

Built in 2014.

Price per square foot: $3,327.

2014 property taxes: $143,855.

Parking: attached garage, 30 spaces.
And here are some excerpts from the description of the house featured on Le Palais Royal's dedicated website.
"On one side of your very own private 465 [feet] of Atlantic beachfront and on the other side be romanced at the view of your yacht docked on 492 feet on the [Atlantic Intracoastal Waterway]....
"Custom designed doors...with 22-karat gold leafing, opening beneath the grand [staircase]... taking craftsmen more than two years to realize with an investment of $2 Million....
"The first-ever IMAX Theater contracted for private use... seating 18 along with a complete bar and IMAX lounge giving guests a unique experience....
"A 4,500-sq. ft. infinity edge La Piscine with a 12-ft cascading waterfall, a double-loop, LED-lit waterslide which plunges into the pool....
"An outdoor Jacuzzi is positioned above the waterfall allowing complete panoramic sea views....
"You may enter the Spa Privé massage room, as well as, access the outdoor Cuisine d'été furnished with its very own Four à Pizza and outdoor lounge...."

So which one will you take?
Permalink | Email this | Comments
How to Get a Chef-Worthy Kitchen for $50,000 or Less

Filed under: Design, Home Improvement, Lifestyle

By Brie Dyas
Even grilled cheese tastes better when made in a stylish kitchen.
For those who love to cook, a gourmet kitchen is the dream. However, unlike a living room or bedroom, this space is much harder to remodel. Kitchens can't be rearranged at whim, cabinets can't be easily changed, and counters -- well, there's very little you can do to hide 1980s laminate countertops. (Their existence is proof that not everything comes back in fashion.)
But don't shelve your dream just yet. It's possible to get a luxurious look for under $50,000, which is close to the average price spent on a budget kitchen remodel. We asked designers where they'd splurge, where they'd save, and other projects to consider for a space worthy of your culinary creations.
Before you start, carefully consider the space and your lifestyle.

"Design your kitchen for the way you live 90% of the time," says high-end kitchen designer Karen Williams. "Not the holidays or a visit from the in-laws."
She ranks the overall layout as the most important element in a kitchen renovation. "Good design is good design. A proper prep center, cooking, and cleanup [space] is essential." So before you get carried away on Pinterest, think more about the layout that best suits your daily habits rather than, say, Gwyneth Paltrow's.
Making a list of your main concerns will be invaluable for efficiently communicating with a designer. "Share your ideas and priorities by listing them top to bottom," says Sandra Brannock, principal at Expert Kitchen Designs. "Listen to the kitchen designer and ask for clarification if you are unsure about the design direction. If it is suggested something you want is not cost-worthy, listen and heed this advice."

Where to Splurge on Your Kitchen Remodel?


Cabinets: Estimated Cost of $20,000-$25,000*
"The materials you choose for the kitchen cabinets will define the style," says designer Natalie Kraiem. "If you are going for a modern look, I love to use high-gloss or matte lacquer or frosted glass in a solid color. If you want to achieve a richer look, then go with wood veneers. You could use laminates for a similar but less expensive look."
Lifestyle also plays an important role in selecting materials. "Cabinetry will endure the most abuse, so look for all-plywood construction along with a superior finish and top-notch door and drawer hardware," advises Brannock. "Your investment will require 20 percent to 30 percent more upfront, but the obvious return will be realized five or more years later when your cabinetry looks and feels as great as when it was first installed."
Brannock has a few recommendations if you're looking to trim costs: "Opting for cabinets with MDF construction will save you approximately 12 percent. Oak, knotty alder, and hickory are no-upcharge wood species that will save you 6 percent to 22 percent. Consider high-pressure laminate for a contemporary look."
Appliances: Estimated Cost of $10,000-$14,000
Obvious as it may be, quality appliances are key to the gourmet kitchen. Kraiem likes side-by-side refrigerator and freezer models that offer custom panel options, which can blend in with your cabinets for a seamless look. A high-end dishwasher is also a luxury worth looking into, especially if it also offers the custom panel option. Hoods can be customized to suit the overall design.
If you're currently using an electric range, don't worry about converting to gas for a pro-caliber kitchen. Instead, replace the old stove with an induction model. "There are many high-end professional kitchens using this marvelous method," Brannock says. "It is instantaneous, efficient, and also minimizes the extra heat generated in a hardworking kitchen."
Luxe Details
Accessories have a big impact in a kitchen. "I like to splurge on hardware," Williams says. "It should look good to the eye and feel good to the hand. You see it and touch it every day."
Expanding Storage Options
Clutter can cramp the style of even the fanciest kitchen. However, you'll want to go for storage options that suit your kitchen.
"Extra deep drawers can be a blessing or a curse if not thought through for one's individual needs," Brannock says. "If incorporating them, consider a smaller hidden drawer above them or a narrow partition to house smaller items such as lids or food processor accoutrements so all the space is utilized. These drawers add $200-plus each but are totally worth it."
She also says that shallow-depth base cabinetry (13 to 18 inches deep) is especially cost-effective and can fit most people's storage needs.


Where to Save on Your Kitchen Remodel?


Backsplash and Countertop: Estimated cost of $7,000
Renewed interest in marble means other natural materials can be found for a bargain. "With the popularity of white marble right now, granite may be a good choice. The marble yards have an overstock of the material and are usually offering to make a good deal," Williams says. "Stay with the softer, neutral tones so your kitchen won't look outdated."
Additionally, new designs in porcelain present another cost-effective yet stylish option for counters, floors, and other surfaces.
Since a backsplash tends to cover a smaller space, it's easier to cut costs here. "I tend to like to use the same countertop and backsplash material for a modern look. In this case, quartz is great because it doesn't stain or get damaged easily," Kraiem says. "I also like to use frosted glass or stainless steel for a unique look that's not so expensive." For more traditional kitchens, a tile or mosaic backsplash is the most budget-friendly option.
Flooring: Estimated Cost of $2,000
Your flooring is a big element of your kitchen, so it can have a big impact on overall style. "For example, with floors, 24-by-24- or 24-by-48 porcelain tiles in a concrete or minimalist color will 'speak' to those who walk on them as highly sophisticated," Brannock says. "Another option is wide and random-width hardwood flooring such as fumed white oak for a rustic yet timeless elegance." But the square footage here is probably less than in other areas in your home, so it'll be less costly than, say, redoing the floors in the living room.
Miscellaneous items (Faucets, Sink, and Garbage Disposal): estimated cost of $1,000-$1,500
While these smaller elements play an important part in the function of your kitchen, they aren't as noticeable, meaning you can get away with budget-friendly options. "Focus on the look and quality without splurging," Kraiem says.
*Costs for this report were estimated by designer Natalie Kraiem and are based on a 10-by-10 kitchen. Your costs may vary depending on individual design choices.
Permalink | Email this | Comments
A Decade After Katrina: View 10 Homes Built Since the Storm

Filed under: Buying
By Melissa Allison

It was a decade ago this week that the levees failed in New Orleans, and Hurricane Katrina became one of the deadliest storms in U.S. history.
The beloved city struggled mightily in the aftermath, battling flooding, bureaucracy, and mangled and rotting houses.
Ten years on, there are signs of hope and renewal, including homes on the market that were built after the cataclysm.
West End
6032 Pontchartrain Boulevard, New Orleans
For sale: $475,000

A new construction home with a flair for history, this listing features a large front porch, hardwood floors and a Jacuzzi tub.
See more listings in New Orleans' West End.
Touro
3727 Constance St., New Orleans
For sale: $675,000

A newly built home just one block from Magazine Street, this home features a master suite with a soaking tub, extra-large shower and a walk-in closet. The floors are made from reclaimed heart of pine.
See more homes for sale in Touro.
Lakeview
6480 Louisville St., New Orleans
For sale: $499,000

High ceilings, a covered back porch and an enormous walk-in closet make this 2011 home special. The attic was designed to allow space for two more bedrooms and a bath.
Check out more homes on the market in Lakeview.
Central City

2045 Chippewa St., New Orleans
For sale: $325,000

This newly built home features hardwood floors, high ceilings and spacious closets.
Check out more homes on the market in Central City.
Holly Grove

8725 Belfast St., New Orleans
For sale: $179,000


This four-bedroom, two-bath home offers an open floor plan and a laundry/mud room that leads to a large raised deck.
Check out more homes on the market in Holly Grove.
Lower Ninth Ward
5201 N Galvez St., New Orleans
For sale: $127,500

The hard-hit Ninth Ward is rebuilding, too, with homes like this one, which is being marketed as great for tenants or owner occupancy.
See more homes for sale in the Lower Ninth Ward.
Milneburg
2726 Athis St., New Orleans
For sale: $124,900

Built in 2007 on a deep lot, this raised home features wooden floors in the living room and carpet in the four bedrooms. Its location provides easy access to universities and highways.
View more listings in Milneburg.
West End
6601 Fleur De Lis Drive, New Orleans
For sale: $410,000

This newly constructed home boasts a breakfast room with bay windows, covered front and back porches and a large master suite with bay windows, wood floors and two closets.
See more homes for sale in the West End.
Navarre
882 Homedale St., New Orleans
For sale: $539,000

Built two years ago with lots of character touches, this home includes reclaimed heart-of-pine flooring, one-foot baseboards, encased frame windows and a master bedroom that accesses a private balcony.
View more homes on the market in Navarre.
Lakeview
5934 Vicksburg St., New Orleans
For sale: $580,000

Luxury touches abound in this 2,529-square-foot home, including high ceilings, hardwood floors, crown molding and clawfoot bathtubs. There are three fireplaces, a walk-in master closet and a courtyard with a gas fire pit.
Check out what else is for sale in Lakeview.
Permalink | Email this | Comments
Which States Have the Oldest Homes? You Might Be Surprised

Filed under: Buying, Economy, Selling
By Catherine Sherman

Zillow looked at single-family houses built from 1900 to 2014 to see which decades are most represented by the current housing stock. Turns out, many homes in the Northeastern states were built in the '80s. But in California, the '50s remain the dominant decade for homes still standing.
Washington, the nation's capital, is holding strong as the area with the oldest decade -- the 1920s -- most represented today.
1920-1929: District of Columbia

1950-1959: California, Connecticut, Illinois, Kansas, Michigan, Missouri, New Jersey, New York, Ohio, Pennsylvania, Rhode Island, Wisconsin

1970-1979: Hawaii, Mississippi, Nebraska, North Dakota, Oklahoma, Oregon, West Virginia, Wyoming

1980-1989: Alaska, Louisiana, Maine, Maryland, Massachusetts, New Hampshire, Vermont, Virginia

1990-1999: Delaware, Indiana

2000-2010: Alabama, Arizona, Arkansas, Colorado, Florida, Georgia, Idaho, Iowa, Kentucky, Minnesota, Montana, Nevada, New Mexico, North Carolina, South Carolina, South Dakota, Tennessee, Texas, Utah, Washington
Permalink | Email this | Comments
Mortgage Rates Remain Low This Week at 3.77%

Filed under: Buying, Financing, Refinancing
By Lauren Braun

Mortgage rates for 30-year fixed loans were quoted at 3.77 percent this week in Zillow Mortgages' report, unchanged from the same time last week.
The 30-year fixed rate fell early in the week, then rose steadily throughout the week before settling Tuesday.
"Mortgage rates fell last week to their lowest levels since May after China's yuan devaluation, but strong U.S. data helped rates quickly recover most of the drop," said Erin Lantz, vice president of mortgages at Zillow. "This week, markets will focus on inflation data and commentary from Fed officials about developments in China."
Additionally, the 15-year fixed mortgage rate was 2.95 percent. For 5/1 ARMs, the rate was 2.76 percent.
Check Zillow Mortgages for rate trends and up-to-the-minute rates for your state, or use the mortgage calculator to calculate monthly payments at current rates.
Permalink | Email this | Comments
Nixon's 'Western White House' for Sale for $75 Million

Filed under: Celebrity Homes, House of the Day

By Melissa Allison

The oceanside estate in California where Richard Nixon hosted 17 heads of state and retired to write his memoirs is on the market for $75 million.
Nixon bought the San Clemente home in 1969 and dubbed it "La Casa Pacifica." It was better known during that era as "The Western White House," because the native Californian spent so much time there.
He wasn't the first president to walk the halls of the sprawling estate. Franklin D. Roosevelt reportedly used it as a retreat while serving in the 1930s.
Roosevelt also reportedly played poker there with financier Hamilton Cotton, who built the main house in the 1920s, modeling it after a country home in Spain.
Nixon replaced the tennis court with a swimming pool and built a wall around much of the compound.
"It's like owning a big boat on the ocean," the current owner, Allergan Pharmaceuticals founder Gavin Herbert, told the Orange County Register.
The property covers more than five acres and has been featured multiple times in Architectural Digest. It boasts 480 feet of beachfront, where Roosevelt's train used to make unscheduled stops.
The bluffs above the beach were planted with cypress trees to diffuse the late-day sun. Behind them, sprawling lawns abut seaside gardens of various stripes, including rose, English, ornamental and vegetable.
The compound includes a main house that spans 9,000 square feet as well as an entertaining pavilion, a two-bedroom guest house, a swimming pool and -- back again -- a lighted tennis court.
There are nine bedrooms and 11.5 baths throughout the estate, including a single-level main residence with white stucco walls and a two-story tower. It's adorned by wrought-iron flourishes and hand-painted tiles.
The listing agent is Rob Giem of Sotheby's International Realty.


Permalink | Email this | Comments
Sweltering? Here are 10 Hacks for Living Without AC

Filed under: Home Improvement, How To, Renting
By Michelle Hainer

No AC? No problem! With these hacks, you can keep cool this summer -- and keep your electric bill down.

When the temperature creeps past 90 degrees on a hot summer day, it's natural to regret the decision to rent a place without air conditioning or own a home without AC installed. But don't despair. With these tips for living without an air conditioner, you can stave off the sweltering heat without paying a sky-high utility bill (or putting in a noisy, energy-sucking window unit).

1. Change the rotation on your ceiling fan to counterclockwise.

It's easier than you think to make this fix (usually your fan will have a little switch on the motor housing that alters its rotation), and doing so will allow the blades to circulate faster, creating a cooler breeze. If you have box fans, turn them around so that they blow hot air out the window.

2. Don't let the light in.

Keeping shades, curtains, or blinds closed can lower the temperature inside your house by up to 20 degrees.
3. Channel your inner MacGyver.
Create a misting effect by placing a metal mixing bowl full of ice in front of a fan. Tilt the bowl so that the fan blows directly onto the ice. When the air hits the cubes, it will release a cool, misty breeze that chills the whole room.
4. Don't close yourself off.
By shutting doors, that is. Keep inside doors open throughout the day, which allows the cool air to circulate throughout your house.
5. Revamp your bedding.
Pack away the flannel sheets (duh) and opt for percale instead, which is more breathable. Mist your sheets with cool water before bedding down for the night (or stick them in the freezer for a few minutes), and invest in a buckwheat pillow, which won't trap heat the way traditional pillows do.
6. And then sleep solo.
Your partner may balk, until he or she realizes how much body heat cuddling creates.
7. Hit up your hot water bottle.
Only this time, stick it in the freezer first and then position it near your feet, which contain many pulse points. If you don't have a hot water bottle, dunk your feet in ice water before turning in.
8. Unplug.
Appliances that are plugged in radiate heat -- even when they're not in use. So unplug what you can. Now is also the time to embrace your grill; turning on the oven on a 100-degree day is only going to make things hotter. But you knew that.
9. Turn off the lights.
Even the most energy-efficient light bulbs give off some heat, so make do with natural light on super-hot days. But still swap out incandescent bulbs for CFLs, which will also lower your energy bill.
10. Lie low.
Literally. Hot air rises, so putting your mattress on the floor can help you stay cool while you slumber. Or if you're feeling outdoorsy but like sleeping with a roof over your head, rig up an indoor hammock, which will increase airflow. Bonus: It may even lull you to sleep, which will make you forget how hot you are.
Permalink | Email this | Comments
Serena and Venus Williams Sell NYC Loft for $2.1 Million

Filed under: Celebrity Homes, Selling

By Melissa Allison

Serena Williams raked in more money than almost any other female athlete this year, and now she has a little real estate dough to go with it.
Williams and her sister, Venus, just sold their 1,800-square-foot Manhattan loft for $2.1 million, as first reported by 6sqft. They bought the two-bedroom, one-bath home in 2005.

Serena, the No. 1 ranked women's player in the world, will be attempting to win the Grand Slam at the U.S. Open in New York in September after winning the Australian Open, French Open and Wimbledon already this year. But she and Venus will need another place to stay after selling their loft, which they had not been using anyway.
The apartment is set up as a one-bedroom now, with a giant walk-in closet and laundry room.
Situated in the heart of the Fashion District, it has a loft feel, with oak floors and high, beamed ceilings.
It may have lost its famous owners, but the place still has sports ties. The tennis superstars sold it to Ted Wells, an attorney hired by the National Football League to investigate "Deflategate," and his wife, Nina Mitchell Wells, former Secretary of State for New Jersey.
The listing agent was Maria Anguah-Boafo of Douglas Elliman.

AOL Real Estate contributed to this report.


Permalink | Email this | Comments
Mortgage Rates Remain Low Despite Prospect of September Hike

By Lauren Braun

Mortgage rates for 30-year fixed home loans rose this week, with the current rate borrowers were quoted on Zillow Mortgages at 3.77 percent, up 2 basis points from the same time last week.
The 30-year fixed rate rose Wednesday, then returned to the current rate and stayed there for the rest of the week.
"Mortgage rates temporarily rose last week after [Federal Reserve Bank of Atlanta president Dennis Lockhart] said interest rates could increase in September, but ended the week essentially where they started," said Erin Lantz, vice president of mortgages at Zillow. "Mortgage rates should move lower as investors seek safety after China devalued the yuan. Friday's Consumer Sentiment data could also move rates toward the end of the week."
Additionally, the 15-year fixed mortgage rate was 2.96 percent. For 5/1 ARMs, the rate was 2.83 percent.
Check Zillow Mortgages for mortgage rate trends and up-to-the-minute mortgage rates for your state, or use the mortgage calculator to calculate monthly payments at the current rates.
Permalink | Email this | Comments
Location, Location, Appreciation: Where Home Buyers Thrived

Filed under: Buying, Home Equity, Investing
By Lauren Thompson

When it comes to purchasing a home, timing is everything. Some recent buyers got extraordinarily lucky, and the right time for them to become homeowners coincided with the lowest point in the market since the housing crash.
Zillow analyzed cities with populations over 50,000 and found the luckiest home buyers in America -- those who bought in the right place at the right time and have now seen the highest appreciation growth on their homes. (The analysis tracked home purchases beginning in January 2006).
Here are where the luckiest home buyers in America live and when they purchased their homes: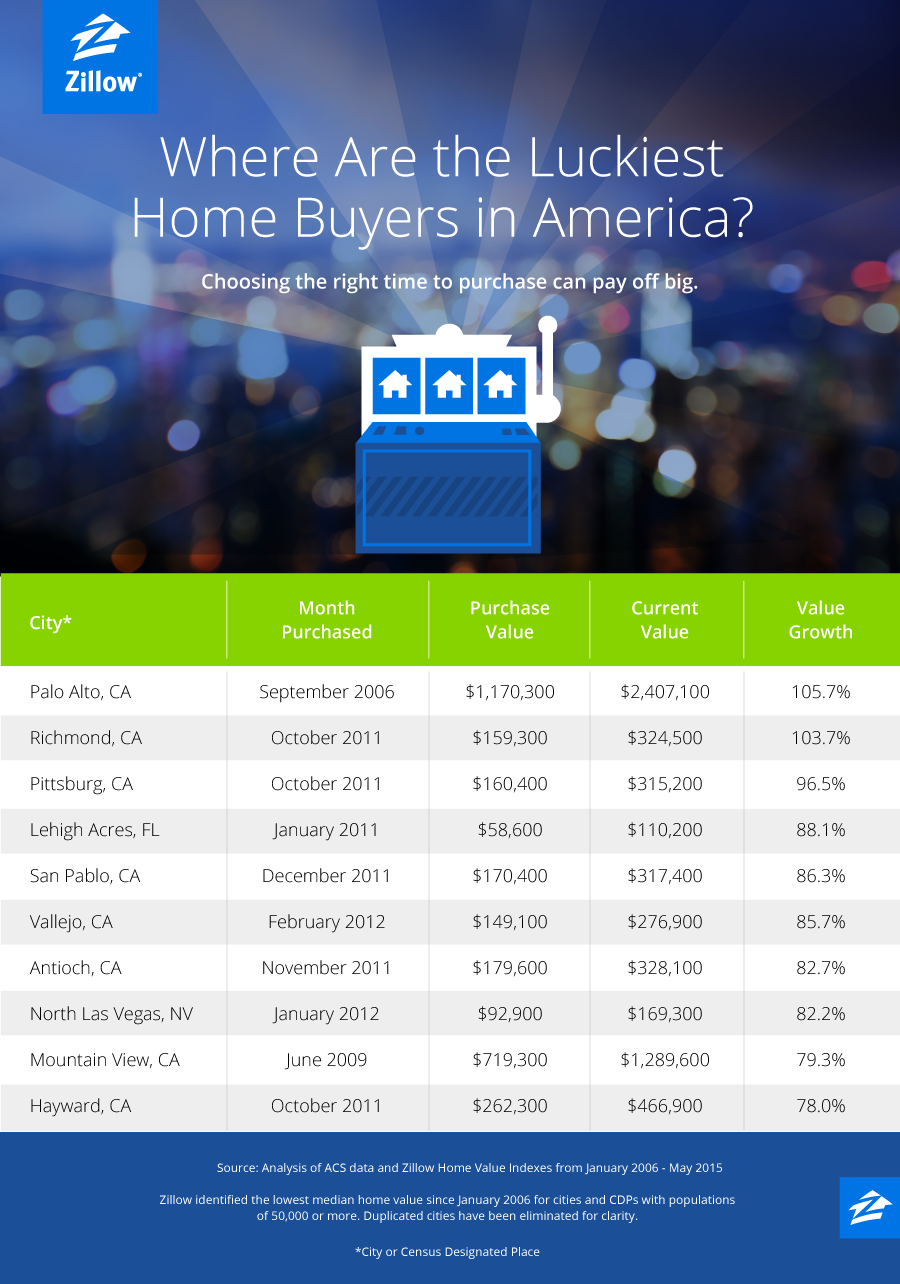 Permalink | Email this | Comments
6 Clever New Uses for an Old Pool

Filed under: Home Improvement, How To
By Jill Russell

Swimming pools have many virtues, especially during scorching summers. But they can easily become eyesores -- not to mention money pits -- especially if they leak or have other functional issues.

Instead of going through the costly (and sometimes unsuccessful) process of trying to bring an old swimming pool up to date, why not turn it into an entirely new, seriously cool feature that sets your home apart?
From a detached, lower-level studio space to a fully realized aquaponic farm, here are six smart ideas (some DIY projects and some that require a little professional help) to convert your old swimming pool into something useful, beautiful, or both.

The Sunken Patio
Though part of a rooftop lounge in Midtown Manhattan, this former pool retrofitted as a patio by Future Green Studio holds a lesson for homeowners -- work with the site rather than against it. The final dining area maintains the pool steps, depth indicators, handrails, and even a retooled version of the pool lights, telling the story of the space's origins beautifully.
The Practical Deck
A simple but elegant solution for an unwanted pool? Drain it and build a deck over the top. Work with a landscape pro to design a deck that blends perfectly with the original pool's shape and structure. Not only will it add valuable entertaining square footage to the backyard, but it will also boost your home's value over time.
The Detached Studio
This gorgeous studio by Walk Interior Architecture & Design becomes even more awe-inspiring when you realize it's housed in an old, neglected in-ground pool. The finished space feels at once industrial, modern, and airy, and the solar panel-topped A-frame roof is both functional (preventing water from seeping in) and beautiful.
The Peaceful Pond
If you're imagining spending lazy afternoons surrounded by nature instead of cleaning the pool, think about transforming your pool into a pond. It's the perfect way to invite more wildlife into your yard, and it just makes sense. In the spirit of repurposing, you may even be able to get away with converting the original sand filter into a koi pond filter.
The Water-Wise Garden
A Southern California couple converted their little-used pool into a rainwater harvesting system, as noted by the Los Angeles Times. Now in the pool's place the couple has a stream, small waterfall, and some 100 plants, all fed with rain collected from the roof and stored in underground, recycled-plastic tanks in a system designed by the firm EnviroscapeLA. The resulting garden is luscious and inviting while making the most of the region's scant rainfall.
The Food-Producing Farm
And then there's the family who built a food-producing greenhouse, known as the Garden Pool, in the pit of their former swimming pool. The finished ecosystem includes solar panels and a greenhouse, and produces such varied foods as tilapia (through an aquaponics system), fresh fruits, vegetables and poultry.
While you might not be ready to go full-scale eco-farm, the project proves that an old pool site might be just the spot to pull off the herb-and-veggie garden of your dreams.
Permalink | Email this | Comments
Mortgage Rates Plunge to 3.75%, Lowest Level Since May

Filed under: Buying, Financing, Refinancing

By Lauren Braun

Mortgage rates for 30-year fixed loans fell this week, with the rate borrowers were quoted on Zillow Mortgages at 3.75 percent, down 8 basis points from the same time last week.
The 30-year fixed mortgage rate dropped Friday, then hovered around the current rate for the rest of the week.
"Mortgage rates plummeted last Friday to their lowest level since May after U.S. data showed very weak wage growth in [the second quarter]," said Erin Lantz, vice president of mortgages at Zillow. "Looking ahead, since wage growth will be an important consideration in future interest rate hikes, markets will look to this Friday's jobs report for hints about wage trends."
Additionally, the 15-year fixed mortgage rate was 2.92 percent. For 5/1 ARMs, the rate was 2.72 percent.
Check Zillow Mortgages for rate trends and up-to-the-minute rates for your state, or use the mortgage calculator to calculate monthly payments at the current rates.
Permalink | Email this | Comments
How to Protect Yourself on Short-Term Rental Sites

Filed under: Lifestyle, Renting
By Vera Gibbons
While short-term home rental sites such as Airbnb and HomeAway have made finding and listing vacation properties and alternative lodging fast, easy and convenient both for hosts and guests, there are risks involved for both parties.
Here are a few ways to mitigate those risks, whether you're renting a vacation villa or making some extra cash by welcoming paying guests into your home.
DO: Use reputable sites.
Reputable sites not only supply the largest number of rental offerings, but will additionally provide you with some peace of mind because they offer basic security features. Beyond conducting background and address checks, these sites also certify hosts with a proven track record, host community discussions, post uncensored reviews and ban questionable parties.
As a guest, all you have to go on are photos (which may not be verified) and reviews. If a place does not have more than three positive reviews, think twice about staying there.
DO: Have a conversation.
In most cases, conversations between hosts and guests happen through the vacation rental website's messaging system, but if having a phone conversation is an option, go for it. It's a great way to size each other up, and is extremely important if you're doing a home swap, as these exchanges require an enormous amount of trust from both parties.
During the call, note whether the host sounds legitimate and the house they describe matches what's online. If you're talking to a potential guest, consider whether they ask questions a visitor would typically have.
Also pay attention to the types of answers you're getting. For example, if you're a guest and you want to know whether the host has the legal right to rent the apartment to you, listen carefully to their answer. If they seem to be hedging at all, or even seem to be offended by the line of questioning, consider looking elsewhere.
If everything feels "right," however, go ahead with the transaction, keeping in mind that while it's still possible to be scammed over the phone, it's usually easier to fool someone when the communication takes place online.
DON'T: Pay with cash or money order.
Out of all the payment options, credit cards offer the most protection against fraud or wrongful charges. Online money transfer services such as PayPal may also be an option, and can be a good way to go. A personal check may also be fine.
But never pay with cash or money order, since those are the easiest means for the unscrupulous to disappear with your money. Is the host insisting on this type of payment? Rushing you to make a wire transfer? Don't go there.
If cash is required for a cleaning fee or damage deposit, guests should play it safe by postponing this last round of payments until they reach their destination. And get a receipt for the sum rendered.
DO: Prepare for disputes.
Many problems can and do arise. Guests may not show up. Properties may be misrepresented, unsanitary, already occupied, or full of safety hazards like exposed wiring or loose stairs.
Protection policies may not exist, and if they don't, or if they're minimal, you might very well be on your own if something doesn't work out. There is no government or trade agency regulating the advertising of rentals, so proceed with caution.
Note: The views and opinions expressed in this article are those of the author and do not necessarily reflect the opinion or position of Zillow or AOL Real Estate.
Permalink | Email this | Comments
3 Ways to Write a Tempting Offer When Buying a Home

Filed under: Buying, Financing
By Erika Napoletano

You've found it: the house of your dreams. In fact, you went home last night and played a little game of Where Does the Sofa Go? But before you can say "home sweet home," there's an offer to be made -- and it has to be accepted before you can move that sofa into the living room.
While these three tips don't guarantee your offer will be chosen, they will help you be competitive so you're one step closer to landing your dream home.
1. Carefully consider your approach.
If you think your dream home's listing price is just a place to begin negotiations, think again. First, have a conversation with your real estate agent. Look for similar homes and recent sales in the area.
You can do a little sleuthing on your own by searching Trulia for sold homes -- just be sure to choose a time frame in the past three months for the most accurate results. Comparables will give you a better idea of the seller's asking price in relation to similar properties and help you shape your offer based on property-specific amenities and location.
Next, you should decide how you'll pay for your purchase: cash or financing. Cash offers can sometimes command a lower selling price since there aren't mortgage details to sort through and the closing should go faster. If you're using financing but can offer a quick close (less than 30 days), take that into consideration in your offer price -- your real estate agent may be able to leverage a quick close to sweeten the deal.
If you're thinking of submitting a lowball offer, have a candid conversation with your real estate agent. Agents know the market well and might even know a thing or two about the listing agent through previous sales. There are certain times when a lowball offer might start a favorable negotiation process, but there are many others when it can derail the reality of landing your dream home. If you decide to submit an offer substantially below the listing price, be prepared for a negotiation process -- or a flat-out "no."
When you're ready to make your offer, back it up with everything the seller needs to know. You want them to believe that your offer is the one offer they should look at twice. Be sure to include completed offer paperwork, signatures where they belong, and make sure you're asking for seller concessions that make sense for the market.
2. Weigh the pros and cons of your requests for repairs.
Maybe you're looking to have some of your closing costs covered. Perhaps you just want the old, worn-out carpeting replaced. Asking for seller concessions is a normal part of the offer process, but you need to know what you can reasonably expect.
If you're in a competitive bidding situation, odds are that the seller is going to choose the offer requiring the least amount of work on their part. Work with your real estate professional to make a list of "musts" and "would like" items for the sellers to tackle. You can put these concessions side by side with your offer price and see what makes for the most compelling deal.
Bottom line? If you're entering into a negotiation and something's got to give, your requested concessions are probably the first place to consider revising to stay competitive.
3. Don't be swayed by emotions
One step it's important not to forget in the offer process is setting a maximum price. If you're financing, you will have a purchase ceiling from your mortgage lender, but when the perfect home comes along, it's easy for heartstrings to overrule good financial sense.
How much can you comfortably carry as a mortgage payment each month? (Use a mortgage calculator to get a rough idea.) How much is that home really worth? How long do you plan on staying in the home, and does that justify a higher-than-asking price?
And remember, the tips we're including here are for traditional sales, not short sales or purchases of bank-owned properties. Those types of transactions have nuances all their own.
Permalink | Email this | Comments
Trump Sells Apartment He Never Lived in for $21 Million

Filed under: Celebrity Homes, Selling
By Melissa Allison

When he's not stumping for the Republican presidential nomination or making decrees on "The Celebrity Apprentice," Donald Trump still works in real estate -- and he just made a killing on a Manhattan apartment.
Trump sold the nearly 6,200-square-foot dwelling on the 24th floor of his 32-story Trump Park Avenue tower for $21 million, the Wall Street Journal reports. He listed it in 2013 for $35 million and cut the price twice, settling on $24.995 million earlier this month. (However, Trump purchased the entire building in 2001 for $115 million, the Journal reported, and since has converted it into 120 luxury condo units.)

Trump never lived in the just-sold apartment, listing agent Michelle Griffith of Trump International Realty told the Journal. She also said Trump rejected an offer to rent the place for $80,000 a month.
A private elevator leads to the five-bedroom, 7.5-bath space, which boasts high ceilings and lots of windows. Luxurious details include Italian brass doorknobs, custom moldings and a kitchen with marble floors and counter tops.
The master suite features two bathrooms, two walk-in closets and a study.


Permalink | Email this | Comments
Mortgage Rates Fall to Lowest Level Since Early June

Filed under: Buying, Financing, Refinancing
By Lauren Braun
Mortgage rates for 30-year fixed loans fell this week, with the current rate borrowers were quoted on Zillow Mortgages at 3.83 percent, down 8 basis points from the same time last week.
The 30-year fixed mortgage rate moved lower throughout the week before settling at that rate Tuesday.
"Mortgage rates fell last week to their lowest level since early June," said Erin Lantz, vice president of mortgages at Zillow. "There is potential for increased rate volatility this week as markets look to Wednesday's Federal Open Market Committee statement and Thursday's GDP report. Rates could move back up if the data are stronger than expected."
Additionally, the 15-year fixed mortgage rate was 2.97 percent. For 5/1 ARMs, the rate was 2.84 percent.
Check Zillow Mortgages for mortgage rate trends and up-to-the-minute mortgage rates for your state, or use the mortgage calculator to calculate monthly payments at the current rates.