AOL Real Estate - Blog
AOL Real Estate - Blog
A $140 Million 'Briar Patch' for Sale in the Hamptons

Filed under: Buying, Celebrity Homes, Selling
By Catherine Sherman

Pricey real estate is nothing new in the Hamptons. But when an 18-acre East Hampton estate sold for $147 million this spring, the coveted beach town moved up a rung on the luxury real estate ladder.
Continuing the trend, the historic Briar Patch estate just hit the market for $140 million. Not only is it the most expensive home publicly listed in the Hamptons, but it's the priciest listing on Zillow in all of New York.
"Briar Patch is a uniquely beautiful estate without equal on the East End," said exclusive listing broker Peter M. Turino of Brown Harris Stevens, Christie's International Real Estate affiliate. "Its setting and scale will appeal to the most sophisticated and discerning of buyers."
Owned by just three families in its 80-year history, the estate spans a quarter of a mile on the Georgica Pond with panoramic views of the Atlantic Ocean in the distance. The entire property -- subdivided into two buildable lots -- measures 11.2 acres.
The main residence, a grand Georgian revival, was completely renovated in 1990 by architect Peter Marino, who has been called "the leather daddy of luxury" by New York Magazine. Highlights of his restoration include a three-story living room, six perfectly proportioned bedrooms, handmade wallpaper, grand fireplaces, a sunken library and expansive porches.
For the past 25 years, the estate has been owned by education entrepreneur Chris Whittle and wife Priscilla Rattazzi.
"As we embark upon the next chapter of our lives, we feel fortunate to have been the stewards of this wonderful home and its land for 25 years," Whittle said. "It has been a source of great happiness to us, our now-grown children, extended family and many friends."
The only publicly listed home that rivals Briar Patch is Palazzo di Amore, a $195 million Beverly Hills compound. Le Palais Royal in Hillsboro Beach, Fla., is the next highest on the list at $139 million.


Permalink | Email this | Comments
Robert Pattinson Eyeing Paparazzi-Proof NYC Condo?

Filed under: Buying, Celebrity Homes, Selling
Permalink | Email this | Comments
Sold: Jake Gyllenhaal's Midcentury Modern in the Hills of LA

Filed under: Buying, Celebrity Homes, Selling
By Emily Heffter

Jake Gyllenhaal has sold his Cahuenga Pass home for $3.262 million. A sale was pending in October. Property records show the actor closed the deal this week.
Reports in September revealed that Gyllenhaal had listed his Los Angeles midcentury modern near the Hollywood Hills, asking $3.5 million for the three-bedroom, three-bath home in Cahuenga Pass.
Gyllenhaal, nominated for an Academy Award for Best Supporting Actor for his role as Jack Twist in 2005's "Brokeback Mountain" and currently starring in "Nightcrawler," bought the gated compound in 2005 for $2.5 million. He also is known for his roles in "Jarhead," and "Donnie Darko," among other films.
The home and its previous decor were modest by some Los Angeles standards, but its great room offers views of the city -- "sensational panoramic views," according to the listing -- and the outdoor space includes a patio, private yard and pool as well as lush landscaping and trails.
The home is perfect for entertaining, sitting on nearly two acres near the Hollywood Hills. It also is protected by a security system equipped with cameras.

And there are more perks: Gyllenhaal's former home has a detached office and is well located for a homeowner who needs to get to some of the major L.A. studios.
Denny Kagasoff of Prudential California Realty had the listing.


Permalink | Email this | Comments
House of the Day: A 'Gingerbread House' for Sale or Rent

By Catherine Sherman

Goldilocks and Gretel may have to battle it out over this home. Nicknamed the "Gingerbread House," the Arts and Crafts-style cottage is now listed to rent for $26,000 per month or purchase for $10.5 million.
A writer in New York's Daily News once called it "the most magnificent residence in all of New York City." Corcoran listing agent Vicki Negron couldn't agree more.
"When you drive up to the house, your whole demeanor changes," she said.
Howard Jones, a shipping merchant, commissioned architect James Sarsfield Kennedy to build the home in the Arts and Crafts style in 1917. Sitting on 20,000 square feet of prime Brooklyn property, the lot is the size of a city park -- or 10 townhomes combined. The interior is also spacious, measuring just under 6,000 square feet with six bedrooms and 3.5 baths.
But size isn't what makes the home worthy of a Grimm fairy tale. With uncut stone and a rolled-edge roof, the house is covered in whimsical curves and shadows.
"Every time you look up, down or side-to-side, you see something magical," Negron said.
The residence has attracted four owners in the past 100 years. When current owner Jerry Fishman first saw the home, he told his wife, "I have to have that house." After more than a decade, they say they've never had a bad day while living at 8220 Narrows Ave.
"It's in good condition," Negron said. "Not a lot of things go wrong with stone."
It's also rare to see a home of this style in the U.S., especially so close to lower Manhattan.
"With traffic in your favor, you could drive into lower Manhattan and get to the Financial District in under 10 minutes," Negron said.
Previously listed for $12 million, the home hit the market for $10.5 million in May. Negron is confident she'll sell or rent the home soon.
"I think this is the price," she said.


Read | Permalink | Email this | Comments
10 Ways to Prep Your Kitchen for a Thanksgiving Crowd

Filed under: How To, Lifestyle


By Natalie Wise

Whether it's your first time hosting or you're a seasoned pro, planning and cooking a Thanksgiving feast can be stressful. These 10 tips will help keep the day smooth, your sanity intact and your kitchen a little cleaner. Just don't forget to take the giblet packet out of the turkey!
1. Clear the counters

This is the best place to start for a clean mind and clean kitchen. Load the dishes in the dishwasher, put away the random candy still lingering from Halloween and file the bills that are cluttering the counters. Now you'll have a nice fresh space to sit down and write out your menu.

2. Finalize and post your menu and shopping list

Grab your cookbooks and holiday magazines, go through your Pinterest feed and don't forget Grandma's heirloom recipes. When you have all the recipes in front of you, make a list of everything you'll need and post the menu and list on your fridge for inspiration.
3. Clean oven/stovetop
Next up, clean the oven and stovetop. For a non-toxic approach, remove all of the racks and any loose grime from the bottom and walls of the oven. Then, make a paste of baking soda and water and spread it on any dirty areas. Let sit for 15 minutes, then scrub with warm water and rinse clean. For self-cleaning ovens, follow your instruction manual.
4. Clean out the fridge/freezer
These soon will become packed with ingredients, leftovers and of course, a giant turkey. Cleaning them out now will save aggravation later. While you're at it, throw a fresh box of baking soda with the lid open in the refrigerator to soak up any lingering odors.
Read | Permalink | Email this | Comments
Picking a Landlord You Can Live With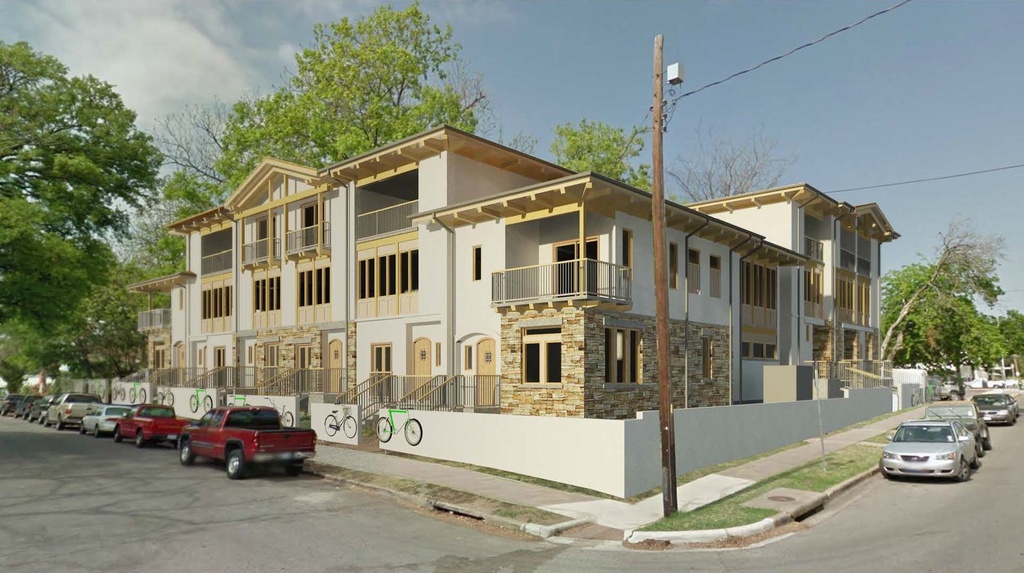 By Jennifer Riner

Rental property types may differ significantly depending on ownership, and management tactics tend to follow suit. Should you opt for a single-family residence owned by a devoted, single investor? How about renting an apartment from a well-established, trustworthy property management company?
To help narrow the scope, we've asked finance bloggers to discuss the pros and cons associated with renting from management companies and private homeowners.
1. What are some benefits of renting from multi-family property management companies?
Property management companies tend to be very organized. They have a process for viewing apartments, submitting applications, selecting tenants, signing the lease and dealing with issues and maintenance requests. -- Catherine Gacad
One benefit is that you are working with people who do this for a living, rather than with someone who may have no experience in property management at all. You're also more likely to get the help you need in regards to maintenance and repairs, as the process is more established and there are people on hand to take care of those things. -- Ben Luthi
2. What are potential benefits of renting from private owners?
When you rent from a private owner there is more opportunity for a personal relationship with your landlord. Having a personal relationship with your landlord opens up the potential for flexibility within the lease (such as month-to-month or a shorter term). Additionally, a private owner might expedite the move-in process because they may need their unit rented as soon as possible. -- Harry Campbell
The obvious benefits are costs. Private owners may be able to charge less since they are managing the property themselves. However, it can be very challenging for them to do it all themselves and your requests may not get immediate attention. -- Connie Mei
3. Do renters communicate differently when dealing with large companies versus single investors?
In my opinion, renters are far more likely to behave and be civil when communicating with large companies than compared to dealing with individuals. A lack of respect for management will often degenerate a good tenant into a bad one over a period of time. -- Mike Goodman
Communicating with a PM company can be a bit like calling the cable company -- you may feel like a commodity or the next number in line. You'll get personal service with an individual landlord, but they may lack the experience or resources to come across as responsive and professional. -- Dustin Riechmann
Private owners can be less professional. Renting out the property may be a secondary income or not the main focus so you may feel that. -- AJ Smith
4. What are some ways property management companies can learn from private owners and vice versa?
A private owner needs to know the renter is their customer, not their adversary. They need to know how to screen tenants and how to interpret the results. -- No Nonsense Landlord
5. Any tips for choosing a landlord?
Talk to the current tenants and see if they are happy working with that company. Look around the building where you're interested in renting. Is it clean? Are the units well-maintained? Are the lights on? Is the trash collected? When you call the company to ask questions, how do they answer the phone? - Michelle Jackson
Ask potential property managers for at least three references with properties similar to your own. Inquire about their process for handling difficult situations, like evicting a tenant or collecting past-due rent. -- Mr. 4HWD
Read | Permalink | Email this | Comments
Zillow: 30-Year Fixed Mortgage at 3.82%

Filed under: News, Buying, Financing, Refinancing
By Lauren Braun

Mortgage rates for 30-year fixed mortgages fell this week, with the current rate borrowers were quoted on Zillow Mortgages at 3.82 percent, down from 3.90 percent at this same time last week.

The 30-year fixed mortgage rate hovered around 3.85 percent for most of the week before falling to the current rate.

"Rates remained flat for most of last week, but dipped slightly early Monday on news that Japan fell into a recession in Q3," said Erin Lantz, vice president of mortgages at Zillow. "Despite incoming inflation and home sales data, we do not expect rates to move dramatically this week."

Additionally, the 15-year fixed mortgage rate this morning was 2.99 percent, and for 5/1 ARMs, the rate was 2.82 percent.

Purchase Mortgage Application Activity

Zillow predicts tomorrow's seasonally adjusted Mortgage Bankers Association Weekly Application Index will show purchase loan activity to increase by 4 percent from the week prior. To learn more about this Zillow analysis, click here.

What are the interest rates right now? Check Zillow Mortgages for mortgage rate trends and up-to-the-minute mortgage rates for your state.

Read | Permalink | Email this | Comments

Lauren Bacall's New York Apartment Lists for $26 Million


Filed under: Buying, Celebrity Homes, Selling
By Laura Vecsey

One thing's for sure about Lauren Bacall: She knew how to turn heads.
What was true of the cinematic grand dame in life continues even after her death in August at age 89. Currently making an impression: Her magnificent apartment in New York City's fabled Dakota building. The unit has hit the market with all the pomp and circumstance of an old-time Hollywood blockbuster majestically set in the heart of the Big Apple.
Bacall's nine-room spread overlooking Central Park has been listed for a whopping $26 million. Replete with original detail -- including the unchanged floor plan and mahogany wood trim -- the apartment is sure to draw an eager audience.

Rebecca I. Edwardson of Warburg Realty Partnership, who trumpeted the unique property's arrival on the hot Upper West Side real estate market, holds the listing. The dwelling is entered through a private mahogany vestibule into an 18-foot-wide foyer that leads to a 70-foot gallery connecting the library, 29-foot-wide great room, formal dining room and three bedrooms, including a 22-foot-wide master suite -- all of which face the park.
Bacall was as much a fixture in and around the Dakota as any of its other famous residents, who have included John Lennon and Yoko Ono, Judy Garland, Roberta Flack, Connie Chung and John Madden. In fact, Bacall was adamant that her Dakota apartment was not only her beloved home for 60 years, but also her most prudent business deal ever.
After the death of her first husband, Humphrey Bogart, in 1957, Bacall tired of the Hollywood scene and decided to return to her native New York. She called her business manager and told him to cash all her stock, which she then used to buy the sprawling apartment in one of the city's most iconic buildings.

Brace yourself: Bacall paid $48,000 for the co-op.
Today, that sum would just about cover four months of the $11,146 monthly maintenance for the unit, which has been estimated to fill about 4,000 square feet.
Read | Permalink | Email this | Comments
House of the Day: Michigan Victorian With Lighthouse

Filed under: News, Buying, House of the Day
The lakeside community of Lake Orion was a popular weekend getaway for the wealthy of Detroit in 1900, when this Victorian home was built. In its heyday, Bellevue Island had an amusement park with an old wooden roller coaster.

Now the quiet community about an hour outside of Detroit is known more for its great school district.

The sellers raised two daughters in the three-bedroom, two-bath home while restoring its unique features and have it on the market at $415,000.

"They brought it back to life over the last 20 years," said Leslie Mihalak, the RE/MAX listing agent.

Most notable are the home's two copper-topped towers: A five-story working lighthouse on the lakefront side serves as a hidden fort, accessible via ladder from one of the bedrooms. On the land side of the house, a second tower looks like a windmill.

The owners painted the original cedar shake siding a raspberry color, and the bottom of the house is constructed of fieldstone. Inside, the home is modernized with an updated kitchen, granite countertops and wood floors. There are beautiful views of the lake, two docks and a patio.






Read | Permalink | Email this | Comments

How to Turn a Closet Into a Mudroom for Less Than $300


Filed under: Design, Home Improvement, How To

By Mitchell Parker

Walking into their split-level 1958 Seattle home always created a bottleneck for the NyQuist family. Kristen, Steven and their three kids -- Elliot (age 8), Clio (6) and Shepherd (4) -- would often get stuck on a 5-foot by 3-foot landing, where they would crowd around peeling off their backpacks and coats before shuffling farther into the home.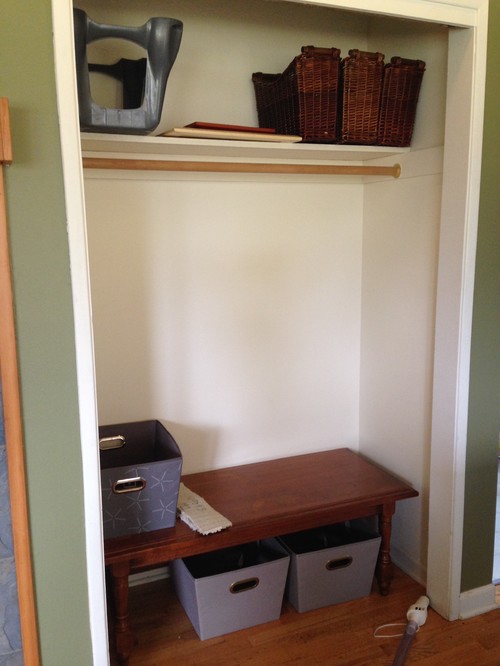 Before Photos
So Kristen turned her attention to a coat closet (seen here) at the top of the stairs. She plowed into Houzz in search of inspiration and came up with a solution to turn the closet into a recessed mudroom of sorts.
BEFORE:
The closet was unappealing with the doors on. When Kristen removed them, she knew she had to turn the space into something visually pleasing.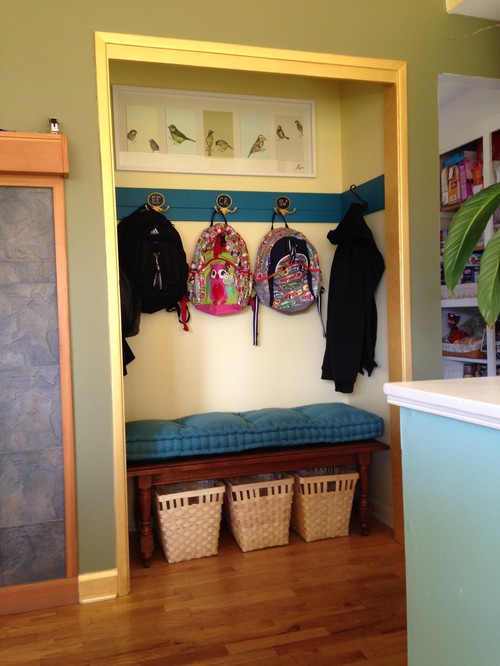 AFTER:
She removed the doors and added a cushioned bench, several hooks, some fresh paint and eclectic touches to completely change the experience of entering the home. "Now stuff isn't hanging around on the landing anymore -- including all of us," she says.
She began by measuring the closet and hunting for a bench on Craigslist. She found one and topped it with a cushion from Pier 1 Imports.
Each family member then got his or her own blackboard hook from Anthropologie. To keep clutter down, Kristen implemented a strict rule that only two items can be hung on each hook at any given time.
Ikea baskets under the bench provide storage for shoes and other items. She considered leaving the existing shelf in place but thought it made the space feel too short when seen from the entryway. A piece of art from Ikea helped make it appear loftier.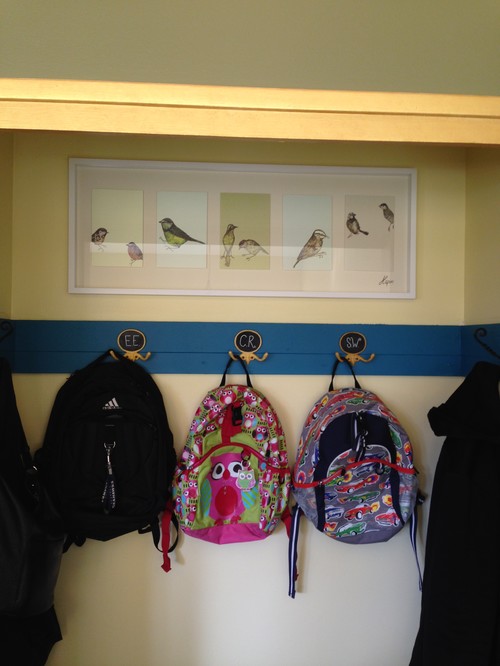 To hang the hooks, Kristen had to add a new piece of solid wood to the existing border for more support.
While the home's architecture leans toward midcentury modern, Kristen pushes for a more eclectic style with saturated colors, lots of textures and a bit of shine. To add boldness, she painted the interior of the closet yellow and the hook trim blue.
To save money, she used paint left over from a previous project. (She had color samples of Sherwin-Williams'
Banana Cream
and
Blue Nile
matched at The Home Depot in Behr brand paint.) She then splurged on a metallic gold (Parlor Gold from Ralph Lauren) for the trim, an idea she got from
this photo on Houzz
.
Here's the breakdown of the project cost:
Bench:
$45, from Craigslist
Cushion:
$80, from Pier 1 Imports
Hooks:
$70, from
Anthropologie
Blue and yellow paint:
Left over from a previous project
Metallic gold paint:
$30
Print:
$40, from Ikea
Baskets:
$7 each, from Ikea
Backpacks:
Already owned, from
Hanna Andersson
Total:
About $286
Permalink | Email this | Comments
'Tis to Season to Reconsider Renters Insurance

Filed under: Renting
By Niccole Schreck

The holiday season is upon us, and while you might be decorating your apartment door with boughs of holly and prepping your Thanksgiving turkey, you should also be arranging for something else: to get covered with renters insurance.

Your landlord or property management company has insurance that covers the walls, floors and ceiling of your apartment, but everything inside it is your responsibility. This means your designer clothes, your expensive TV, all of your furniture and the gifts you've purchased aren't covered if anything happens. And the majority of renters aren't covered. According to a 2013 Rent.com survey, 60 percent do not have renters insurance coverage.

For many reasons, the holiday season is a common time of year for accidents, burglaries and other home mishaps, so it's important to insure your apartment and your belongings as soon as you can. Here are the top three reasons you need to get covered before the holidays:

1. Home fires are more frequent during the holiday season. A home fire occurred every 85 seconds in 2013, according to the National Fire Protection Association, and a study by Allstate Insurance found that home fire insurance claims increase by 15 percent during the holiday season. The candles, Christmas trees and space heaters that fill your apartment during the winter make for very high fire risks.


Candles. Candles are one of the biggest culprits of home fires, and according to the U.S. Fire Administration, fires caused by candles are as much as four times more likely during the holiday season. In fact, the National Fire Protection Association reports that from 2007 to 2011, 11 percent of home candle fires began with decorations in December, compared to only 4 percent the rest of the year.
Christmas trees. While beautiful, your Christmas tree is another fire hazard, and damages can be costly. Allstate reports the median cost for a home fire claim caused by a Christmas tree is more than $100,000, and 1 in every 22 Christmas tree-related home fires results in death, according to the NFPA.
Space heaters. From 2007 to 2011, space heaters accounted for one-third of home heating fires and 81 percent of home heating fire deaths, the NFPA reports. Half of all home fires caused by space heaters occurred between December and February.

Renters insurance will protect your possessions in case a fire occurs. Even if the fire happens in a neighbor's apartment, renters insurance can protect your belongings from smoke damage. The holiday season is also a perfect time to check your smoke detectors to ensure they are functioning properly. A working smoke alarm reduces your chances of dying in a fire by nearly half, according to the NFPA.

2. In the U.S., a home break-in occurs every 15 seconds. According to the FBI, there were more than 2 million burglaries in 2012, or approximately one every 15 seconds. If that's not already often enough, Allstate Insurance found that theft claims increase by 7 percent during the holidays.

You know the big stacks of expensive gifts waiting to be doled out to your family and friends? Well, burglars know about those, too -- especially if you do your shopping online and have packages outside your door. The FBI reports the average loss per burglary is $2,119, and during the holidays, you can take an even bigger hit. Replacing gifts, electronics and other possessions can add up to an astronomical amount quickly, and that's not to mention those irreplaceable heirloom earrings passed down from your grandmother.

Along with keeping your valuables out of sight and making sure your apartment is locked up tight with or without you in it, get renters insurance -- you don't want to be in the position of paying out of pocket to replace everything you lost in the event a burglary happens.

3. Slip-and-falls account for more than 1 million emergency room visits each year. Your health insurance will likely cover the expenses that go along with a personal injury, but renters insurance will cover liability if a visitor gets injured in your home. During a time when snow and ice tracked inside can make floors slippery, drinking at holiday parties makes people a little careless. So it's more important than ever to be sure you and your visitors are covered.

If you don't have renters insurance, getting covered is easy and affordable. The average cost of a renters insurance policy is only $15 to $30 per month, and the peace of mind during a stressful holiday season is priceless.




Permalink | Email this | Comments

Spruce Up Your Home for the Holidays for Less Than $200


Filed under: Design, Home Improvement
Your family is visiting for the holidays -- and you cringe at the idea of Grandma and Grandpa sitting at your rickety dining table, channel surfing on your 12-inch TV, and noticing the spills and stains on that ancient couch in your living room.

Here are 10 ways to spruce up your house or apartment in time for the holidays. Each project costs less than $200, can be finished in an afternoon, and includes an "alternative" for renters who can't make permanent changes (such as replacing those hideous kitchen countertops).


1. Repaint Kitchen Cabinets

People tend to gather in the kitchen around the holidays, so give yours a major facelift by sanding down and repainting your existing cabinet doors. While you're at it, change out the hardware -- including knobs, pulls, and hinges. It's a fraction of the cost of entirely replacing your cabinets and makes a big impact.

For example: If you have oak cabinet doors from the 1980's, sand and repaint these with a chic white tone. Add satin nickel or oil-rubbed bronze hardware (you can get great deals at Ikea or Amazon), and voila -- you have an instant facelift for the cost of a few cans of paint and a handful of knobs.

Renter Alternative: Switch out cabinet hardware for something a little more modern (just be sure to save the original pulls so you can put them back before you move out, and shop for the same dimensions so you don't need to drill any holes). Alternately, "wallpaper" your cabinets with contact paper, which comes in a wide range of designs and colors and is easy to remove when it's time to move on.



2. Turn Your Bathroom Into a Spa

New fixtures can make an old bathroom look new again. You can snag a seriously cool waterfall faucet for around $100 if you bargain-hunt, or upgrade your bathroom with a new medicine cabinet or pair of wall sconces. If you're a serious thrift-shopper, you can buy gently used fixtures from a Habitat for Humanity ReStore and use the money you saved to also repaint your vanity.

Renter Alternative: You can't do anything about those awful pink tiles or that chintzy countertop, but you can distract from them with accessories that summon up a luxe, soothing feel.

Decorate with fluffy towels, a high-end shower curtain and fancy containers for your toothbrushes and cotton swabs. Place a few candles on your vanity and around the tub.
Put a large art piece in your bathroom that commands attention - and distracts from those 1970's tiles.



3. Create an Accent Wall / Feature

Highlighting one part of your room can add energy and personality-and draw your guests' focus away from the things you don't love. Try a bold color on just one accent wall, use a stencil kit to paint pretty details onto the wall, or paint the back of those built-in bookcases for a subtle-but-powerful pop.

Renter Alternative: Wall décor doesn't have to be permanent. Check out removable stick-on decals in various styles and patterns. Hang eclectically framed art in one area to create an impromptu gallery. You can even display all those holiday cards you've received in an artistic way, like hanging them on strips of ribbons with clothespins.



4. Lighten Up

Replacing outdated light fixtures with more modern ones can make a big difference. Try a statement piece like a candelabra in the dining room, or create cozy conversation areas in your living room with table lamps.

Renter Alternative: As long as you keep the fixtures that were there originally, there's no reason you can't swap out that hideous builder-grade fixture for something a little more modern and sleek. Simply stow the old one away to reinstall when you move and take the new one with you to your next place.

Not that handy? You can also use floor lamps, table lamps and mirrors to make a small space seem bigger and brighter.



5. Upgrade Window Treatments

High-quality curtains can make small rooms look bigger. Simply hang floor-length curtains a few inches above your windows, and run the curtain rods to the far outside edges of the windows. The visual effect makes the ceiling appear higher and the windows seem larger.
Renter Alternative: Take down those horrid plastic mini-blinds and stash them somewhere until you move-or at least cover them up. Nothing makes a room look more sophisticated and pulled together than a great pair of curtains in an eye-catching pattern.

Additional Tips

Whether you own or rent your home, these additional tricks will help you take your place from "blah" to "ooh, ahhh" in no time.

6. Slipcovers

There's no need to replace that stained couch or those worn-out armchairs. Just cover them with a crisp new slipcover and they'll look as good as new. (Bonus: if any holiday spills occur, you can just pop the cover in the wash.)

7. Corral Clutter

Make use of decorative storage like boxes, bins and totes to keep smaller odds and ends out of sight. Dual-use furniture, like an ottoman with a lid that lifts up, can add extra style and storage and give guests another seating option.

8. Add New Accessories

Breathe new life into a room with accessories around a common theme-for instance, a set of new throw pillows, picture frames and table lamps in festive tones of red, green and gold (or blue and silver for a more contemporary ambience).

Use area rugs or interchangeable tile rug squares to cover up worn patches on the floor or add extra warmth. Add a new tablecloth or runner to that old dining room table. Create picturesque arrangements by grouping items - picture frames, vases, candles - in strategic groups of three.

9. Create "New" Furniture

Scope out yard sales, estate sales, Craigslist, Freecycle, even your own attic for furniture that needs a little TLC. Get a set of cheap dining room chairs and repaint them so they look fresh and modern. Reupholster the worn cushions on your current chairs. You could even "shop your home" -- swap pieces from rooms that your guests won't use to replace rickety pieces or mix up your current furniture arrangements.

10. Festive Touches

Never underestimate the power of decked halls to distract your guests from less-than-opulent parts of your home. Drape wreaths and garlands over banisters and bookshelves. Dim the light in the dining room and use candles to set a cozy vibe (and hide the nicks in the table). Use scented candles or potpourri to summon homey smells like baking cookies or cinnamon and spice. Even if the bits and pieces of your home are a little bland, the overall feel will be warm and welcoming.

Paula Pant once spent $17,021 on a kitchen remodel - although she only budgeted $5,000. Oops! Find out how she went so horrendously over-budget (and feel free to point-and-laugh) on her blog, Afford Anything.

Permalink | Email this | Comments

3 Reasons Why November Might Be the Best Month to Sell

By Sandie Argulo Chen

Some owners hesitate to market their homes between Halloween and New Year's Day, believing the holiday season to be an off-peak time to sell. But the idea that houses don't sell in November and December comes from outdated historical trends. In fact, several studies show that, on average, homes listed during this time are more likely to sell, sell more quickly, and sell closer to the asking price.

November, in particular, has some unique advantages that make it an ideal time to sell. Here are three reasons why Thanksgiving month might be the best time to sell your home.

More Motivation: The idea that homes sell best in spring and summer stems from the fact that parents want to wait until summer to move school-aged children. But today, many buyers don't have children, so their decisions aren't based on kids' schedules.

If buyers are looking for a home in November, they've either waited through the busy season in hopes of a better deal, or they're facing their own time constraints due to work changes or other reasons. For these highly motivated buyers, the traditional barriers to winter house-hunting -- bad weather, short days, holiday preparations -- don't apply. If your house is available for them to view in November, these buyers are more likely to make an offer close to listing price.

Less Competition: Because of the misconceptions about selling during winter, it's true that many sellers don't think it's worth their time to try to sell their homes toward the end of the year, so they take their homes off the market. Their loss of a potential buyer is your gain!

Serious buyers have fewer homes to choose from over the holidays. That means less competition for you -- and more buyers checking out your even more desirable home, either online or in person.

Tax Benefits: A house marketed in November may lure buyers looking for year-end tax breaks. Buyers looking to lower their taxes may snatch up a home late in the year so they can deduct home purchase costs. That includes points, interest and property taxes.

And if an investor sold a house during the traditional summer selling season and faces capital gains tax on the deal, that person may be highly motivated to strike a deal in November since closing on the purchase of another property within 180 days allows the investor to avoid paying capital gains tax.

Permalink | Email this | Comments

Room of the Day: A Basement Kitchen and Dining Area


Filed under: Design

By Natalie Wain

Andrea and Adam Freeman adopted a gradual approach when it came to renovating their Edwardian family home in Kingston, a suburb of London. After they moved in a decade ago, the Freemans tackled the loft conversion as well as other light renovation work on the property, which they share with their three teenage children and pet dog. But 10 years is a long time, and when Andrea's home baking business, Andi Freeman Cakes, started to grow quickly a few years ago, the family realized they needed more space.

"Andrea and Adam had spent years getting their house exactly how they wanted it, so they didn't want to move," says designer Siobhan Casey. "Instead they decided the best solution was to dig down to create a basement for a new family kitchen and dining area that would then free up the existing kitchen for Andrea's custom cake business." The couple wanted the basement to be the new hub of the home, where the sociable family could entertain and spend time together.


Contemporary kitchen
by
East Anglia interior designers and decorators
Casey & Fox
The new basement is 700 square feet (66 square meters). "Andrea has wonderfully eclectic taste and had a vision of how she wanted the space to look, but once the building work was completed, she needed some help putting her ideas together in a coherent way. That's where I came in," says Casey, of
Casey & Fox
. The basement now houses a generous kitchen, a dining area and a TV-watching area. The space successfully blends traditional and contemporary elements with a hint of midcentury style.
"Andrea's not afraid to experiment when it comes to design," says Casey, "and the finished room is such a wonderfully eclectic and welcoming space, perfect for entertaining family and friends as well as kicking back and watching TV."
A walnut staircase, just peeking out, leads down from the main house into the new family kitchen and dining area. "It's a large space with limited natural light, so we opted for neutral units with accents of walnut in the upper cabinetry and underneath the island to add warmth," says Casey. "It's a lovely touch that brings texture to this part of the room and prevents it [from] becoming too cold or clinical."
A double-width island, in Glacier White quartz, is the main feature of the room, providing ample space for relaxed family breakfasts.
One element in particular adds drama. "The extractor fan [range hood] is a beast!" Casey says. "Andrea really wanted to avoid a curved or hidden fan in favor of something with a bit of weightiness about it." The glimmering stainless steel fan she chose is a striking, almost sculptural feature that's stylish as well as functional. "The polished finish bounces more light around this part of the room as well," adds Casey.
LED lighting is set into the ceiling and bathes the kitchen in pools of soft light. It's Casey's favorite feature in the kitchen. "It's such a wonderful product that's cost effective to run, and they're specially designed to prevent any harsh spots of light, so they gently illuminate the entire space," she describes. (
Range hood: Britannia; LED lighting: Ecoled
)
A glass backsplash underneath the walnut wall units has been painted in a blue-gray hue for timeless appeal.
The
Smeg gas range
, with a cast iron griddle, references the industrial feel of the concrete floor and has been set into the quartz worktop of the island for a seamless effect. The range surface "is silver glass, so although it looks quite sturdy, there's still an element of glamour, plus it's very easy to clean," says Casey.
Given Andrea's quest for light, the dark wall color -- Farrow & Ball's
Down Pipe
-- seems a surprising choice at first. "They were very keen to add another element of drama to the scheme," says Casey. "Andrea wanted it to be a talking point and felt that uniform white walls would look a little dull."
The polished concrete floor injects an industrial-style vibe into the space. "It's a great look with a seamless finish, but it was a practical choice, too," says Casey. "With three kids and all their friends coming in and out, as well as a dog, Andrea wanted a surface that was easy to sweep and mop clean. And the underfloor heating means it isn't cold underfoot."
In a space with little natural light, no opportunity was missed to get the lighting right. LED lights set into the underside of the island worktop illuminate the glorious grain of the walnut panels. "The lights here also add dramatic effect," says Casey.
Vintage bar stools are an elegant but simple choice. The contemporary elements of the kitchen area blend seamlessly with the midcentury styling that continues as the space transitions into the dining area.
The sociable family needed a large table that would comfortably accommodate the children as they do their homework, as well as the frequent dinner parties the Freemans enjoy hosting. The Horace table is made from reclaimed wood and can seat up to 12 people. "It's a marvelous find," says Casey. "It cost less than 500 pounds [U.S.$800] and is a great example of how you don't have to spend a fortune for a fantastic piece of furniture."
Arne Jacobsen butterfly chairs
in muted gray complete the look.
Tom Dixon pendant lights illuminate the dining table and reflect light from the bifold doors. Each pendant light is in a different finish. "Andrea didn't want a homogenous scheme, so we've introduced subtle differences wherever we can," says Casey. (Table: Horace,
Metro Retro
)
Contemporary artwork is also displayed where it will benefit from the light from the nearby glass doors. The choice of art, including a print of the Empire State Building in New York, breaks up the plain brickwork in the dining area.
Warm yellow and brown hues from the exposed brick wall contrast with the muted gray of the concrete floor and dining chairs, adding another layer of texture to the family dining area. "The juxtaposition of the raw brick and the clean, contemporary lines of the kitchen is what helps to define the different zones in the basement in a very natural and effortless way," says Casey.
The drinks cabinet was requisitioned from elsewhere in the family home.


Opposite the dining table, there's a cozy area where the family kicks back and relaxes in front of the TV. Yellow accents add a playful touch in this pared-down corner, which features a slouchy sofa chosen for comfort. "It's a very welcoming and relaxing space," says Casey.
Original monochrome tiles from the Edwardian part of the house are referenced in the dark gray and white walls that flank the walnut staircase down to the basement.
The brushed stainless steel handrail gives a hint that the basement may be a departure from the traditional scheme elsewhere in the house. "Brushed stainless steel gives an even more industrial-style feel than polished steel would, so it clearly marks a departure from the more traditional elements of the house," says Casey.
Permalink | Email this | Comments
House of the Day: Ivy-Covered 'Castle' in The Hamptons

Filed under: News, Buying, House of the Day
By Emily Heffter

The upscale village of Southampton, New York, is an oceanfront enclave of shake-sided beach mansions and 1920s stucco homes. So this red-brick historic home for sale at $4.3 million would stand out, even if it didn't have a turret. Locally known as "the castle," this 1911 home at 143 Herrick Road, Southampton, is on the National Register of Historic Places.

The home's owner, William Sofield, is a world-class designer who bought the home for $830,000 in 1999 and restored it carefully. He updated all the systems but decorated the interior in the arts-and-crafts style of the home's era. There is no stainless steel or white marble in the kitchen -- he instead used white, retro appliances.


The home is on the small side for the area -- less than 3,000 square feet -- and is covered in ivy, so that it just peeks out of surrounding greenery. There are two bedroom suites on the main level. In the turret, the master bedroom has a free-standing soaking tub.

The gazebo poolhouse is perhaps the home's most distinctive feature, with carved windows and doors. The 0.43-acre property is landscaped with gardens and brick walkways, with a heated gunite pool.

Harald Grant of Sotheby's International Realty holds the listing.

Read | Permalink | Email this | Comments

Jon Stewart Triples Money on Tribeca Duplex Deal


Filed under: News, Celebrity Homes, Selling
Funnyman/pundit Jon Stewart has unloaded his duplex loft in New York City's Tribeca neighborhood for $17.5 million in a private deal. And a good deal it was for "The Daily Show" host, who bought the units in 2005 for $5.8 million, a year after the building went condo, reports The Real Deal.

In true Stewart style, the duplex on 161 Hudson St. was officially owned by the Stanley Monkey Trust, named after Stewart's pit bull named Monkey and cat, Stan.

The condo, in a prewar building with just 24 units, features three-direction exposures and 600 square feet of terrace and 1,200 feet of private roof. Actor Jeremy Piven reportedly also owns a condo there.

The New York Post says Stewart owns two lakeside properties in Red Bank, New Jersey, worth a total $7 million.