AOL Real Estate - Blog
AOL Real Estate - Blog
New Home Sales Rise in September, but August Pace Cut

Filed under: News, Buying, Economy
By Lucia Mutikani

WASHINGTON -- Sales of new U.S. single-family homes rose to a six-year high in September, but a sharp downward revision to August's sales pace indicated that the housing recovery remains fragile.

The Commerce Department said Friday that sales increased 0.2 percent to a seasonally adjusted annual rate of 467,000 units, the highest reading since July 2008. August's sales pace was revised down to 466,000 units from 504,000 units.

Economists polled by Reuters had forecast new home sales at a 470,000-unit pace last month.

New home sales, which account for about 8 percent of the housing market, tend to be volatile month to month and large revisions aren't unusual. Compared to September last year, sales were up 17 percent.

Housing is slowly regaining its footing after activity stalled in the second half of 2013 as mortgage rates soared. With the 30-year fixed mortgage rate this week falling to its lowest level since June of last year, sales could pick up.

Slow wage growth, however, remains a constraint. Data this week showed sales of previously owned homes touched a one-year high in September.

Last month, new home sales fell 8.9 percent in the West, handing back some of August's 28.1 percent surge. In the populous South, sales rose 2 percent, while they increased 12.3 percent in the Midwest. Sales were flat in the Northeast.

With sales rising modestly, the stock of new houses available on the market rose 1.5 percent to the highest level since July 2010.

At September's sales pace it would take 5.3 months to clear the supply of houses on the market, unchanged from August. Six months' supply is normally considered a healthy balance between supply and demand.

The median new home price fell 4 percent to $259,000 from a year ago.



Permalink | Email this | Comments

New York Apartment Building Is Tallest in the Americas


Filed under: News, Buying, Lifestyle, Inside Look
When the first residents of 432 Park Avenue say they're feeling on top of the world, they won't be speaking in metaphors. The 96-floor condo nearing completion stands 1,396 feet tall. It is, at the moment, not only the tallest residential building in Manhattan, or in the U.S., or in North America; developers CIM Group and Macklowe Properties claim the rooftop of 432 Park Avenue is the highest of any apartment building in the whole Western Hemisphere.

Not only can you see the world from the top of 432 Park Avenue's, Rafael Viñoly-designed tower, but the world can see you.

"It's almost like the Mona Lisa," said developer Harry B. Macklowe in a New York Times story. "Except instead of it looking at you, you're looking at it wherever you are. You can't escape it."

The skyline-changing tower, which looks like a giant domino stretching to the clouds, includes apartments reportedly priced from $7 million to $95 million. But when it comes to living among the stars -- like, the actual stars -- money apparently is no object.

Check out the developer's website to see what you could see at 558 feet to 1,271 feet.


Besides views from the Bronx to Brooklyn, all of Central Park and part of the Atlantic Ocean, the new building between 56th and 57th streets, features:
units with 12½-foot ceilings and 10-by-10-foot windows.
private restaurant for residents and guests only.
lounge.
gym.
billiards room.
pool.
massage therapy room.
Like the fastest gun in the West, the tallest building in the Western Hemisphere will always have wannabes nipping at its heels. 432 Park Avenue has a formidable rival growing taller every day.

By mid-2015, 225 West 57th is set to reach 1,479 ft. above street level, according to YIMBY. It could steal the title before the first residents of 432 Park Avenue move in next fall.

Permalink | Email this | Comments

8 Reputedly Haunted Homes Currently on the Market


Filed under: News, Buying, Lifestyle

By Catherine Sherman

Is that the "Crying Lady Ghost" or the sound of old pipes? Now you can see for yourself. Some of America's oldest and most haunted homes are on the market.

Take a stroll down eerie lane, but know this: You're on your own from here. There's no telling what's lurking behind these doors.

Read | Permalink | Email this | Comments

Spooky-Looking Kentucky Mansion Sells for $1


Filed under: Design, News, Selling

By Lauren Matthews

'Tis the season for haunted houses, and this house -- which recently sold for the whopping sum of $1 -- at least looks downright spine-tingling, even if no ghosts actually reside there.


Also see: 10 Beautiful Historic Houses for Sale Under $100,000

Permalink | Email this | Comments

Mark Zuckerberg Reportedly Buys Hawaii Beach and Plantation


Filed under: News, Celebrity Homes
Mark Zuckerberg, Facebook's billionaire 30-year-old, has purchased two large and adjacent parcels of land on Kauai's North Shore for about $100 million, according to a Forbes report.

Zuckerberg reportedly bought Pila'a Beach, an almost 400-acre parcel including a white sand beach, and the adjacent Kahu'aina Plantation, a former sugarcane plantation. The plantation features 2,500 feet of oceanfront and a working organic farm, Forbes says.

Zuckerberg apparently has a fancy for Hawaiian real estate. In January, 2013, Pacific Business News reported that Facebook's chairman and CEO "is buying" several units in a 23-story luxury condo under development in Honolulu.

Permalink | Email this | Comments

Jennifer Lawrence Buys Jessica Simpson's Former House


Filed under: News, Celebrity Homes



Jennifer Lawrence just took a cue from Jessica Simpson and purchased a gorgeous Beverly Hills house for $7 million. According to E! News, Lawrence bought the place from an unknown buyer who bought it from Simpson in October 2013 for $6.4 million.

Lawrence isn't just buying a new bachelorette pad, she's buying a home with quite the Hollywood pedigree. Prior to Simpson and her family living here, Paul Hogan, Tom and Kathy Freston, Ellen DeGeneres, and Rick Yorn all called this gorgeous Beverly Hills property home.

When Simpson sold, she and her family moved to the $11 million dollar Hidden Hills mansion she bought from Ozzy and Sharon Osbourne. She originally paid $5,275,000 for the five-bedroom, six bathroom, 5,500 square-foot in December 2005, right after she announced to the world that she and husband Nick Lachey were divorcing.

Now that the stunning home belongs to Lawrence, she can settle in to the idyllic estate and weather the rigors of being a young, beautiful, A-list star.


Built in 1991, the custom home is evocative of the stylish real estate found in the Hamptons and is located in one of the most private, guarded celebrity enclaves.

The property is walled and gated, with a stone courtyard that leads to a koi pond. Inside, high ceilings punctuate the formal living room and dining room. A family-friendly, restaurant-style, gourmet kitchen leads to the breakfast room then out to the stone courtyard. The media/family room opens out to the serene, private and secure park-like grounds and swimming pool.

Nestled in the heart of Beverly Hills in a private community, Lawrence also has some famous neighbors: Mila Kunis, Ashton Kutcher and their new daughter Wyatt recently moved in down the street. Talk about an A-list avenue!

Permalink | Email this | Comments

Mortgage Rates Continue Slide for Fifth Straight Week


Filed under: News, Buying, Financing, Refinancing
WASHINGTON -- Average U.S. long-term mortgage rates continued to slide this week, raising prospects of a wave of consumers refinancing their loans. The 30-year mortgage fell further below 4 percent.

Mortgage company Freddie Mac said Thursday that the nationwide average for a 30-year loan declined to 3.92 percent from 3.97 percent last week - the lowest level since June 2013. It stood at 4.53 percent back in January. The average for a 15-year mortgage, a popular choice for people who are refinancing, fell to 3.08 percent from 3.18 percent.

It was the fifth straight week that mortgage rates retreated.

The possibility of locking in a mortgage rate below 4 percent can be tantalizing for consumers. Across the country last week, homeowners and would-be homeowners eager for a bargain rate fired off inquiries to lenders.

Before last week, many bankers, lenders and borrowers had assumed that mortgage rates would soon start rising closer to a two-decade average of 6 percent. That was based on expectations that the Federal Reserve would start raising its key short-term rate next year - a move that likely would lead to higher mortgage rates.

But that assumption fell suddenly into doubt as stocks plunged last Monday and Wednesday amid fears about global economic weaknesses, the spread of Ebola and the threat of the Islamic State militia group in the Middle East.

Seeking safety, investors poured money into U.S. Treasurys. Higher demand drives up prices for those government bonds and causes their yields to drop. The yield on the 10-year note traded as low as 1.91 percent last Wednesday.

This week the yield on the benchmark Treasury note recovered to 2.22 percent Wednesday. It traded at 2.26 percent Thursday morning.

To calculate average mortgage rates, Freddie Mac surveys lenders across the country between Monday and Wednesday each week. The average doesn't include extra fees, known as points, which most borrowers must pay to get the lowest rates. One point equals 1 percent of the loan amount.
The average fee for a 30-year mortgage was unchanged from last week at 0.5 point. The fee for a 15-year mortgage also remained at 0.5 point.
The average rate on a five-year adjustable-rate mortgage slipped to 2.91 percent from 2.92 percent. The fee was steady at 0.5 point.
For a one-year ARM, the average rate rose to 2.41 percent from 2.38 percent. The fee held at 0.4 point.
Permalink | Email this | Comments
7 Ways to Cozy Up Your Home in Cold Weather

Filed under: Home Improvement, How To
The following post is by BrightNest:

Fall and winter can get a bad rap. We get it -- outside your home, it's cold, blustery, dark and (sometimes) dreary. Instead of getting blue, take advantage of the cold weather and turn it into a time to eat, drink and be cozy! With a few simple tricks, you can transform your home into a warm and inviting space.

Here are seven ways to cozy up your home for cold weather:

Light a Crackling Candle: If you don't know what a crackling candle is, read this. Basically, wood-wick candles are the best way to simulate a wood-burning fireplace without any of the soot and smoke.

Wrap Up in Wool or Flannel: Soft, plush textiles are essential when it comes to cold weather. In the bedroom, bring out your warm-weather, heavier fabrics (like this wool duvet) that will keep you nice and toasty. In the living room, add flannel or chunky wool throws and pillows and you've got the perfect place to snuggle up and enjoy a movie.

Whip Up a Batch of Homemade Cider: To make your own apple cider, all you need are apples, sugar, cinnamon and allspice. Mix the ingredients, and then let them boil in a large pot for at least one hour. For the full instructions, check out this recipe. No time for homemade cider? Grab a box of apple cider mix to make instant cider in your favorite mug.

Sink Your Feet into a Faux Fur Rug: Nothing is quite as comforting as having a warm, cozy rug to sink your feet into every morning. If you're not into the look of faux fur on your floors, do yourself a favor and invest in these faux sheepskin moccasin slippers.

Simmer a DIY Air Freshener on Your Stovetop: For a quick, inexpensive air freshener, reach for your spice rack! For instant coziness, simmer a pot of spices, herbs and fruit peels on the stove while you clean for instant coziness. We recommend #1 on this list for cozying up your home, but you can also try any combination of orange peels, cinnamon sticks, cloves, nutmeg and ginger peels.

Change Up Your Tablescape or Mantle: Transform your dining room table or fireplace mantle by switching up your tablescape décor. Opt for warmer color tones and bring in some pinecones, acorns, squash, cranberries, candles or wine bottle lights.

Treat Yourself to Fall Flowers: Nothing brightens up a space in your home more than fresh flowers, and there are plenty of fall options to choose from! You'll be able to find mums, asters and bittersweet berries well into the cold months at your grocery or local garden store. Tip: Make your flowers last longer by sticking them in the fridge overnight.

Permalink | Email this | Comments

Jennifer Lopez Reportedly Buying $22.25 Million NY Penthouse


Filed under: News, Celebrity Homes
By Catherine Sherman

Jennifer Lopez may be signing a deal to perform regularly in Las Vegas, but she's putting down new roots in her hometown -- the Big Apple. "Jenny from the Block" is in contract to buy a $22.25 million Manhattan penthouse, according to New York's Daily News.

When it comes to location, it doesn't get much better. The singer's new digs are on the top floor of The Whitman, a pre-war boutique condominium overlooking Madison Square Park. The building is also home to Chelsea Clinton, who purchased the second floor for $10 million last year.

Lopez's last reported real estate purchase was a 3-acre Hamptons property. She bought it for $10 million after touring the place several times with her twins and then-boyfriend Casper Smart.

Now unattached, the singer is making real estate moves of her own -- and The Whitman penthouse looks to be her most luxurious home yet. The interior spans 6,500 square feet with four bedrooms, six full bathrooms and two half-baths. The residence also has four terraces totaling over 3,000 square feet.

The listing states that the sprawling home features exquisite finishes, an Arclinea chef's kitchen and ceiling heights up to 12 feet, 4 inches.

Melanie Lazenby of Douglas Elliman Real Estate is handling the sale, which is currently in contract.



Read | Permalink | Email this | Comments

SJP Does Some Shoe Business on Perry Street Steps


Filed under: News, Celebrity Homes, Lifestyle, Selling
Sarah Jessica Parker reportedly has annoyed the folks who live at 66 Perry Street, the West Village townhouse better known as Carrie Bradshaw's single gal pad in "Sex and the City."


The New York Post reports that Parker used the steps of the Perry Street building to display her new shoe collection for Nordstorm without the permission of the building's owner. Residents, who constantly put up with masses of "SATC" fans taking selfies in front of the building, reportedly are none too happy that SJ defied the "Do NOT go on the staircase please" sign and chain, and lined up her new shoes for a photo shoot. Pictures of the shoot are posted on the "sjpcollection" Instagram page.

Gerald Banu, president of the Perry Street Association, reportedly told The Post's Page Six, "I heard about the shoot. They didn't get the permission from the owner. The situation with 'SATC' visitors is still very intense. People who live here get upset that the sidewalks are constantly jammed."

SJ reportedly has not responded to questions about shoegate.

Meanwhile, there may be some good news on the horizon for the Greenwich Village townhouse that SJ and husband Matthew Broderick have been trying to sell for $22 million.

Broderick, who recently appeared on Bravo's "Watch What Happens Live," told host Andy Cohen and rapper T.I., "We're getting ready pretty much to hand it over for a good price."

T.I. then tried to poach the listing by saying he'd represent the property for "25 percent."

Don't worry, Fredrik Eklund, the Bravo star of "Million Dollar Listing New York," whose team is representing the property on 20 East 10th Street.

T.I. was just funning.

Permalink | Email this | Comments

Expect Low-Down-Payment Mortgages to Require Good Credit


Filed under: News, Buying, Financing, Credit
By Christine DiGangi

Mel Watt, director of the Federal Housing Finance Agency, announced Monday plans to increase mortgage access to borrowers with good credit but limited funds available for a down payment. In a speech at the Mortgage Bankers Association annual convention in Las Vegas, Watt said the FHFA would issue guidelines for making lending to consumers who can afford only 3 percent to 5 percent down payments, according to a transcript of his remarks.

He mentioned the low-down-payment loans once, saying details are forthcoming, but the idea is part of a broader message to lenders that tight credit restrictions have prevented creditworthy borrowers from becoming homeowners. For low- and middle-income Americans to have access to affordable mortgages, lenders need to feel comfortable extending credit -- that they won't suffer the massive

With some of the changes Watt mentioned, consumers with good credit could access government-backed home loans with little money down and better interest rates than are available under current loan programs.

losses they did after the housing bust several years ago. In his speech, Watt sought to reassure lenders that this is the case, as the FHFA refines and clarifies the relationship between lenders and Fannie Mae and Freddie Mac.

Traditionally, consumers should plan to save 20 percent of their future home's value for a down payment, but that amounts to tens of thousands of dollars, which many consumers may not have at their disposal especially after other homebuying expenses like closing costs. Home prices have gone up, student loan debt has grown, but wages have remained stagnant, further complicating access to homeownership.

With some of the changes Watt mentioned, consumers with good credit could access government-backed home loans with little money down and better interest rates than are available under current loan programs. Interest rates and down payments have a significant impact on how much you pay for a home or whether you can buy one at all. You can calculate how much home you can afford by playing around with these figures, which will help you figure out a plan for becoming a homeowner in the future.

Something to highlight from Watt's speech: He repeatedly refers to "creditworthy borrowers," so while lowering credit standards is a part of the plan, consumers will still need to exhibit a positive credit history when applying for home loans. If you're not sure where you stand or think you need to improve your credit before shopping for a home, make a habit of checking your credit reports and scores regularly. (You can get two of your credit scores for free on Credit.com.)

Permalink | Email this | Comments

Top Firm Accused of Rigging Mortgage Mods, Foreclosures


Filed under: News, Financing, Foreclosures
By Alex Veiga

One of the nation's largest servicers of home loans may have denied struggling borrowers the chance to fix loan problems and avoid foreclosures, New York's financial regulator has alleged. An investigation by the state's Department of Financial Services found that Ocwen Financial Corp. inappropriately backdated foreclosure warnings and letters that rejected mortgage loan modifications, making it nearly impossible for borrowers to appeal the company's decision.

Many borrowers who had fallen behind on loan payments also received warning letters months after the deadline for avoiding foreclosure had passed, department investigators found. Potentially hundreds of thousands of backdated letters may have been sent to borrowers, likely causing them "significant harm," Benjamin Lawsky, New York's Superintendent of Financial Services, wrote in a letter to Ocwen released Tuesday.

"Ocwen's indifference to such a serious matter demonstrates a troubling corporate culture that disregards the needs of struggling borrowers," Lawsky wrote in the letter to company's general counsel. In a statement, Atlanta-based Ocwen blamed software errors in the company's correspondence systems for generating improperly dated letters.

The latest claims of wrongdoing against Ocwen come less than a year after the company agreed to reduce struggling borrowers' loan balances by $2 billion as part of a settlement with federal regulators and 49 states over foreclosures abuses. It's the most recent evidence that many of the same kinds of abuses that made the housing crisis and the Great Recession worse are still happening some seven years after the housing bubble burst.

Subprime mortgage lenders thrived during the real estate boom years, as many borrowers turned to a variety of nontraditional, riskier loans when they couldn't qualify for traditional, fixed-interest mortgages requiring down payments. But it all began to unravel in 2007, as defaults started to pile up. That eventually triggered a mortgage meltdown that sent foreclosures soaring and propelled the U.S. housing market into its worst skid in decades.

In the years since, companies like Ocwen have been enlisted to handle payment collection on behalf of banks and, in many cases, investors who own securities backed by bundled home loans. They also handle customer services, loan modifications and foreclosures.

Such companies have also been criticized for not helping homeowners quickly enough -- resulting in delays that lead to more fees and profits for servicers. Many have been the target of consumer lawsuits. Some mortgage-servicing companies processed foreclosures without verifying documents.

Ocwen is the fourth-largest mortgage servicer in the country and the biggest that isn't a bank. It specializes in servicing high-risk mortgages. At the start of this year, it managed $106 billion worth of subprime mortgages, according to Inside Mortgage Finance, a mortgage industry tracker

The New York Department of Financial Services launched a probe into Ocwen in August amid allegations that the company overcharged struggling homeowners on a product called force-placed insurance, which servicers force borrowers to buy if they don't maintain voluntary homeowners' insurance. If mortgage borrowers don't pay up for newly purchased insurance, Ocwen forecloses on their homes.
Among its latest findings, the regulator determined that Ocwen failed to investigate the backdating of its letters to borrowers nearly a year after an employee raised questions about the practice.

The letter did not specify whether the backdating was intentional or the result of poor oversight by Ocwen. "The existence and pervasiveness of these issues raise critical questions about Ocwen's ability to perform its core function of servicing loans," Lawsky wrote in the letter.

In its statement, Ocwen said initially that its systems generated improperly dated letters to 283 of its borrowers in New York. It later said it is aware of additional borrowers, but didn't specify..
The company added that it is investigating two other cases and cooperating with the New York regulator.

"We believe that we have resolved the letter-dating issues that have been identified to date, and we continue our investigation as to whether there are additional letter-dating issues that need to be resolved," the company said.

A company spokesman did not immediately respond to a request for details on how many Ocwen borrowers nationwide received backdated letters or lost their homes as a result of the delayed warning letters. Ocwen's stock slumped $4.78, or 18.2 percent, to $21.48 Tuesday. The stock is down 61 percent this year.

Josh Boak in Washington contributed to this report.

Permalink | Email this | Comments

Best U.S. Cities to Trick or Treat


By Alexa Fiander

Gather around you spooky ghosts and cackling witches: The best locations for scoring Halloween loot in 2014 are secret no more! Every year, the candy-loving data heads at Zillow team up to find the top 20 cities around the country for trick-or-treaters in search of the most candy on the safest streets.

Stealing the coveted title for the fourth year in a row is San Francisco, with Los Angeles, Chicago, Philadelphia and San Jose rounding out the top five on Zillow's sixth annual Trick-or-Treat Index.

If your city was sweet enough to make the list this year, be sure check out the top five hottest neighborhoods that also made the cut.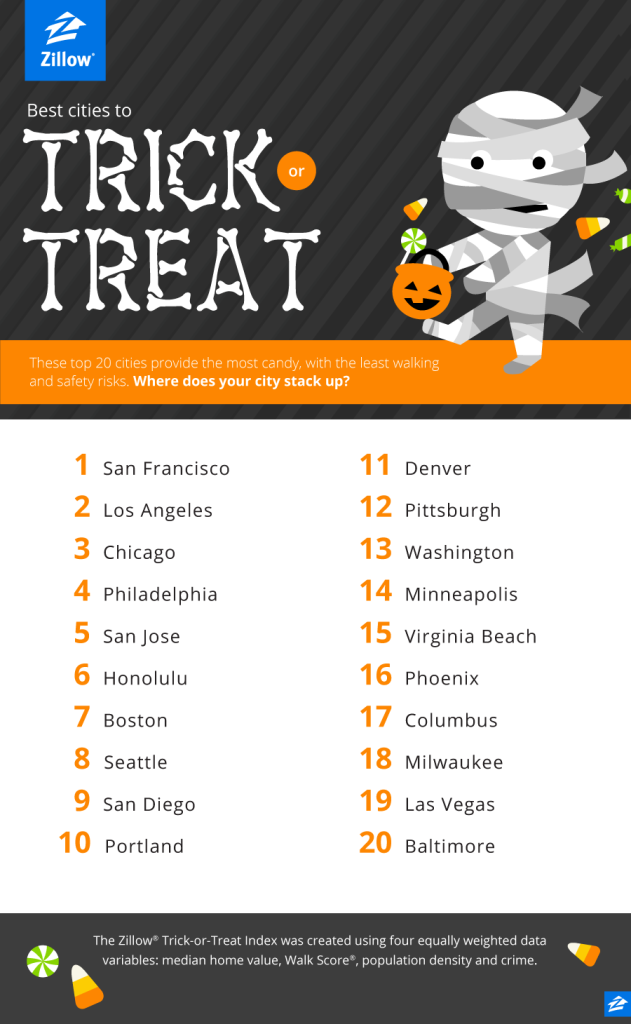 Neighborhood Ranking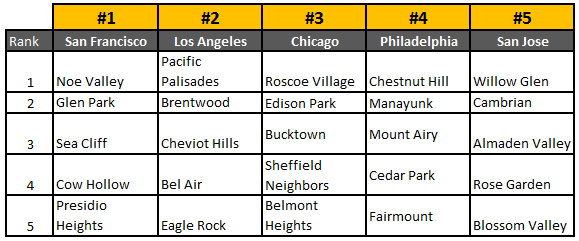 Methodology
We take data seriously here at Zillow, even when it comes to trick or treating. While wealthier neighborhoods are often known for their frightfully sweet harvest on Halloween night, we calculate the Trick-or-Treat Index using a holistic approach with four equally weighted data variables: Zillow Home Value Index, population density, Walk Score(R) and local crime data from Relocation Essentials. Based on these variables, the index represents cities that will provide the most candy, in the least amount of time, with the fewest safety risks.

Want to put the list or map graphics on your website? Email press@zillow.com, and we'll send them your way!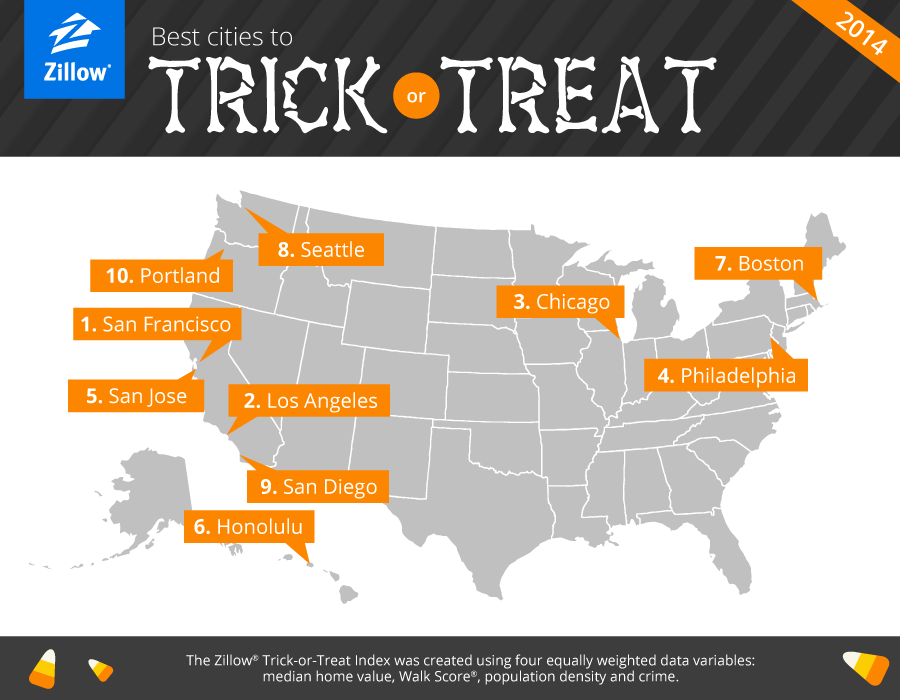 See 2013 Trick-or-Treat Index results
Read | Permalink | Email this | Comments
Zillow: 30-Year Fixed Mortgage Rates Stay Below 4%

Filed under: News, Buying, Financing, Refinancing
By Lauren Braun

Mortgage rates for 30-year fixed mortgages were unchanged this week, with the current rate borrowers were quoted on Zillow Mortgages at 3.81 percent, identical to this same time last week. The 30-year fixed mortgage rate hovered around 3.85 percent for most of the week, dropping to 3.70 percent Wednesday before rising to the current rate.

"Last week mortgage rates experienced dramatic inter-day volatility, falling Wednesday to their lowest level since May 2013 fueled by global economic concerns and the potential threat of an Ebola epidemic," said Erin Lantz, vice president of mortgages at Zillow. "With little mortgage market-moving data scheduled to be released next week, we expect rates to remain stable."

Additionally, the 15-year fixed mortgage rate this morning was 2.97 percent, and for 5/1 ARMs, the rate was 2.80 percent.

Purchase Mortgage Application Activity: Zillow predicts tomorrow's seasonally adjusted Mortgage Bankers Association Weekly Application Index will show purchase loan activity increased by 5 percent from the week prior. To learn more about this Zillow analysis, click here.

What are the interest rates right now? Check Zillow Mortgages for mortgage rate trends and up-to-the-minute mortgage rates for your state.

Permalink | Email this | Comments

10 Cities Where You're Most Likely to Find a Haunted House


Filed under: News, Buying, Lifestyle
By Trulia Staff

Are you in the market for a good scare? Looking for a spooky spot? Good news -- or is it bad? -- we have you covered.

In 2012, we looked at which U.S. metros have the greatest concentration of old, vacant homes. Using that data, Trulia Chief Economist Jed Kolko was able to determine the cities where you're most likely to find a haunted house. With Halloween just around the corner, we decided to rejigger the numbers and see if ghosts and ghouls are on the move.

(And also to prove once and for all -- we ain't afraid of no ghost.)




How did we come to our spooky conclusion? We used the same logic, looking at old, vacant homes. As Kolko noted then, "Old homes with creaky bones have a history of previous residents whose spirits might return, or maybe never left. Our other hunch is that ghosts would prefer not to be disturbed, so they haunt vacant homes more than homes occupied by pesky mortals."

So did we learn anything new about our otherworldly neighbors?

One city floated onto the haunting scene since 2012, but overall it seems like those pesky phantoms like to stay put. Makes sense to us; it's probably tough for even the most seasoned specter start haunting in a new town. Adding to the scare factor, the newcomer has a seriously spine-tingling name: Torrington. (Terrifying!)

And remember how we told you that ghosts love capes?

Still true. Cape Cod, Massachusetts, and Cape May, New Jersey, continue to occupy the top two slots, with the most housing units that are both old and vacant. The No. 3 city for spotting the supernatural? None other than Lebanon, New Hampshire. The rest of the cities are a mix of areas that haven't seen much growth recently, including older cities like Buffalo, New York; Scranton, Pennsylvania; and Detroit that are experiencing hard economic times.

Ready to settle down in a city where things go bump in the night? Chances are, ghosts aren't going to show up in Trulia's demographic maps, so you might want to keep this list handy when you're hunting for haunted houses.

Permalink | Email this | Comments

Mortgage Giants Strike Deal to Loosen Credit, Regulator Says


Filed under: News, Buying, Financing, Credit
By Marcy Gordon

WASHINGTON -- A federal regulator says government-controlled mortgage giants Fannie Mae and Freddie Mac have reached an agreement with major banks that could expand lending. The head of the Federal Housing Finance Agency, which oversees Fannie and Freddie, announced the deal Monday at a conference of the Mortgage Bankers Association in Las Vegas. FHFA Director Mel Watt said the deal clarifies conditions in which banks could be required to buy back mortgages they sell to Fannie and Freddie for misrepresenting the loans' risks.

Watt said the agreement in principle is "a significant step forward" that will help make more mortgage credit available without harming Fannie and Freddie's finances. It's currently hard for banks to know

An expansion of mortgage credit could help boost the housing market, which has recovered only gradually since the Great Recession.

whether they'll have to buy back loans, Watt said. That can make banks skittish about lending to borrowers with less pristine credit.

An expansion of mortgage credit could help boost the housing market, which has recovered only gradually since the Great Recession. Big banks in recent years have paid billions of dollars in settlements to resolve government claims of misleading Fannie and Freddie about risky home loans and mortgage securities that they sold before the housing market collapsed in 2007.

Watt also said his agency is working with Fannie and Freddie to develop new guidelines that would allow some creditworthy borrowers to make lower down payments than currently required. Details on the guidelines and the new requirements for banks to buy back mortgages will be issued soon, he said.

The FHFA will set a minimum number of loans linked to misrepresentations by the seller banks or inaccurate data that would require them to be repurchased. That means a pattern of problems must be established, Watt said.

Fannie and Freddie own or guarantee about half of all U.S. mortgages, worth about $5 trillion. Along with other federal agencies, they back roughly 90 percent of new mortgages. The two companies don't directly make loans to borrowers. They buy mortgages from lenders, package them as securities, guarantee them against default and sell them to investors. That helps make loans available.

The government rescued Fannie and Freddie at the height of the financial crisis in September 2008 when both veered toward collapse under the weight of losses on risky mortgages. Together they received taxpayer aid totaling $187 billion. The gradual recovery of the housing market has made the companies profitable again, and they have repaid the government loans.