AOL Real Estate - Blog
AOL Real Estate - Blog

Room of the Day: Creating a Warm, Welcoming Living Space


Filed under: Design, News, Home Improvement

By Jeannie Matteucci
Photos by Eric Laignel

There was a lot to like about the living room in Brian Garrett and Stephen Fronk's 1878 Victorian flat. Located in San Francisco's Liberty Hill Historic District, the home had 12-foot ceilings and lovely architectural details. But the long, narrow layout and the lack of storage options for media made the space feel uninviting.

Turning to their friend and designer Sara Story for help, the pair created a welcoming living room that celebrates the beautiful architecture but has more warmth and better storage. Elegant window treatments, a new built-in enclosure for storage, a light gray wash on the wood floor and midcentury furniture and accessories transformed the space. "I really wanted them to use this living room," says Story. "This used to be the room that collected dust balls."


Contemporary Living Room by New York Interior Designers & Decorators,
Sara Story Design
The living room is the first space that greets visitors, so it was important that the room feel inviting. Drapes were a top priority. "Window treatments are expensive, and we didn't have the experience or confidence to know what to do there," says Garrett. "Sara picked the fabric, and once you do it, you realize it's worth every penny."
The custom drapes are ivory cotton and silk with a contrasting black and cream striped hem. They dress up the tall windows and emphasize the room's height. "Drapes really create a formality to a room and add a glamorous element," says Story. "It adds an extra layer to the windows that creates warmth."
Adding a white built-in enclosure with millwork (seen on the left side of this photo) gave the owners the storage they needed.
A
bottom cabinet with drawers holds barware; an upper cabinet with folding doors opens to reveal a large TV. Separate cabinets hold media equipment and an automated home system.
(Ceiling light fixture: 1950s Diderot Double Cone Chandelier, Rewire
)
Custom Draperies 101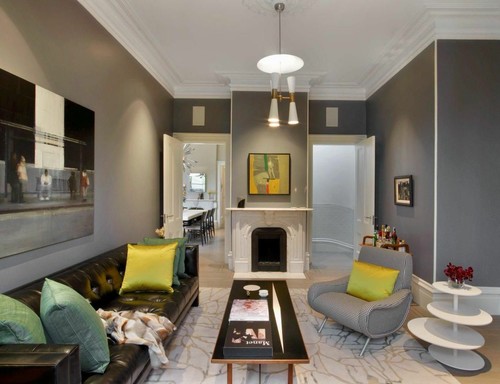 The painting above the fireplace, purchased on a trip to Vietnam, inspired the living room's color palette, including the green and yellow silk pillows on the sofa.
The pattern in the large ivory wool area rug was inspired by the natural veining of stone and marble. The existing oak floor was given a light gray wash to make it feel a bit more contemporary. The walls were repainted the same
Dior Gray
the owners had used before. ("That was the one thing we did right," jokes Garrett.) It's a rich, saturated tone that envelops the space and highlights the living room's classic molding.
The left door in this photo leads to the dining room. The door to the right of the fireplace leads downstairs to the flat's front entry.
(White side table: Design House Stockholm; area rug: Tracery by Kelly Wearstler, The Rug Company; wall paint: Dior Gray, Benjamin Moore; ceiling and trim paint: Seed Pearl, Pratt & Lambert
)
An oil painting by Oakland, California, artist
Brett Amory
was chosen for the prime spot over the tufted black leather sofa. The new sofa was just what the owners were looking for - timeless, stylish and masculine. "It's so comfortable and sophisticated at the same time," says Garrett. "It's also much more inviting than the Danish sectional we had before."
(Sofa: custom, Marco Fine Furniture; side tables: vintage Paul Frankl nesting tables, circa 1950; side table lamp: 1949 Control Lamp by Mitchell Bobrick, 20th Century Interiors
)
Contemporary Living Room by New York Interior Designers & Decorators,
Sara Story Design
The designer bought this vintage rosewood coffee table with a laminated black top, a white inlay and brass supports at an antiques store in Brooklyn, New York.
One of two existing gray houndstooth chairs was paired with a vintage floor lamp
to create a comfortable spot for reading. "Lamps and lighting in general give you a chance to add a sculptural form and create atmosphere," notes Story. "This floor lamp was an interesting form, similar to the chandelier above but in black."
(Floor lamp: 1950s French, Bourgeois Bohème Atelier; chair: Design Within Reach
)
A vintage 1950s Italian walnut bar cart with metal detailing bought at a local auction keeps entertaining supplies close at hand. Fronk bought the framed painting above it at a gallery in Hanoi, Vietnam.
Now the owners and their friends have a comfortable and stylish place for hanging out, instead of heading straight for the kitchen like they used to. "I think this room really embraces the architecture, but it's also functional for 2014," says Story.
See more Rooms of the Day
Permalink | Email this | Comments
It's Official: Taylor Swift Bought Peter Jackson's Penthouse

Filed under: News, Buying, Celebrity Homes
By Catherine Sherman

It's been waiting for her. And Taylor Swift could dance to this New York City beat forevermore. With the release of her fifth studio album, "1989," this week, the singer is leaving her country roots behind and embracing life in the Big Apple. But Swift first said "Welcome to New York" this spring when she moved into Peter Jackson's former penthouse. Reports of the purchase first surfaced in March, and now property records confirm the deal closed for $19.95 million.

Rolling Stone recently paid the country girl a visit to see how she's settling into her Tribeca digs. "There's my piano," she told the magazine. "Here's my pool table that always has cat hair on it. ...That's a door that I walk into."

It appears Swift is taking her own advice and "keeping the joke on me." On a more serious note, though, she's opening up her home to die-hard fans, known as "Swifties," for secret jam sessions.

"Instructed to conceal their shrieks of excitement, they climbed the stairs to the top floor of a Tribeca building, where their suspicions were confirmed," writes the New York Post about her recent night entertaining fans. "...Then, they headed across the hall and into Swift's apartment - outfitted with a beautiful piano, books whimsically displayed in birdcages, a signed Oscar de la Renta sketch of Swift's 2014 Met Gala gown and lots of Le Labo candles, personalized to read 'Taybeca.'"


The home -- previously owned by the bearded genius behind the "Lord of the Rings" movies -- has seven bedrooms, 5.5 bathrooms and a cool warehouse-loft feel with exposed brick and overhead beams. There's also a smaller, three-bedroom unit across the hall, which Swift reportedly purchased for her security detail.

In addition to media interviews and events with fans, Swift is trying to be the Global Welcome Ambassador for New York City. While some are skeptical, she's trying to get into the things New Yorkers like to do -- like watching the Knicks on NBA opening night. This Wednesday, she was spotted courtside along with Justin Bieber and Ben Stiller.

Time will tell whether Swift makes the Big Apple her permanent residence. From Nashville to Beverly Hills and Rhode Island, she's been known to shake it off and keep cruising.

Read | Permalink | Email this | Comments

Reese Witherspoon Sells Last Part of Her Brentwood Compound


Filed under: News, Celebrity Homes, Selling
Bye, Bye, Brentwood!
Reese Witherspoon
has just sold the remainder of her
massive Brentwood compound
for $10.068 million. After listing that entire Los Angeles
property and an adjacent side lot
for sale for a whopping $14 million in June, Witherspoon peeled off the
smaller lot in a side deal
, getting $3,550,000 for the lot (with a "teardown" home) on Sept. 11.
Now, property records show that on Oct. 14 Witherspoon sold the larger part of the A-list compound, which includes a five-bedroom, six-bathroom, 6,956-square-foot Spanish-style estate, and adjacent lot tucked away at the end of a quiet cul-de-sac on a double lot in the desirable, guard-gated and
celebrity-friendly Brentwood Circle
. (See the slideshow below.)
Witherspoon apparently wanted out of the Brentwood compound now that she's bought a brand-new
Pacific Palisades home for $12.705 million
and a
stately fixer-upper in her hometown of Nashville
.
When the estate first hit the market, Witherspoon
welcomed Vogue.com video cameras
into the home for a closer look.
Permalink | Email this | Comments
How Homebuying Can Come Back to Haunt You

Filed under: Buying, Financing, Credit
By AJ Smith

If you think your pricey Halloween costume is going to set you back, just wait until you see how many costs come with buying a home. Buying a property is likely the largest financial decision you will make in your life and it's important to do so thoughtfully. From how much house you can afford to which neighborhood is right for you, it's important to consider each aspect carefully. Check out the reasons you may regret your decision to buy a home down the road.

1. If You Lose Your Job: Job security should be one of your first thoughts before you purchase a home. If you have reason to believe that you may be out of a job in the foreseeable future, now is probably not the right time. Mortgage lenders are not forgiving on missed payments and it's a good idea to buy a home only when you are confident in your employment status or ability to afford your monthly mortgage for the future.

2. If You Need to Move - Again: When you make a home purchase, it's generally a good idea to stay put for at least several years. A buy or rent calculator can help you determine what is the break-even point for you. That's the number of years when it makes more sense for your net worth to buy instead of continue renting. Buying a property is generally a long-term commitment and probably not for you if you find yourself frequently changing cities. If you have to sell a recently purchased home on short notice it can be difficult to do without absorbing a big loss. Renting may be the better option for you if you find yourself moving more often than staying put.

3. If You're in an Unstable Relationship: Although many single people buy homes, this is often a decision made with a partner or spouse. If your relationship with the person you're buying a home with is unstable or the reason you are in a certain area (significant other, family) is not secure, you could face serious buyer's remorse in the near future.

4. If You Have a Lot of Debt: Whether your debt is of the student loan, credit card or private loan variety, high debt ratios are a sign that you may want to hold off on making such a large financial commitment. If your expenses consume more than 50% of your income each month, you probably can't secure a mortgage anyways (and even if you do it will likely be at a higher interest rate, which can cost you thousands of dollars over the life of your loan). It's a good idea to try paying down your debts before buying a home.

Remember, you don't have to buy a house. If your current personal, financial or employment situation is shaky, you may want to hold off on the purchase for now. Run the numbers to see what's best for you. Be scared for the right reasons this Halloween season -- not because you have found yourself in a costly housing situation that isn't right for you.

AJ Smith is an award-winning journalist with more than a decade of experience in television, radio, newspapers, magazines and online content. She currently serves as the managing editor for SmartAsset.

Permalink | Email this | Comments

Catherine Zeta-Jones and Michael Douglas Double-Down


Filed under: Design, News, Buying, Celebrity Homes
By Catherine Sherman

Sometimes you just need a fresh start. After ending their separation, Catherine Zeta-Jones and Michael Douglas have sold their former Bedford, N.Y., home and purchased another for $11.25 million.

The Oscar winners haven't moved far, and when it comes to architecture, they're staying traditional. Their former home was a brick center-hall Colonial; the new place is also a Colonial, but more than twice the size. (See the slideshow below.)

One of Westchester County's most illustrious properties, the 19th-century estate spans 15,458 square feet with eight bedrooms, 13.5 baths, equestrian facilities, magnificent gardens, a greenhouse, tennis court and pool. The interior has been renovated, mixing sleek, new appliances with historic moldings and woodwork.

The news comes on the heels of Bruce Willis' recent real estate purchase in Bedford: two hilltop properties overlooking the Croton Reservoir. Over the years, several members of New York's social elite have called Bedford home including Bill and Hillary Clinton.

First listed for $12.75 million, the deal closed at the end of September, according to property records. Houlihan Lawrence held the listing.



Read | Permalink | Email this | Comments

30-Year Mortgage Rate Rises to Just Below 4%


Filed under: News, Buying, Financing, Refinancing
WASHINGTON -- Average U.S. long-term mortgage rates arrested their five-week decline this week but the benchmark 30-year loan remained below 4 percent. Mortgage company Freddie Mac said Thursday the nationwide average for a 30-year mortgage rose to 3.98 percent from 3.92 percent last week. It remained at its lowest level since June 2013. The rate stood at 4.53 percent back in January.

The average for a 15-year mortgage, a popular choice for people who are refinancing, increased to 3.13 percent from 3.08 percent. The sustained decline in long-term rates sparked a boomlet of homeowners looking to refinance mortgages. Homeowners eager for a bargain rate fired off inquiries to lenders. Applications for "re-fi's" jumped 23 percent in the week ended Oct. 17 -- reaching their highest level since November 2013, according to the Mortgage Bankers Association. But refinance applications fell 7 percent in the latest week, ended Oct. 24.

In recent weeks concern over global economic weaknesses brought market turmoil and sent investors seeking safety by pouring money into U.S. Treasurys. Higher demand drives up prices for those government bonds and causes their yields to drop. The yield on the 10-year Treasury note touched new lows. Mortgage rates often follow the yield in the 10-year note.

This week, the 10-year note rose to 2.32 percent Wednesday from 2.22 percent the previous week. The note traded at 2.29 percent Thursday morning.

To calculate average mortgage rates, Freddie Mac surveys lenders across the country between Monday and Wednesday each week. The average doesn't include extra fees, known as points, which most borrowers must pay to get the lowest rates. One point equals 1 percent of the loan amount.

The average fee for a 30-year mortgage was unchanged from last week at 0.5 point. The fee for a 15-year mortgage also remained at 0.5 point. The average rate on a five-year adjustable-rate mortgage rose to 2.94 percent from 2.91 percent. The fee was steady at 0.5 point.

For a one-year ARM, the average rate edged up to 2.43 percent from to 2.41 percent. The fee held at 0.4 point.

Permalink | Email this | Comments

Why Insulation Is Like 'The Blind Side'


Filed under: Design, Home Improvement
Now that we are remodeling with energy efficiency in mind, we get asked a lot of questions by friends and neighbors. The most common, besides "how are you living through all that dust?" is "if I want to improve the comfort and efficiency of my home, which should I do first -- replace windows or add insulation to the walls?" The answer in most cases is insulation, but together they really perform.

Whether you are building to net zero or just want to lower your energy bills, windows and insulation are the blocking and tackling of home design -- one is flashy, the other not so much, but together they get

For our Long Beach house with no existing wall insulation and original wood windows from the '50s, the answer was clear.

the job done. If a house is a football team, windows are a noticeable star like a wide receiver.

Their impact on a house is dramatic, flashy and hard to miss. Insulation might be the left guard (see Michael Lewis' The Blind Side). The left guard doesn't get mention in the sports pages, but he protects the quarterback's back from charging defenders.

Reducing the energy load of the home is step 1 in net-zero design; sizing the solar array is the last step. So it's worth spending time on the X's and O's -- evaluating various options to improve the home's defense against unwanted heat gain or loss. Windows and insulation are definitely the key players here.

Which to do first of course depends a great deal on where you live, what your existing windows and walls are, and other factors like solar orientation, tree shading, etc. But for our Long Beach house with no existing wall insulation and original wood windows from the '50s, the answer was clear.

According to our energy models:
Going from nothing to R-13 walls will reduce our heating/cooling load by 33 percent.
Installing new low-e dual-pane windows (U/SHGC=0.30/0.29) will reduce our load by 14 percent.
Doing both is almost additive, generating a combined heating/cooling load savings of 46 percent.
That load reduction means that we reduce the number of solar panels we need on our roof. If the solar panels are the quarterback of the house, a solid defense against unwanted heat gain or loss means the panels can be more impactful and high-step into the end zone. With proper blocking and tackling, even

The stakes are higher than ever for energy efficiency....

a modest solar array has a shot at net-zero. That is real cost savings.

For us, the installation costs were roughly the same on insulation and windows. So performance bang-for-the-buck was best for wall insulation. And our game plan is to vary the type of insulation in each part of the house. Where we are opening walls, we can add traditional fiberglass batts. Where the walls are largely intact, we can drill a few holes and blow in cellulose insulation. Where we have a large attic space, we can super insulate with blow-in cellulose, reaching R-49 performance. Where our attics are narrow, like over the vaulted ceiling, we can use smaller batts and stop at R-19.

Windows come in an almost endless variety of options. In our analysis, springing for even more efficient windows (triple-pane, triple-coated) did not have payback relative to the extra cost. Why? Because our climate is fairly moderate. Move our house to Las Vegas or the Sierras and the high-end windows may have been worth the upgrade. Proper research makes these decisions clear.

So, why don't more remodels add insulation and windows?

Until now, most remodels were an exercise in making a home more livable, more useful and more attractive. But the game is changing. The stakes are higher than ever for energy efficiency, with several factors generating new interest in energy efficiency improvements like:

1. Rising energy costs.
2. Climate change consciousness.
3. Strict new energy codes encouraging the use of more energy efficient materials.
Innovation by product manufacturers.

But change comes slowly to the building industry, for many reasons. Many homeowners still perceive efficiency features as expensive and optional, and maybe even a little boring. No one goes to showrooms to look at fiberglass batts or cellulose, but they make a big difference in performance.

Builders and subcontractors are sometimes reluctant to try new materials and techniques; their profit on every job is at stake, and they need to work with partners and materials that are dependable. As a result, change filters through the industry only as fast as early adopters change and the competition forces the rest of the players to do the same.

And the industry still needs more financing products with reasonable rates, qualifying hurdles and application timelines. But we are optimistic that energy efficiency is about to have its best season yet. As costs decline, education improves and incentives promote change, the team will be unstoppable.

Permalink | Email this | Comments

Bruce Willis Buys 2 Parcels in Woodsy Bedford, NY


Filed under: News, Buying, Celebrity Homes
By Catherine Sherman

Bruce Willis' new digs give his Idaho getaway a run for its money. The "Die Hard" actor is living free with 22.32 acres on one of the highest points in Bedford, New York.

The actor has dropped $12 million on a shingle-style home and adjoining parcel in Westchester County overlooking the Croton Reservoir. The sale closed in August but has flown under the radar until recently.

The main residence has five bedrooms, six baths, a climate-controlled wine cellar, mature gardens, a swimming pool and heated cabana. Willis also scooped up land not listed on the Multiple Listing Service: eight acres with an antique house and two renovated guest cottages.

It seems the actor is slowly settling back East. He recently listed two of his other properties -- a Sun Valley ski home and a Beverly Hills estate -- and purchased a Central Park West apartment from U2 bassist Adam Clayton.

Willis and wife Emma Heming will be neighbors with Michael Douglas and Catherine Zeta-Jones, who recently sold a Bedford house and are buying another, according to The Journal News.



Read | Permalink | Email this | Comments

How to Manage a Mortgage After a Divorce


Filed under: News, Financing, Home Equity
By Geoff Williams

In a divorce, it's bad enough that you're losing someone you once loved or may still love. It's even worse when you find out you may lose your house, too. And finding a replacement, much like starting a love life all over, won't be easy. After all, lenders tend to give mortgage loans to people with good credit and a solid stream of income. If you were previously a two-income household, you aren't now, and if you're paying alimony, you have less money than you did.

Whether you're in the midst of a divorce or its aftermath, here are some things you can do to land a mortgage and what you can reasonably expect.

You may want to get your name or your ex's name off the mortgage. But perhaps not; it depends. If you are planning to buy a house, and your ex is living in the home you co-own, then ideally, your ex

It can be difficult for a person paying alimony to buy a house because of the way lenders look at that alimony.

needs to refinance in his or her name. That will decrease your debt and increase your odds of being able to get a new mortgage.

What if your ex can't refinance on her or his own? If you'd like to see your ex and the kids remain in the house, you may want to leave your name on the mortgage and co-own the house for a while with your ex.

"People do that all the time," says Katie Connell, a family law attorney with Boyd Collar Nolen & Tuggle in Atlanta and a governor-appointed member of the Georgia Commission on Child Support. "I'm stereotyping, but often a woman who didn't work full time and doesn't have the income stream or the credit to buy her own house, she and her ex-husband have agreed, with their family transitioning and changing, that it's in their better interest to keep mom and the kids in the house for, say, four or five years or when the kids go into their college freshman year," she says. "The husband is often willing to essentially extend his credit to his ex-wife by letting his name stay on the mortgage."

If you're going that route, Connell says you'll want to work out details about how profits will be split once the house is sold down the road. It may not be an equal split since one ex-spouse will be likely making the mortgage payments and possibly spending money to maintain the home for those extra years.

Connell says that arrangement tends to work better if the ex without the house still has enough income and good credit to buy a new home of his or her own.

Don't buy a home during the divorce proceedings. Even if you're rich beyond belief, and your credit and income stream are solid, it's still a risky move. Connell says one of her clients lost $10,000 in earnest money when he tried to buy a house during his divorce proceedings.

"He had great credit, a very good income, but when the lender found out he was going through a divorce, they said, 'Your alimony and child support payments are question marks,'" Connell says. "By the

Some lenders won't even consider letting a divorced person who receives alimony use that alimony as evidence of income....

way, this client had a different lawyer back then. If I had been representing him, I would have said, 'Don't do it!'"

Connell adds that when the client's ex learned he lost $10,000 in earnest money, the ex's lawyer naturally felt that the ex was entitled to at least half of that money - it was, after all, money that otherwise would have been in the pot of assets to split.

It can be difficult for a person paying alimony to buy a house because of the way lenders look at that alimony. "Alimony is considered a debt," says Susan Pryor, branch manager of Silverton Mortgage Specialists, a direct lender in Atlanta. "If you make $10,000 a month and give $3,000 to your ex-spouse, the lender doesn't look at it like you're making $7,000 a month. They look at it like you have a $3,000 car payment every month."

Where should you live during the divorce proceedings? Assuming you aren't selling the house immediately and you're both looking for a place to rent, there are two common approaches couples take, according to Connell.
Stay in your house with your soon-to-be ex. "We definitely see more people grinning and bearing it and living together longer," Connell says. "We saw a lot of that in this last recession." It's an idea that makes some sense. Living together awhile longer will save you both money. And especially if you have children, maintaining a civil relationship under the same roof may help with your post-divorce relationship.
You could nest. You hear "nesting" used a lot in pregnancy, but Connell says that in the divorce industry, the term refers to renting an apartment near the house and living there while a divorce is worked out. "We see a lot of couples who take turns living there, and the kids stay in the house," Connell says.
Connell adds the latter arrangement may not work for couples who still harbor a lot of anger or suspicion. She recalls an instance where a wife was convinced the husband was unplugging lamps and cable cords throughout the house before he would leave for the week.

"No damage or harm was done, but [the wife felt] it was just to be a pest," Connell says. Meanwhile, the husband said the cords came unplugged from his vacuuming, and that the wife was leaving dirty dishes in the sink.

Whatever you do, Pryor urges divorcing homeowners to not rush their decision of where to live next. "You may be under tremendous stress, and it's an emotional situation. Divorce can shake your planning, and you may not be able to make the right decisions," she says.

Besides, you may not be able to rush, even if you want to. Some lenders won't even consider letting a divorced person who receives alimony use that alimony as evidence of income until there's a six-month history of alimony payments being paid on time, Connell says.

You may be better off without a mortgage. This may be the last thing you want to hear if you want to hang onto your house or buy a new home. But the money math may not add up.

It's a common mistake with divorced homeowners, says Jean Ann Dorrell, a certified estate planner in Sumter County, Florida. Many people, she says, are "trying to hold onto a house because it's where the kids grew up or because you don't want the kids to have to change schools, you don't want to lose friends and you stay too long trying to afford something you never could have or should have."
Pryor agrees. "We see it a lot," she says. "It's especially emotional when children are involved." She adds that spouses who didn't know a divorce was coming tend to be the ones who can't face their new budget.

Pryor recommends professional help for anyone divorced and struggling to keep their home or figure out where to live next.

"I think it's important to do some financial planning, and there are planners who focus on divorce, so you can see what money is coming in and what's going out," Pryor says. "Just because you can barely make that mortgage payment every month doesn't mean you should stay in the house."

Permalink | Email this | Comments

Pat Boone's Mansion Goes on the Market, Ripe for Renovation


Filed under: News, Celebrity Homes, Selling
Singing legend Pat Boone has just listed his longtime Beverly Hills mansion for $18,499,000. Boone was one of the most successful artists of the 1950s, second only to Elvis Presley, and has had decades of success as a singer, actor, songwriter, author, political activist and more. Despite his active life and many years of success, he stayed rooted in his life in Los Angeles, where he lived in this stately mansion with his family for more than 50 years.

On the market for the first time in approximately 55 years, the home is located on iconic Sunset Boulevard, bordering the "Golden Triangle," a highly-sought-after area for luxury real estate.

On one of the largest lots in Beverly Hills, a sprawling 48,000 square feet, Boone's estate is being marketed as an "ideal development project." Essentially a teardown or a major renovation project, Boone's just-listed estate currently has six bedrooms, seven bathrooms, 7,000 square feet of living space and expansive outdoor areas that include a pool, lawn and gardens.

Gated and hedged for privacy (see the slideshow below), the property would make an amazing home for a star on their way to a storied career like Boone's. The estate is listed with Seth Perry of Nourmand & Associates.



Permalink | Email this | Comments

Room of the Day: Den's Small, Dark and Handsome Makeover


Filed under: Design, News, Home Improvement

By Becky Harris

They tried calling it the music room, the den and the library, but no matter what they called it, no one in this family of four was using this room on their home's first floor. After meeting interior designer Becca Galbraith, they were open to anything that would stop the space from being wasted. "My clients knew they liked handsome fabrics, rich textures and dark colors," Galbraith says. "I suggested we do something dark and risky, and they were totally onboard." Comfortable seating, an elegant media center, reading lamps, patterns and layers of textures turned the room into one of the most sought-after spaces in the house.




Photos by Rikki Snyder

Room at a Glance
Who lives here: A couple and their 2 teenage children
Location: Chatham, New Jersey
Size: About 95 square feet (9 square meters)

The room is located right off a larger living room-family room. Galbraith began with a favorite Robert Allen fabric for the window treatments. Because her clients were not afraid to go with dark paint, she pulled an indigo hue straight from the fabric to use on the walls. The owners had added extensive millwork throughout the house a few years prior, including wainscoting and other molding. At first they were a little wary of covering everything with the color, but they trusted their designer and let her go for it.

She used Polo Blue by Benjamin Moore on everything, using a high-gloss finish on the millwork and an eggshell finish on the walls for a subtle contrast. The high gloss, accentuated by the lighting, gives the millwork its due.

Next she layered in texture. A striped rug grounds the room in light neutral color. Vintage and global-inspired finds add character. The X-stool was made from a vintage luggage rack. Galbraith was drawn to the bamboo base's color and texture, so she had her upholsterer replace the top with a hide. "An animal print always helps a room," she says.

Another interesting texture turns up on the stools, which can be tucked right in underneath the leather ottoman. "I knew I wanted something woven and kind of "ropey," she says. She found just the right extra seating with these CB2 pieces.

Blinds: bamboo in Sendai-Tortoise, Smith & Noble; drapery fabric: Robert Allen; rug: Stanton Carpet




A TV was next on the owners' wish list. To preserve the millwork all the way around the room, the media casework is freestanding. Matching moldings make them look built in and protect the wainscoting behind them.

The TV practically disappears into the inky paint. Galbraith used a special Venetian plaster treatment on the back panels of the unit to add a little pizzazz. She used the same color as the walls and a gray wash. Antique brass library sconces add shine.

"That top shelf was a big gap, and I knew we needed something really cool to fill it," Galbraith says. She found it in the form of a vintage wooden Thai wheel from a sugar factory.

Sconces: Visual Comfort




One of the homeowners wanted to be able to read in here and prop her feet up on the windowsill, so Galbraith chose comfortable upholstered swivel armchairs and swing-arm floor lamps.

The chairs are upholstered in a handsome tweed that adds more subtle pattern and texture. Luxe mohair throws and ikat pillows add comfort and style.

Pillows: Madeline Weinrib; throws: Thomas O'Brien; chairs: Gabby; bowl: West Elm; floor lamps: Restoration Hardware




A vintage metal side table provides a convenient spot for drinks and the TV remote. "I wanted to add a little bit of edge to it," Galbraith says. "I didn't want to overkill with the brass, so I chose a bronzy finish for the lamps," she says. The antique brass upholstery nails can also take on a bronze cast.

Side table: vintage, Ruby Beets




The ottoman is another repurposed piece; originally it was a table. Galbraith had the top replaced with a leather-like vinyl upholstery. The woven stools are just the right height for being tucked underneath.

Tip: Artwork doesn't have to fit within molding. The piece in the room that packs the biggest design punch is one the homeowners weren't sure about at first. "I brought the art over on approval on install day, and they were asking where in the world it was going to fit," Galbraith says. "Once they saw it, they said it made the room - they absolutely had to have it."

Art: Peter Dunham

Final touches include this bowl with a gorgeous glaze that brings in a touch of aqua.

The new design of this room has made it a favorite spot where the teenagers gather with their friends and their parents curl up with books. "They used to call it the den and now they call it the gem," Galbraith says. "Everyone loves to hang out in here."

Galbraith is currently working on the family's dining room, and they hope to get to the living room next.

Permalink | Email this | Comments

Mortgage Applications Fall as Rates Tick Up


Filed under: News, Financing, Refinancing
By Luciana Lopez

NEW YORK -- Applications for U.S. home mortgages fell last week as both purchases and refinancing slipped, an industry group said Wednesday.

The Mortgage Bankers Association said its seasonally adjusted index of mortgage application activity, which includes both refinancing and home purchase demand, fell 6.6 percent in the week ended Oct. 24.

The MBA's seasonally adjusted index of refinancing applications fell 7.4 percent, while the gauge of loan requests for home purchases, a leading indicator of home sales, fell 5 percent.

Fixed 30-year mortgage rates averaged 4.13 percent in the week, up 3 basis points from 4.10 percent the week before.

The survey covers more than 75 percent of U.S. retail residential mortgage applications, according to the MBA.



Permalink | Email this | Comments

'Breakfast at Tiffany's' Brownstone Discounted by $2 Million


Filed under: News, Celebrity Homes
By Catherine Sherman

You may remember Audrey Hepburn and George Peppard standing on these front steps. The New York City brownstone featured prominently in "Breakfast at Tiffany's" is on the market for $8 million after a recent 20 percent price cut.

"Any time they had a street scene, the house was featured," said Asher Alcobi of Peter*Ashe Real Estate, the Manhattan home's exclusive broker. "The signature olive green doors are still the same."

The 1961 romantic comedy was filmed in a studio for the interior shots, including the famous party scene with Mickey Rooney's character, Mr. Yunioshi. But 169 E. 71st St. continues to garner interest as the place Miss Holly Golightly made her debut in The Big City.

"The house is on the tourist tour of the Upper East Side," Alcobi said.

The 3,800-square-foot brownstone boasts four bedrooms, five bathrooms, a sweeping staircase and an enclosed greenhouse.

It's split into an upper and lower duplex. Upstairs, two bedroom suites have their own renovated baths. There's also a sunny living room with a wood-burning fireplace, a renovated kitchen and laundry room. Downstairs, a garden apartment with a separate entrance has a front library, powder room and a large bedroom and full bath.

The house was renovated in the mid '80s and again in the late '90s. It was last listed in 2011 before finding a buyer for $5.975 million in April 2012.

Read | Permalink | Email this | Comments

Zillow: 30-Year Fixed Mortgage Rates Rise, Remain Under 4%


Filed under: News, Buying, Financing, Refinancing
By Lauren Braun

Mortgage rates for 30-year fixed mortgages rose this week, with the current rate borrowers were quoted on Zillow Mortgages at 3.85 percent, up from 3.81 percent at this same time last week. The 30-year fixed mortgage rate hovered around 3.90 percent for most of the week, dropping to 3.77 percent Wednesday before rising to the current rate.

"In the absence of major market-moving news last week, mortgage rates remained below 4 percent for the fourth week in a row," said Erin Lantz, vice president of mortgages at Zillow. "This week, even though the Federal Open Market Committee will release its meeting minutes on Wednesday announcing the end of the Fed's stimulus program, this should come as no surprise to markets, so we expect rate stability to continue."

Additionally, the 15-year fixed mortgage rate this morning was 3.00 percent, and for 5/1 ARMs, the rate was 2.81 percent.

Purchase Mortgage Application Activity: Zillow predicts tomorrow's seasonally adjusted Mortgage Bankers Association Weekly Application Index will show purchase loan activity to decrease by 3 percent from the week prior. (To learn more about this Zillow analysis, click here.)

What are the interest rates right now? Check Zillow Mortgages for mortgage rate trends and up-to-the-minute mortgage rates for your state.

*The weekly mortgage rate chart illustrates the average 30-year fixed interest in six-hour intervals.

Permalink | Email this | Comments

Stephen Collins Lists Brentwood Compound for $5.5 Million


Filed under: News, Celebrity Homes
Actor Stephen Collins and his estranged wife, Faye Grant, are trying to sell their two-house compound in Brentwood, Calif. for a combined $5.5 million, the Los Angeles Times reports. Collins, of course, is the "7th Heaven" star who is being investigated by law enforcement in New York and California for alleged sex abuse, which was made public during his recent divorce battle.

The couple's real estate offerings include two houses in the gated Country Club neighborhood of Brentwood. The more expensive of the two, 13000 Brentwood Terrace, is selling for $2.85 million and includes three bedrooms, three baths, and a detached, two-story guesthouse. The other house, 12960 Brentwood Terrace, is listed for $2.7 million and features four bedrooms and three baths.

The properties can be sold separately or together "to create a fantastic compound of over 21,000 flat sq. ft.," says co-listing agent Elyse Arbour's website.


As part of their divorce settlement, Faye Grant reportedly requested that the properties be sold or that Collins maintain them, according to the Hollywood Reporter.

During the proceedings, which have been going on for years, audio of Collins purportedly admitting to molesting underage girls has surfaced. Because the alleged incidents happened several decades ago and would be barred by the statute of limitations, they may not be prosecuted, reports say.

Permalink | Email this | Comments

Gains in Home Prices Slow for Fourth Straight Month


Filed under: News, Buying, Economy, Selling
By CHRISTOPHER S. RUGABER

WASHINGTON -- U.S. home prices grew more slowly in August amid modest sales, a trend that could help make homes more affordable in the months ahead.

The Standard & Poor's/Case-Shiller 20-city home price index, released Tuesday, rose 5.6 percent in August from 12 months earlier. That's down from 6.7 percent in July and the smallest gain since November 2012. Home prices were rising at a double-digit pace as recently as March.

The rapid slowdown has been most pronounced in many of the western cities that have seen the biggest price gains in recent years. The annual price gain in Las Vegas braked sharply to just 10.1 percent from 12.8 percent in July. Prices rose 9 percent in San Francisco from a year earlier, down from 10.5 percent.

The smaller price gains, combined with a recent drop in mortgage rates, could spur more sales. Home sales rose in September to their fastest pace this year, but still remain slightly below the pace reached 12 months earlier. The number of homes for sale is rising, which helps keep prices in check.

"We're transitioning away from a period of hot and bothered market activity, characterized by low inventory and rapid price growth, onto a more slow and steady trajectory, which is great news," Zillow chief economist Stan Humphries said. "As appreciation cools and more inventory comes on line, buyers will start to gain a more competitive advantage."

The Case-Shiller 20-city index covers roughly half of U.S. homes. The index measures prices compared with those in January 2000 and creates a three-month moving average. The August figures are the latest available.