AOL Real Estate - Blog
AOL Real Estate - Blog
The Past and Future of the Solar Decathlon

Filed under: Design, Home Improvement
Since the first U. S. Department of Energy Solar Decathlon in 2002, thousands of college students from around the world have designed and created houses that are efficient at both collecting sunlight and converting it into usable energy.

Already, teams are hard at work for the next competition this October in Irvine, California, where the public will be able to tour the solar-powered houses free of charge to see innovative designs and learn how to save energy and money in their own homes.

The first Solar Decathlon was held on the National Mall in Washington in 2002. Since 2005, it has been held in a U.S. city every two years and also has expanded worldwide, with competitions staged in Europe in 2010, 2012 and 2014 and in China in 2013.

This December, an event will be staged in Latin America for the first time, said Richard King, director of the Solar Decathlon.

"The newest competition in Cali, Colombia, South America, will emphasize affordable homes for tropical climates and higher-density solutions to sustainable housing," King said.

See a selection of homes from previous Solar Decathlons in the slideshow below:


Visiting one of the Solar Decathlon events, it is difficult not to be inspired by the innovative, beautiful, energy-efficient houses, and by the students who give tours of their houses. The student designers and builders have impressive knowledge of the mechanics of their houses and can explain all the systems and considerations behind the design decisions to visitors. All that helps make Solar Decathlons an opportunity for the public to see the variety of prefabricated building methods, systems, materials, and techniques that can be used to build more sustainable, healthy, and efficient homes.

Over the years, the houses have improved dramatically, King said.

"The first competition in 2002 set the benchmark," he said. "In 2003, a new set of university teams studied the 2002 houses and improved the designs for the 2005 competition. Then a new set of university teams studied those designs and made further improvements. With each successive competition we see new innovations. "

At the 2002 event, houses were not attached to the grid and had to provide all of their own energy. Since Solar Decathlon 2009, houses have been connected to a temporary, ground-laid village "micro-grid" to demonstrate how houses that are grid-connected can give excess energy back to the public utility grid.

At the first event, electric cars that needed to be powered by the team's house were provided to each team. (Points were accumulated based on how many miles each team could drive on their energy.) A similar "commuting contest" has returned in 2015, requiring teams to power not only their houses but also an electric car.

Affordability, an important aspect of home construction in light of recent global economic struggles, was added as a requirement four years ago.

"Probably the biggest change to the competition occurred in 2011 when the designs were required to be more affordable, with construction [costs of] $250,000 or less," King said. "This new rule challenges the teams to design houses that are innovative yet cost-effective."

The houses also must demonstrate functionality, with students cooking meals in homes that provide their own heat and cooling as well as hot water for showers and laundry -- all by using the electricity generated by their solar photovoltaic and solar hot water systems.

The 2015 U.S. competition will include 10 contests: architecture, market appeal, engineering, communications, affordability, comfort zone, appliances, home life, energy balance and commuting.

Since the first competition in 2002, 130 collegiate teams have participated in Solar Decathlons. The houses built for the events are now located throughout the country and around the world. Those houses continue to serve numerous educational, conservational, and community-oriented functions, and the program could have an even wider impact.

"The more than 2,500 students participating in the U.S. Department of Energy Solar Decathlon 2015 will go out into the world, get jobs, and I believe will change the world," King said. "Solar and energy-efficient houses will become the norm in our near future, not the distant future."

Where to from here for the Solar Decathlon?

"To date, the competition focuses the design challenge on 'How do you design a fully sustainable house?' To some, that is too narrow," King said. "Sustainability involves so much more than just the house. Water, transportation, waste recycling, and land use are just some of the other important factors that must be included. To raise the bar even higher, a competition to design sustainable houses that will be built permanently in a model sustainable community somewhere in the U.S. has intriguing merit."

For further information, visit www.solardecathlon.gov.

Permalink | Email this | Comments

Michael Strahan Sells Brentwood Mansion for $21.5 Million


Filed under: Buying, Celebrity Homes, Selling
Talk-meister and former NFL player Michael Strahan has quietly sold his Brentwood mansion in Los Angeles for $21.5 million, according to our friends at the L.A. Times.

Strahan, the gap-toothed co-host of "Live! With Kelly and Michael" reportedly bought the house in 2013 for $16 million when he was engaged to Nicole Murphy -- model, VH1 reality star and former wife of Eddie Murphy. Alas, the wedding is off, and Strahan has jettisoned the nine-bedroom, 14-bath house that was big enough for his four children and her five.

About that split in August, Strahan's rep told People: "They love each other very much, but with the distance and work schedule it has been hard to maintain the relationship."

Nine kids probably didn't help love blossom, either.

But, back to the 15,600-square-foot house, which features:
Prohibition-style wine cellar
Two laundry rooms
Air filtration system in library to handle cigar smoke
Nine bedroom-and-bath suites
Gym, game room and sauna.
Strahan had been seeking $23 million for the home, but it looks like he decided a $5.5 million profit was enough.


Permalink | Email this | Comments
3 Ways to Buy a Home With $0 Down

Filed under: Buying, Financing
Saving for a down payment remains one of the biggest hurdles for would-be homebuyers. But many could look to land a home loan today without stashing away another cent.

There are scores of programs that can help buyers purchase a home with little or no money down. The government also backs two zero-down lending options. The problem is that many buyers don't know about these options or think they can't qualify.

If you're looking to purchase a home but don't have the resources to make a large down payment, here are some options you can consider.

Find a Down Payment Assistance Program

There are scores of down-payment assistance programs in communities across the country. A recent report from RealtyTrac and Down Payment Resource put the number at more than 2,000 nationally. These programs may be offered by cities, counties, nonprofits, employers and local housing finance agencies.

Many of them help borrowers defray down-payment expenses and closing costs. Down-payment assistance programs often have limits on how much you can make and how much house you can buy. Still, RealtyTrac found that 87 percent of the 78 million U.S. single-family homes in the study would qualify for a down-payment assistance program in their county.

Nationally, the average down-payment assistance comes to about $11,500. On a $200,000 mortgage, for example, most conventional borrowers would need to put down at least five percent ($10,000). FHA loans require a 3.5 percent down payment, which comes to $7,000 on a $200,000 purchase.

"Prospective buyers -- or their agents -- willing to put in a few minutes of time to find out what programs are available to them will put themselves in a much better position to successfully purchase a home," said Daren Blomquist, vice president at RealtyTrac.

Use a USDA Loan

Another option is to obtain a loan through the U.S. Department of Agriculture's Rural Development Program. Along with offering 100 percent financing, USDA loans have credit benchmarks that often allow more room for flexibility than conventional loans.

USDA loans require borrowers to purchase a home in qualifying rural areas. But buyers not looking for a countryside home shouldn't immediately discount the possibility of using a USDA loan -- a surprising chunk of the country meets the qualifications. Generally, any area not in or immediately surrounding cities will qualify. You can find a map of eligible and ineligible areas at the USDA's site under "Property Eligibility."

USDA loans have no maximum loan amount, but the program limits participation to borrowers at or below a particular income level. Currently, USDA borrowers can have an income of up to 115 percent of an area's median income, adjusted for family size. Debt will also factor into how much a home buyer is able to borrow.

Similar to FHA loans, USDA-backed loans also require both upfront and annual mortgage insurance premiums.

Use a VA Loan

Only a sliver of the population serves in the U.S. military. But millions of those who have served are eligible for what's arguably the most powerful loan option on the market -- the zero down VA home loan.

The VA loan program has expanded homeownership opportunities for veterans, service members and military families since 1944. Qualified borrowers in most parts of the country can purchase a home for up to $417,000 before needing to factor in a down payment. (Obviously, they'd also need to be able to afford a mortgage that size).

VA loans also feature more lenient credit underwriting, with lower credit benchmarks than conventional financing -- as much as 100 points lower -- and more forgiving standards for things like bankruptcies and foreclosures.

Last year, about 80 percent of VA buyers purchased without putting down a dime. Despite that, these loans fared well during the foreclosure crisis.

To be sure, there are benefits to making a down payment, with equity and a lower monthly payment chief among them. But the kind of nest egg many buyers need can take years to save. The good news is there are plenty of options out there for those who can't or don't want to wait.

Permalink | Email this | Comments

Famed Waggoner Ranch on Texas Market for $725 Million

A huge chunk of Texas and one of the largest working ranches in the country is on the market for $725 million.

The W.T. Waggoner Estate Ranch, a family ranch since 1849, covers 510,527 acres -- about 800 square miles -- spanning six counties of North Texas. It's being sold "as-is" with 7,500 head of cattle, 500 quarter horses, 1,000 working oil wells, wheat fields, and large populations of deer, turkey, quail, dove, water fowl and feral hogs. The cowboys, including some who have worked the ranch for 50 years, "would love to convey," says listing agent Bernard Uechtritz of Briggs Freeman Sotheby's International Realty.

The Waggoner Ranch and the King Ranch in South Texas are the two biggest ranching enterprises in the state. A family squabble among the heirs of W.T. "Tom" Waggoner is culminating in this court-ordered sale, a common end to family ranches and a unique part of the American landscape.

"We've had a lot of interest from people in agribusiness, oil, gas and cattle," says Uechtritz. It's also attractive to "people from faraway lands who want the anonymity of living in seclusion and privacy in the middle of Texas, which is in the middle of America."

Annual property taxes for the spread are about $1 million, but the ranch's multiple income streams and depreciability make it a profit-making venture, Uechtritz says. Perhaps its most untapped resource is the marketing potential of the Waggoner name.

Uechtritz says "Waggoner," which represents a rugged ranch spirit, is a licensing and intellectual goldmine. Electra Waggoner Biggs, an heir and Texas socialite, in 1959 allowed Buick to use her name on its luxury sedan -- the Electra.

"You can end up with a Waggoner Dodge truck, or Waggoner steak houses," Uechtritz said.



Permalink | Email this | Comments

5 Ways to Prep Your Home for the Spring Selling Season


Filed under: Home Improvement, Selling
By Kira Brecht
Along with tulips and daffodils, "For Sale" signs soon will be popping up on neighborhood lawns. An improving U.S. labor market is expected to spur increased home sales in 2015, so if you've been wanting to sell your home, low interest rates and tight inventory levels should create an attractive environment.
"With the improving economy, we will see more people leaving their parents' homes. Living in your parents' basement isn't part of the American dream," says Lawrence Yun, chief economist at the National Association of Realtors. "Nearly three million new jobs were created in the last 12 months, and that provides incomes for families and confidence for making long-term decisions."
The NAR forecasts a jump in existing home sales in 2015 to 5.25 million, an increase from 4.93 million sales in 2014. The national median existing-home price was $208,500 in 2014, a 5.8 percent increase from 2013. Yun forecasts the median home price to rise again in 2015 to $218,300.
Inventory levels, or the number of homes for sale, remain tight, which could give sellers an edge. "For most of 2014, inventory stood at 4.5 to 5.5 months of supply. That compares with a more balanced market of 6 to 6.5 months' supply," Yun says.
There are several things you can do to help your home stand out among other listings. "Makeovers can be inexpensive, but give back big returns," says Gary Rogers, broker-owner of Massachusetts-based RE/MAX On The Charles.
When it comes to readying your home for sale, think about three things: clean, clutter and color, says Sheryl Grider Whitehurst, managing broker at Traders Realty in Peoria, Illinois.
Here are five things you can do to get a leg up on the competition this spring.


1. Spring-clean your home. Take the time to do a deep cleaning on your home. Clean your windows. Consider a fresh coat of paint. Clean the grout in your ceramic tile. Consider whether your carpets need cleaning. "When you walk into a nice hotel room, everything is nice and sparkly clean. You want the same thing for your house," Whitehurst says.
Even small things can make a difference. "Make sure the furnace filter is clean. If it is dirty, potential buyers will wonder how you have taken care of other mechanicals in your house," Whitehurst says.
Cleaning also means sprucing up your landscaping, which includes flower beds and bushes. "People wait until the last minute to prepare the outside, and sometimes it just doesn't get done," Rogers says.
"The earlier you can have a professional landscaper come in to do a spring cleanup, the better. If the weather will tolerate it, put some more plantings in. Why not get a fresh look and fill out a flower bed? It can take some time to for those to set and mature, so the sooner the better," Rogers says. "A good professional spring cleanup could be $400 to $500, but is probably the best return dollar-for-dollar. It will get people to go into the house, and it makes people think you cared about the house."
Also take a look at your house from the street. What do you notice? Have your shutters faded over time? Does your front door need a fresh coat of paint? How does your mailbox look? Ask yourself: "Can I do something simple to make it look like I take pride and ownership in my property?" Whitehurst suggests.
Consider your backyard as well. "Curb appeal means the back, not just the front," Rogers says. "Have your decks power-washed, or painted or stained. Consider getting a plastic shed for rubbish barrels. Have a clean, neat place to store rubbish barrels."

2. Clear the clutter. It's time to get out the packing boxes. "If you are serious about moving, start packing now. Think about getting a small storage locker. Lighten up the house. If the living room has too much furniture, it doesn't look usable," Rogers says.
With spring just around the corner, consider packing away your winter clothes, so the closets appear more spacious. "People want to go into a property and see that there is ample room for their things," Whitehurst says.

3. Use color themes. It's OK to be a little bold with color, but make sure everything matches. "It used to be that everything had to be neutral colors -- beige or white. Now, people are bringing color into their homes. But make sure that everything goes together," Whitehurst says.
Does your bedspread match the room color? If not, buy an inexpensive bedspread that will coordinate. The same goes for throw pillows on your couch. Use small, inexpensive items to pull together color themes to create an appealing appearance.

4. Consider getting a home inspection. Typically, homebuyers get a home inspection before completing the purchase of a home. Why not find out ahead of time which items the home inspector will report need attention?
The key is to be proactive. "Maybe there is a small drip in the faucet or there aren't electrical ground-fault circuit interrupters where they are supposed to be, near water. These can be a small fix, and it creates a less-hassled transaction," Whitehurst says.
"We are seeing transactions fall through because of issues over home inspections. Then the house has to go back on the market, and everyone is disappointed," Whitehurst says.
The bottom line: Don't give prospective buyers reasons to check your house off the list. "When people look at a house, they are really looking for reasons not to buy. They are looking for things wrong with it," Rogers says.

5. Don't hike up the sale price. Real estate experts advise being realistic when it comes to your selling price. It needs to be competitive.
"Buyers are looking for the best value. Research often tells us that if you price your home close to what it will sell for, it will sell faster and actually for more money than if you price it too high to begin with," Whitehurst says.
Pricing a home too high can eliminate some potential buyers from even viewing your house, and that could mean your house sits on the market longer. If eventually you decide to do a price reduction, buyers may wonder what is wrong with the home.
"You can price your home to get sold, or to get your neighbor's house sold," Whitehurst says. "If my house is priced higher, which one will look like the best value?"
Permalink | Email this | Comments
Brooklyn Contractor: Naomi Watts, Liev Schreiber Owe $30K

Filed under: Celebrity Homes, Home Improvement

What a buzzkill! A day after Naomi Watts presented an Academy Award and her "Birdman" won Best Picture, the actress and her longterm partner Liev Schreiber reportedly were hit with a lawsuit from a Brooklyn contractor claiming they owe him almost $30,000.

In a suit filed in Manhattan, contractor John Kemp reportedly says Watts and Schreiber owe him for demolition and renovation work he did in 2012 on their Tribeca co-op loft on Washington Street. The suit says that Kemp stopped working when the celebrity couple's project manager stopped paying him in 2013.

"I had to leave the job because it wasn't paying and he was making up a whole bunch of stories," Kemp, 67, told the New York Post.

Eventually, Watts sent Kemp a text message asking when he would resume work.

Kemp, blaming the project manager, told the Post that it's possible that Watts and Schreiber didn't know they owed him money. "They are unfortunately a party to this just because it's their place," he told the Post.

The couple, who have two young sons, reportedly bought the 4,315-square-foot co-op for $3.95 million in 2012. Watts, who won a 2012 Oscar for Best Actress in "The Impossible," appeared in "Birdman," which was named Best Picture during Sunday's Academy Awards. Schreiber is best known for playing the title role in TV's "Ray Donovan."

Neither Kemp nor Steve Warren, Watts' attorney, could be reached for comment.

Permalink | Email this | Comments

Mortgage Rates on the Rise, Pausing at 3.76%


Filed under: Buying, Financing, Refinancing
By Lauren Braun
Mortgage rates for 30-year fixed loans rose this week, with the rate borrowers were quoted on Zillow Mortgages at 3.76 percent, up nine basis points from this time last week.
The 30-year fixed rate rose early in the week, reaching 3.85 percent on Tuesday, before settling around 3.76 percent for the rest of the week.
"Rates increased last week as fears of a Greek exit from the eurozone eased," said Erin Lantz, vice president of mortgages at Zillow. "This week, markets will focus on Fed Chair Janet Yellen's Congressional testimony and whether Greece's new fiscal pact proves durable. Rates could be volatile, but net out flat for the week."
Additionally, the 15-year fixed mortgage rate this morning was 2.96 percent. For 5/1 ARMs, the rate was 3.05 percent.
Check Zillow Mortgages for rate trends and up-to-the-minute mortgage rates for your state, or use the mortgage calculator to calculate monthly payments at the current rates.
Permalink | Email this | Comments
Billy the Kid's Hideout for Sale in New Mexico

Filed under: Buying, Celebrity Homes, House of the Day
Here's a listing you don't see every day: Billy the Kid's former New Mexico hideout is for sale at $545,000.

The adobe house, nestled in the Bonito River Valley in historic Lincoln County, is a bona fide piece of Old West history and lore. It's where Billy the Kid -- thief, gunfighter, participant in the Lincoln County range wars -- hid in a kitchen flour barrel and later under a bed to avoid capture by soldiers from nearby Fort Stanton.

Part of the property was once owned by Sheriff Pat Garrett, who eventually caught, killed and immortalized Billy (originally from New York City) in the biography, "The Authentic Life of Billy, the Kid."

The house for sale, built in 1878, is listed on the National Register of Historic Places and is one of only three historic homes remaining in private ownership in Lincoln, where others are owned by state and federal governments.

The 4,505-square-foot house on .84 acres features:
Three bedrooms, two baths
12-foot coved ceilings
22-inch thick adobe walls
Kiva fireplace with arched firebox
Zoning for business or residential use.
It's listed by Mary Joy Ford of Sotheby's International.



Permalink | Email this | Comments

Beyonce and Jay Z Renting LA House for $150,000 a Month


Filed under: Buying, Celebrity Homes, Renting
After Beyonce and Jay Z were

out-bid

for an over-the-top

$85 million Beverly Hills

estate last year, the celeb couple and daughter Blue Ivy are re-renting a Holmby Hills house that they reportedly leased last summer. New rental price: $150,000 a month, according to our pals at

Curbed

.

Curbed says The Carters (that's Jay Z's last name) had been camping out at a swanky Los Angeles hotel while house hunting. Word is, they plan to spend a lot more time in L.A.





As for their rental, the

seven-bedroom, nine-bath home

sports 16,000 square feet of contemporary, glass-enclosed space on three levels with a view of the Hollywood Hills. It's super-private, shielded behind gates and mature trees, and employs a cutting-edge, iPad-interface security system.


Other features:
American black walnut flooring
An abundance of outdoor patios and balconies
75-foot art gallery
Infinity pool
Master suite with three walk-in closets, powder room and offices
Three living rooms, two libraries
Catering kitchen.
The year-old house has been on and off the market, starting at $48 million last April and dwindling down to a mere $35.5 million when it was taken off the market earlier this month.

In December, the super-celeb couple were this close to buying that eight-bedroom, 15-bath house on the market for $85 million. But Minecraft creator and Swedish billionaire Markus Persson outbid the songsters at $70 million and scooped up the manse in the Trousdale Estates area of Beverly Hills.

So the hunt continues, but this rental should do for now.




Permalink | Email this | Comments

Rents Are Rising, and Not Only in Pricey San Francisco


Filed under: News, Buying, Renting
Median monthly rents rose in January, and in a lot of places you might not expect. Along with the usual hot West Coast housing markets such as San Francisco and the Silicon Valley, the metros with the biggest year-over-year increases included Denver, Kansas City (Mo.), Nashville (Tenn.), Birmingham, (Ala.) and Portland (Ore.).
The new data shows the spread of rising rents -- and decreasing rental affordability is likely to follow. Zillow, the online real estate site, reported last year that renting is now half as affordable nationally as buying, on a monthly basis.
"Since 2000, rents have grown roughly twice as fast as wages, and you don't have to be an economist to understand why that is hugely problematic," said Stan Humphries, Zillow's chief economist. "The rental market used to be, and should remain, a stepping stone to homeownership. But given how widespread rental affordability problems have become, the rental market could be acting more like a barrier to buying."
Check out Zillow Research for more information about the January Real Estate Market Reports.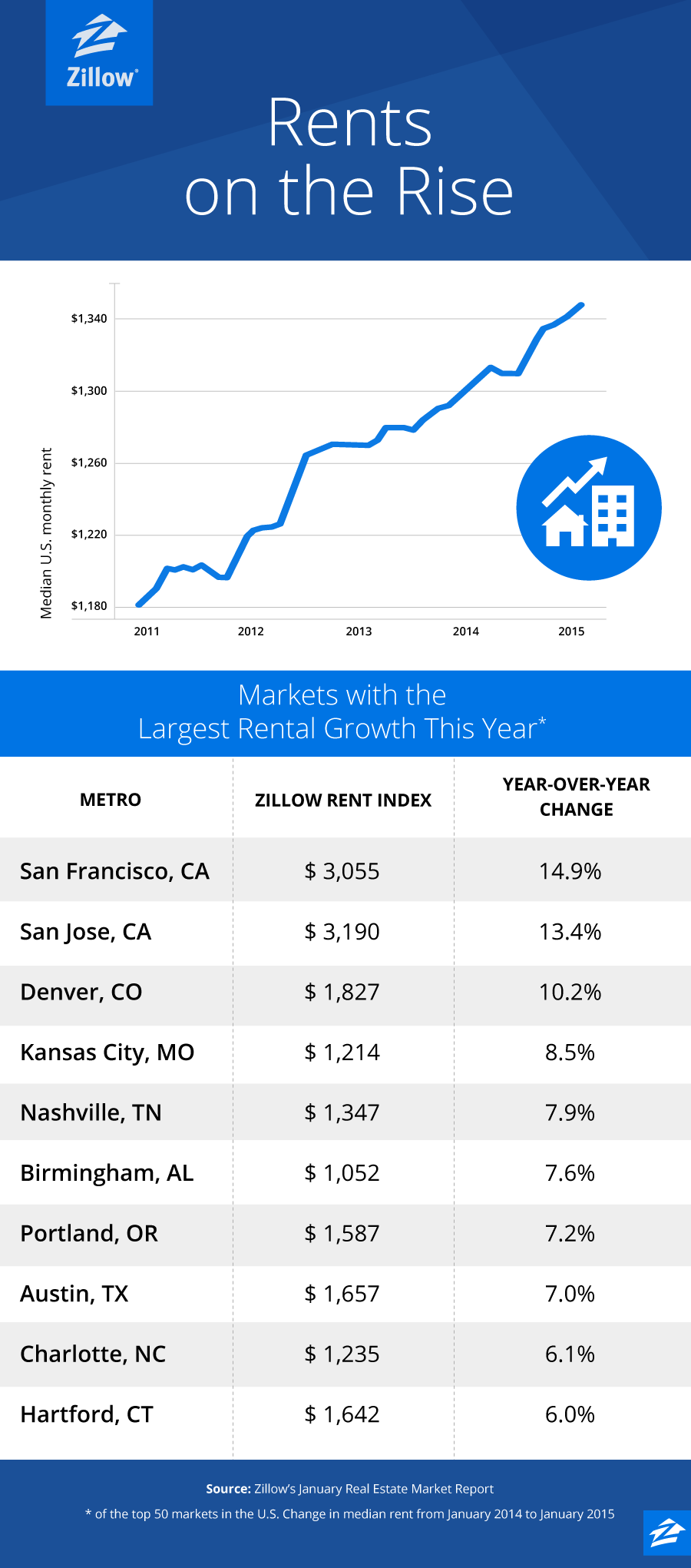 Read | Permalink | Email this | Comments
Crazy Connecticut Colonial Has Lighthouse and Tugboat

Filed under: Buying, Selling, House of the Day
If you agree with Jacques Cousteau, that the sea "holds one in its net of wonder forever," you'll love this crazy Connecticut colonial home with a lighthouse and tugboat attached. Price: $425,000.

This is not an historical, working lighthouse. Rather, it's a lightless replica that a West Haven couple attached to their 3,184-square-foot colonial so they could gaze at Long Island Sound about a mile away. The couple loved the seafaring theme so much, they later added a restored tugboat to the project, which they use as a recreation area.

"Considering the price, it's not a bad deal," said listing agent Lucy Morgan. "You're getting a four-bedroom, three-bath home with great light for painters, artists, and people who just want to look at the water."

The first two floors of the lighthouse -- which has its own elevator -- are attached to the colonial, adding a sunroom on each level. Then, when the house ends, the lighthouse elevator continues to the fourth level, where a spiral staircase leads to a catwalk with water views.

A ground floor deck leads to the tugboat, which features a wet bar and a spiral staircase climbing to a re-created captain's deck with a ship's wheel -- as if there were anywhere to steer the landlocked boat.

The property is famous in West Haven, where gawkers routinely knock on the door and ask to ride to the top of the lighthouse, Morgan said.



Permalink | Email this | Comments

Frank Lloyd Wright Fans Celebrate Hollyhock House Facelift


Filed under: Design, Celebrity Homes
One of the recent "happening" events in Los Angeles that drew thousands of fans from across the country wasn't an awards shows or a new club launch. It was the reopening of Frank Lloyd Wright's Hollyhock House after a five-year, $4.4 million facelift.

In typical Hollywood fashion, the Feb. 13 reopening had a dramatic twist; thousands of fans toured the house for 24 hours straight free of charge, viewing the residence at dawn's early light and at other times when the city-owned structure usually would be closed to visitors. Some people even camped out overnight to be among the first to glimpse the renovation when the iconic home's 250-pound concrete front doors opened at 4 p.m.

"It's like, when are you ever going to see it at night?" Jennifer Wong, an architectural designer from Laguna Beach told the Los Angeles Times. "You get to see it as if you lived there."

Hollyhock House, commissioned in 1919 for oil heiress Aline Barnsdall, is now the heart of East Hollywood's Barnsdall Art Park, which overlooks Griffith Observatory -- another fabulous L.A. sight, particularly at sunset. The Hollyhock House was designated a National Historic Landmark in 2007 and is considered the prototype of California modernism. Ongoing self-guided tours cost $7 for adults and are available Thursday through Sunday, 11 a.m.-4 p.m., with the last entry at 3:15 p.m.

Hollyhock House was Wright's second project in California, although his son, Lloyd Wright and assistant Rudolph Schindler took over most design duties when the elder Wright was away working on the Imperial Hotel in Japan. (See more stories about Frank Lloyd Wright's work here.)

The newly reopened Los Angeles house, with a hollyhock flower central motif, is arranged around a courtyard and features a series of split levels, steps and terraces, leaded glass windows and even a moat.

The house has seen some rocky times over the years, in addition to the 1994 earthquake that damaged its structure. Barnsdall fired Wright in 1921 when the project far exceeded its budget. Reportedly disillusioned with the costs, she donated the house to Los Angeles in 1927. Since then it has been used as the California Art Club headquarters, an art gallery, and as a United Service Organizations (USO) facility.

The latest restoration reportedly fixed a leaky roof and clogged drains, enlarged windows to add light, and restored original details and wall colors that were changed over the years. While we're on the Wright real estate path, the West Hollywood Lloyd Wright Studio and Residence designed by the architect's son Lloyd Wright has been sold for $1.95 million. The concrete block and stucco house, reminiscent of Hollyhock House in places, has upstairs living quarters and a downstairs studio workspace.


Permalink | Email this | Comments
Saving Lives and Property with Fire Sprinkler Systems

Filed under: Home Improvement, How To
It seems like there is another deadly fire every night on the 6 o'clock news. It's a homeowner's nightmare -- a house fire caused by faulty wiring, a kitchen accident, an act of nature or simple carelessness. Yet many of those fires could have been less disastrous if there were fire sprinkler systems in the houses or apartment buildings.

About 2,600 people die in home fires in the United States each year. However, smoke alarms and fire sprinkler systems reduce the risk of death in home fires by 82%, according to the National Fire Protection Association (NFPA).

House fires also cause immense property damage, and the numbers are staggering. The NFPA reported $7.2 billion in residential property losses in 2013. Property loss was shown to be significantly reduced In homes with sprinkler systems, from an average of $45,000 for unsprinklered homes to $2,166 in those equipped with sprinkler systems, according to the Home Fire Sprinkler Coalition.


Many homeowners do not consider installing a fire sprinkler system. Swayed by common misconceptions as well as perceived aesthetic issues, even safety-conscious homeowners sometimes steer away from sprinkler systems. That's beginning to change, however, as more homeowners learn about the benefits of the systems and as less conspicuous sprinklers become available. In addition, some communities are beginning to mandate the installation of sprinkler systems in new homes. They already are required in new home construction in the states of California and Maryland as well as in the District of Columbia. (See a state-by-state list of detailed requirements here.)

In an ironic twist, many homeowners believe that sprinkler systems will cause more damage to a home than the fire itself, but that is not true. According to the Scottsdale Report, a fire sprinkler system delivers eight to 10 times less water than the hoses used by firefighters to put out the flames, resulting in less water damage to a home. A fire hose dispenses up to 250 gallons of water per minute, while a typical residential sprinkler head will release just 15 to 20 gallons of water per minute. Typically, only the sprinkler closest to the fire will activate -- spraying water directly on the fire. According to industry experts, 90% of fires are contained with just one sprinkler head.

There are other advantages to installing sprinkler systems besides the obvious ones of saving lives and property. Some insurance companies offer discounts for homes with fire sprinkler systems and homeowners may also qualify for a tax rebate. In addition, sprinkler systems can increase the resale value of a home. Today's prospective homeowners are much more conscious about health and safety issues, and they may be willing to pay a premium for a home with a sprinkler system.

It's easiest to install a sprinkler system when a home is under construction and the joists are exposed. However, fire sprinkler systems can be retrofitted into existing homes. (One of the deterrents to including these systems in a house is cost. But according to the Fire Protection Research Foundation, the cost has gone down from $1.61 per sprinkled square foot in 2008 to $1.35 in 2013.)

Some important facts to consider regarding sprinkler systems:
Sprinkler systems can contain and extinguish a fire in less time that it would take for a fire truck to arrive at the scene.
Home sprinkler systems use a fraction of the water used by fire department hoses and create about 70% less damage to the home.
Modern sprinkler systems are inconspicuous; many are mounted flush with the wall and ceiling.
Each sprinkler head is designed to go off when it senses significant heat change.
Typically, only the closest sprinkler to the fire will activate.
With a fire sprinkler system, the risk of dying in a fire is cut by about 80%.
Finally, according to a bit of sprinkler industry humor, homeowners have a clear choice: "A puddle of water or a pile of ashes."

(See a video below from the Home Fire Sprinkler Coalition on how sprinklers work.)


Permalink | Email this | Comments
Gaga and Kinney Live Like Us in Pennsylvania Hideaway

Filed under: Buying, Celebrity Homes, Lifestyle

Bride-to-be Lady Gaga and actor Taylor Kinney have been spotted in a Pennsylvania Dutch country love nest that cost less than the guesstimated $400,000 heart-shaped engagement ring the super songbird flashed on her Instagram page after her Valentine's Day betrothal.

According to Lancaster County Property Records, Kinney paid $390,000 for a three-bedroom log cabin in an area known as Willow Street in 2013. Willow Street, population 7,578 according to the 2010 census, is so named because its main street is lined with willows. (Who would have guessed?)

The house sits on about six heavily wooded acres that protect the home from any paparazzi who wander into the Dutch country. The single-story log cabin was built in 1995 and features three bedrooms, two baths, two fireplaces, and central air.



The Daily Mail, a British tabloid, has been all over the stars-are-just-like-you-and-me angle, with a big picture spread of Gaga and Kinney doing normal stuff around Lancaster County, the area of Pennsylvania where Kinney grew up and was a high school volleyball star. There's the happy couple attending a Kinney family baptism at Grandview United Methodist Church; there's a shot of the Giant supermarket where the super stars actually shop for food -- apparently they have to eat just like you and me, too.

Lancaster County lies in south central Pennsylvania, about three hours from New York City. Its major attraction is its Amish community, but it also is a rock-n-roll industry haven that hosts Tait Towers, which reputedly has the largest studio, set-building and rehearsal spaces in the U.S. (Tait Towers also reportedly built the sets for Lady Gaga's recent Monster tour.)

Permalink | Email this | Comments

Amid Life Changes, Rosie O'Donnell is Unloading Homes


Filed under: Buying, Celebrity Homes, Selling
After the breakup of her marriage contributed to her resignation from "The View," comedian and talk-show host Rosie O'Donnell is parting with more real estate. She sold her Greenwich Village penthouse in December for $9 million, and for months listed a string of four riverfront homes in Nyack, New York.
Now, O'Donnell is asking $5.75 million for the Florida home she bought with wife Michelle Rounds in 2013. The two have been separated since November, according to O'Donnell's publicist. (See O'Donnell discuss her separation and her departure from "The View" in the video below.)



The gated, Gulf-front home near Sarasota has four bedrooms, 5.5 baths and 100 feet of beachfront with a private dock. It's situated on 0.78 acres of an eight-mile-long barrier island called Casey Key.

A poolside loggia includes lounging space and an eat-in bar with extra counter space and a television hook-up.

Inside, the light and airy rooms have imported French oak floors and tongue-and-groove ceilings. French doors open from the master suite and other rooms onto large balconies with water views.

The 4,648-square-foot home has an elevator, a garage that fits at least four cars, hurricane-rated windows and comes with dry-boat storage in a full-service marina less than a mile away.

The listing agents are Jill Friedman and Kevin Vale of Coldwell Banker Residential Real Estate.



Read | Permalink | Email this | Comments

The $125,000 Dream: You Can Find a Home to Buy


Filed under: Buying, Investing

By Sharona Ott
Magazine-worthy interior design is not limited to the homes of the rich and famous. Of course, you can always purchase a fixer-upper and create a design masterpiece yourself -- but wouldn't it be nice to find a starter home that is already both appealing and financially attainable?
First-time home buyers and prospective investors who refuse to sacrifice style and quality for affordability should take a peek at these homes priced at $125,000 or less, all located in well-known cities across the United States. (Note that some might sell quickly and others might still show the previous sales price before recent renovations.)

Richmond, Virginia
2804 2nd Avenue
For sale: $109,950
Prepare to be wowed by this home's trendy interior, boasting tasteful pops of color and numerous updates. This three-bedroom, one-bath home has been renovated throughout with refinished hardwood floors, new kitchen appliances and fresh paint. See more homes for sale in Richmond.

Atlanta
166 Haygood Ave SE
For sale: $125,000
This adorable four-bedroom, two-bath bungalow is inviting and stylish, featuring hardwood floors and crown molding. See more Atlanta homes for sale.

Colorado Springs, Colorado
5508 Denmark Court
For sale: $109,900
Boasting major curb appeal, this two-bedroom, two-bath townhome is nestled in a lush, beautifully landscaped setting. The main level features glistening hardwood floors, and both bathrooms have new tile. See more Colorado Springs listings.

St. Louis
5542 Elizabeth Avenue
For sale: $110,000

Built in 1924 and beautifully maintained, this two-bedroom, one-bath bungalow combines vintage charm with the convenience of modern amenities. See more homes for sale in St. Louis.

Baton Rouge, Louisiana
762 Elk Lake Drive
For sale: $100,000

Louisville, Kentucky
4921 S 2nd St.
For sale: $120,000
Unique details have helped this century-old three-bedroom, 1.5-bath home retain its personality. This is especially apparent in the cozy fireplace and the beautiful molding on the doorways. See more homes listed in Louisville.

Waco, Texas
715 N 43rd St.
For sale: $110,000
Located on a tree-lined street and boasting an elegant interior, this two-bedroom, two-bath home is sure to impress. See more homes listed in Waco.

Fresno, California
631 W. University Avenue
For sale: $100,000
This quaint two-bedroom, one-bath home is located on a spacious lot and has been well maintained. The interior has vintage character, and the cozy living room, dining area and kitchen flow seamlessly. See more homes for sale in Fresno.

Fort Wayne, Indiana
7302 Tanbark Lane
For sale: $114,899
This three-bedroom, two-bath home has been updated throughout, including new appliances and professionally painted cabinets in the eat-in kitchen. Workout enthusiasts and kids alike will enjoy the walking paths, basketball court and playground adjacent to the home's fenced backyard. See more homes listed in Fort Wayne.

Spokane, Washington
3415 E Montgomery Avenue
For sale: $119,000
Located close to the Centennial Trail and Spokane River, this two-bedroom, one-bath home is great for nature lovers. The house has been completely remodeled, featuring new carpet and paint throughout. See more Spokane homes for sale.