AOL Real Estate - Blog
AOL Real Estate - Blog
Would You Pay Double to Live in a Waterfront Home?

Filed under: News, Buying, Home Equity
By Cory Hopkins

Millions of Americans dream of one day owning a home on the water, and for good reason: The views are often to die for, the array of activities is seemingly endless and the peace of mind gained by knowing you'll never have a neighbor on at least one side of your home is priceless. But the very things that make waterfront living so appealing can also make it incredibly expensive.

Nationwide, the typical oceanfront or lakefront single-family home is worth more than double the median value of all homes, and in some communities the median waterfront home could be worth more than 10 times the median value of non-waterfront houses, according to a new analysis by Zillow. The median single-family home in the U.S. is worth about $171,600, while the median waterfront house

Potential buyers looking for the lowest entry point into the waterfront market should consider the lesser-known cities of the Sunshine State.

is valued at $370,900, a waterfront premium of 116.1 percent.

Zillow analyzed the 250 largest communities with at least 100 waterfront homes. The analysis only considered oceanfront homes or those on a lake larger than 10 square kilometers. Homes also had to be within 150 feet of the waterline to be considered waterfront. Riverfront and water-view homes were not considered.

Overall, the most expensive waterfront homes are found in communities in coastal California. Laguna Beach tops this list with median waterfront home values of almost $10.1 million. Malibu ($6.3 million) and Hermosa Beach ($4.8 million) round out the top three.

The most affordable waterfront homes in the country are found in Holiday, Florida, with median waterfront home values of $103,000. In the top 10 least valuable waterfront communities, eight of the remaining nine cities with the cheapest waterfront homes are located in Florida. In other words, potential buyers looking for the lowest entry point into the waterfront market should consider the lesser-known cities of the Sunshine State.

Among the largest of the 250 cities analyzed (those with populations of 100,000 or greater), the biggest difference between median non-waterfront single-family home values and median waterfront house values are in Tampa (waterfront premium of 733 percent), Honolulu (waterfront premium of 334.5 percent) and Long Beach, California (waterfront premium of 321.6 percent).

"The allure of ocean and lakefront living is powerful and undeniable, and millions of homeowners nationwide dream of one day owning a home on the water. But those dreams come at a price," said Zillow Chief Economist Dr. Stan Humphries. "Waterfront properties are both relatively scarce and highly coveted, and that high demand and limited supply leads to higher home prices. Additionally, added insurance, floods, environmental mitigation and infrastructure costs are often part of the tab when buying a waterfront home. Still, as long as buyers understand the added costs and potential headaches, waterfront living is likely to remain one of life's simple pleasures for many, many years to come."

Information on all 250 cities analyzed can be found on Zillow Research here.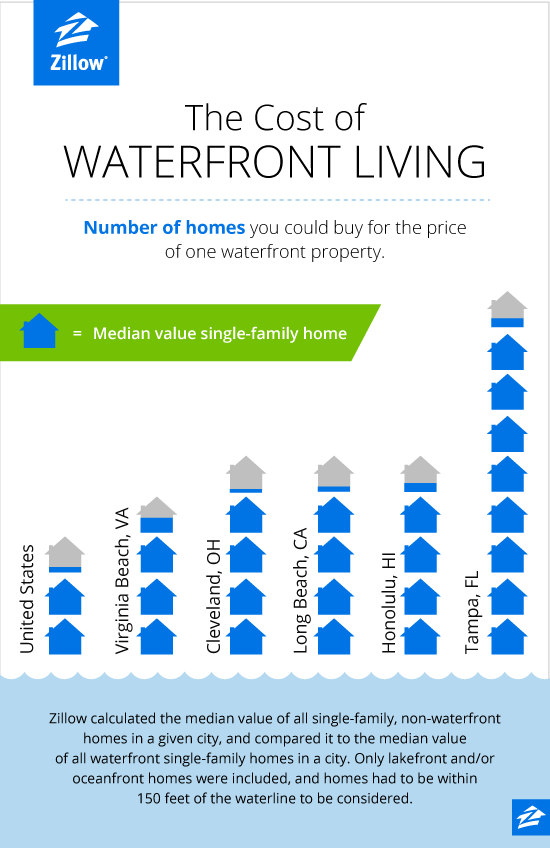 Read | Permalink | Email this | Comments
For Sale: Christopher Plummer's Former Von Trapp-Style Home

Filed under: News, Celebrity Homes, Selling
The Connecticut hills are alive with the "The Sound of Music"-type house that actor Christopher Plummer, aka Captain Georg von Trapp, once owned and is now on the market for $12.5 million. Actually, 209 Long Neck Point is more sandy than hilly. The 7,700-square-foot home in Darien is located on the Long Island Sound and features 200 feet of private beachfront.

In fact, the 1880s-built carriage house has several features in common with "The Sound of Music" movie home, which is a combination of Salzburg, Austria, exteriors and 20th Century Fox soundstage interiors. The four-bedroom Darien house "is reminiscent of the type of home that is portrayed in the movie; it's very Old World and Old School," says listing agent Eileen Hanford with Halstead Property.

Both homes have:
Water views -- the movie features lakeside scenes of Leopoldskroner Teich, a man-made lake on the southwest of Salzburg; the Darien home overlooks the Long Island Sound.
Open foyers, though that on the movie soundstage is far grander than the Darien entrance hall.
Flagstone terraces, which, in the movie, hosted love scenes between Maria, postulate-turned-governess and von Trapp, widowed father of 7.

The Darien home is located on Long Neck Point, an exclusive finger of land that juts into the sound.

"You can get a teardown there for $3 million," says Hanford.

Plummer paid $255,000 for the 2-acre property in 1974, and sold it seven years later for $1 million. He now lives on a farm in Weston, Conn.

"You see a lot of movie stars go from the water to a big farm," Hanford says.

Plummer lived in Darien roughly a decade after "The Sound of Music" made him a star. And even though the 84-year-old actor has portrayed King Lear and Leo Tolstoy, he says playing the anti-Nazi von Trapp was his toughest role.

"Because it was so awful and sentimental and gooey," Plummer told The Hollywood Reporter. "You had to work terribly hard to try and infuse some miniscule bit of humor into it."

Plummer won his first Oscar in 2012 for his supporting role in "Beginners," where he played a man who comes out as gay in his 70s.

Darien, by the way, has a movie history of its own. "Gentleman's Agreement," Laura Z. Hobson's bestselling 1947 novel turned into a film starring Gregory Peck, was set in Darien to spotlight anti-Semitism in America via unwritten covenants -- gentleman's agreements -- that prohibited selling homes to Jews.

That kind of discrimination became illegal long before Plummer lived there.

"Are there Jewish people who live there?" says Hanford. "Absolutely."

Permalink | Email this | Comments

For Sale: Daryl Hannah's Hippie-Chic Malibu Retreat


Filed under: News, Celebrity Homes, Lifestyle
By Emily Heffter

Environmentalist-actress Daryl Hannah is selling her sustainable Malibu compound, a hippie hideaway suited for relaxation after an anti-fracking rally. The "Splash" and "Steel Magnolias" star has been in the news recently because of a reported romance with Neil Young. But that life change isn't likely the reason she's selling her Malibu, California, property. She listed it in 2012 for $4.995 million.

Now The Agency holds the $4.25 million pocket listing for the gated 17-acre organic oasis. The property has three buildings: a house with an art studio; a standalone master suite with a Japanese-style soaking tub and a fireplace; and a guesthouse with a loft and views of the ocean.

It's not your typical sleek oceanside celebrity retreat, but the home has its own brand of luxury charm, with a historic stone cottage, several gardens and beautiful stained glass.

Photos courtesy of The Agency.



Read | Permalink | Email this | Comments

Space Planner Makes Room for a New Life in a Modern Home


Filed under: Design, News, House of the Day

By Mitchell Parker

While undergoing radiation treatment for breast cancer, interior designer Sarah Stacey's mother-in-law made a decision to edit down her life and get more enjoyment out of her home. "She had been living with boxes for years after downsizing and realized she wasn't going to live forever, so she wanted to surround herself with the things she loved," Stacey says.

After recovering from successful treatments, she approached her daughter-in-law for help revamping her living space, which was piled high with boxes and cookbooks. Stacey's space planning proved the most beneficial, creating a bright and open layout filled with her mother-in-law's original midcentury furnishings.


Midcentury Living Room by Austin Interior Designers & Decorators Sarah Stacey Interior Design
After Stacey's mother-in-law downsized from a 3,000-square-foot home in Houston to her new 1,300-square-foot home in Austin, the living room had been filled with stacks of possessions that made it hard to use the space.
Stacey helped clear out the room and edit her mother-in-law's stuff to create a open and airy space filled only with the pieces that mattered. "My mother-in-law has incredible taste," Stacey says.
A previous homeowner had done some sloppy DIY projects. The wood wall, for example, had exposed seams between the pieces of plywood that Stacey had to cover with boards.
The Thayer Coggin sectional was the first thing her mother-in-law bought. It cost $16,000 but was something she had always wanted, and she thought she'd be able to pass it down to her grandchildren as an heirloom piece. Stacey found the original Milo Baughman coffee table at a thrift store for $60. "Those are going for $2,800 online," she says.
Stacey used one of her mother-in-law's large Persian rugs to anchor the room and soften the raw concrete floors. She selected the pillows to add more of a feminine edge and help break up the all-white sectional.
Art: Elisa Gomez; pillows: West Elm and H&M
An Eames lounge chair and ottoman, which the homeowner had owned since the 1960s, creates a reading nook near the floor-to-ceiling windows. Cookbooks fill teak shelves that the homeowner also bought in the 1960s.

The lighting was added by a previous homeowner. Stacey would have changed it, but the ceiling is what's called a closed envelope and couldn't be opened up.
Stacey created a half wall so the piano wouldn't have to sit against an exterior wall, where moisture and temperature changes might have caused tuning problems. "It's more applicable to older homes, but just to be safe," she says.
Stacey designed this white oak media cabinet, which helps balance the wood wall opposite.
Cabinet:
Honea Woodworks
The living room opens to this dining room. Originally, Stacey's mother-in-law wanted the reading nook in the dining space and the dining table near the window by the Eames lounge chair. "It would have looked totally different. She benefited the most from space planning, I think," Stacey says.
Cats had torn up the dining chairs, so Stacey had them re-corded and had the table refinished. "She had some great pieces that I was able to work with," she says. "I just had to finish things off and bring everything together."
See more Rooms of the Day
Permalink | Email this | Comments
Stressed-Out Suburb Asks If People Really Like Living There

By John Rogers

SANTA MONICA, Calif. -- As Eileen Brown and her dog stand on a bluff at Santa Monica's Palisades Park and survey endless miles of sparkling blue ocean, clear skies and shimmering sandy beaches, she ponders how life could possibly get any better in this corner of paradise. "Really, it seems just about perfect," the Los Angeles woman concludes. There's a picturesque pier off in the distance with an old-fashioned merry-go-round that stands nearly side-by-side with the world's first solar-powered Ferris wheel. The sun is shining brightly, the temperature is a pleasant 79 degrees and a light sea breeze makes everything feel just right.

But there's also loads of traffic and a high cost of living, two things that recently prompted the real estate blog Movoto to rate Santa Monica No. 2 on its Top 10 list of America's Most Stressed-Out Suburbs.
To do something about that, the city of 92,000 applied last year for a Bloomberg Philanthropies Mayors Challenge grant, proposing that it create a "Wellbeing Project" to determine just how much people in this picture-postcard town really like living here. Santa Monica beat out 300 other U.S. cities in securing $1 million.

This week, officials will begin asking residents how involved they are in community activities, if they know who to turn to in times of crisis, if they know their neighbors, how healthy they are, how lonely they might be and how good an education they believe their kids are receiving. Then they'll examine what changes are needed to make life better.

"It's really about trying to get a much clearer understanding of who the people of Santa Monica are, what they are doing and what we can do on a local government level to help ensure people are thriving," said Julie Rusk, assistant director of community and cultural services. Some of the other four cities that won grants are going the more traditional route. Houston, for example, plans on building a better trash-collection system.

Rusk says Santa Monica came up with The Wellbeing Project after the launch of its Cradle to Career Initiative in 2011. That effort, to learn how students felt about themselves, began after a tragic period that included a teenager committing suicide by throwing himself off a high-rise hotel.
"What we found out was only a third of kindergarteners were really ready socially, emotionally, physically, cognitively, for kindergarten," Rusk said.

In a community where more than three quarters of adults have college degrees, that was a stunning discovery. About that same time, the city learned its efforts to promote health and fitness might have gotten out of hand when residents complained that commercial trainers had turned Palisades Park into an open-air gymnasium, making it difficult to do anything else there.

After months of debate, the city restricted who could use parks for commercial purposes. And on a recent weekday, there wasn't a weight machine or yoga mat in sight at Palisades Park.
Instead, it was filled with people having picnics, jugglers, skateboarders, strollers, dog walkers, musicians and someone operating a bubble-making machine.

If The Wellbeing Project works as they hope, city officials could tweak other public services.
Brown, who loads her dog into the car a couple times a month and travels to the park to unwind, couldn't see too many things to improve. The site of numerous homeless people sprawled out in the shadow of beach-front condominiums did trouble her, however. Brown said she avoids the city's notoriously traffic-choked freeway by taking surface streets from downtown L.A.

The locals cite the traffic jams, the homelessness and the cost of living as problems that make Santa Monica not quite as pleasant as outsiders think. "We're choking on gridlock from overdevelopment," says 30-year resident Tricia Crane, who complained of watching the city transform from a quiet beach town of cottage-style homes and modest two-story apartments to one of high-rise condos and apartments with high mortgages and rents. The median price of a home is $992,000.

Soon, says street musician Charles Baker Jr., paradise could become the province of just the rich.

"The way it's going, nobody is going to be able to afford to live here anymore," he said as he sat in the park with his keyboard.

Permalink | Email this | Comments

25 Things You Didn't Know You Could Put in the Dishwasher


Filed under: Home Improvement, How To
Your dishwasher can do so much more than wash dishes. This super-hot washing machine can clean, sanitize and deodorize anything that won't melt in high -- typically 130-170 degrees -- temperatures.

If you're not sure if a dirty item likes it hot, place it on the top rack, start the dishwasher, and check mid-cycle. Of course, let the steam clear before sticking your face in the cavity to check.

Here are 25 super-dirty things that your dishwasher will clean and shine.

Shoes: If you can wear the shoes in rain - rubber boots, flip-flops, pool shoes -- you can pop them into the dishwasher for a good scrubbing. Make sure to remove liners and orthopedic inserts.

Baseball Hats: Hats keep their shape when you place them on the top rack for cleaning and deodorizing. Put a small cup of white vinegar on the bottom rack for extra deodorizing power.

Hairbrushes and Combs: Remove hair and place plastic combs and brushes in the cutlery tray and wash. Don't put products with wood handles in the dishwasher: Wood doesn't like hot water scrubbings.

Toys: Metal and plastic toys will sparkle after going through a dishwasher cycle. Place in the cutlery tray or a mesh bag, first.

Vent Covers and Grilles: When they become filthy with dust and grime, place metal covers and grilles on the bottom rack of the dishwasher. Grooves will shine.

Cup Holders: When they become encrusted with spilled coffee and soda, pop cup holders into the dishwasher for a thorough cleaning.

Computer Keyboards: Proceed at your own risk, because placing computer keyboards in the dishwasher sounds risky to us. But some tech geeks swear it works. Test with an old keyboard you can do without.

Kitchen Brushes: After slopping sauce on ribs, clean and sanitize basting brushes in the dishwasher.

Scrub Brushes: Let your dishwasher scrub your scrub and bottle brushes.

Hub Caps: To make them really shine, place in dishwasher along with a cup of white vinegar. If you want to clean lug nuts, too, place them in a mesh bag first.

Window Screens: Clean screens will let more sun shine through to warm your home in winter and cut energy costs. If they fit, pop them in the dishwasher.

Light Fixture Covers; Place glass and plastic fixture covers in the dishwasher on the gentle cycle. Dead bugs, grime and dust will disappear.

Switch Plates and Outlet Covers: Dust typically covers the backsides of switch plates and outlet covers, which doesn't help allergy sufferers. Unscrew and place plates and covers in the dishwasher, which will clean and sanitize them.

Stove Knobs: Pop off and place in dishwasher, which quickly will remove grease and grime.

Potatoes and Root Vegetables: When you harvest potatoes, beets and turnips from your garden, place them in the top rack and run through a short dishwasher cycle without soap. To cook same veggies, wrap tightly in aluminum foil, and wash again.

Refrigerator Shelves and Drawers: Save time cleaning the fridge by placing glass and plastic shelves and drawers in the dishwasher. Say goodbye to sticky messes.

Cabinet Hardware: Your spring cleaning should include thoroughly cleaning cabinet pulls and knobs. If you're dirt obsessed, place them in a mesh bag or in the cutlery tray, and send through the wash cycle.

Soap and Toothbrush Holders: Gather all holders, and let your dishwasher scrub off caked on toothpaste and dish detergent.

Faux Flowers: They look even more faux when covered with dust. Place plastic flowers on the dishwasher's top rack, and press the short cycle button.

Plastic Broom Heads and Brushes: Remove clumps of hair and dust that could clog the drain, then run through the dishwasher.

Desk Accessories: Pen and pencil cups, sticky note holders, and in-out trays get dirty and dusty. Clean plastic accessories in the dishwasher.

Makeup Brushes: Regularly sanitize these brushes that touch your eyes and face. Place them in the cutlery tray, and let the dishwasher blast away dried makeup and dust.

Trash Can Lids: If they fit, place those gross-smelling lids in the dishwasher. They'll look and smell better after going through a complete cycle.

Garden Tools: Garden tools can spread fungal infections from plant to plant. To sanitize, clean weeders, shears and trowels in the dishwasher. Rinse off soil, first.

Sporting Equipment: Place plastic shin guards, balls and helmets in the dishwasher for cleaning, sanitizing and deodorizing.

Permalink | Email this | Comments

Good School Districts: How Much Do They Really Matter?


Filed under: News, Buying, Home Equity
By Rebecca McClay

Whether or not you have kids, living in a good school district can be a big deal. It's not only about better teachers, better books, and better test scores. It's also about preserving home values and ensuring faster resale rates. The quality of school districts should play a critical role in your home-buying decision -- although there are pros and cons to buying in top-notch school regions.

Parents hoping to both land a good home deal and give their kids a high-quality education have several costs to weigh. Pricier homes in a strong public school district may actually be better bargains than

Just because a neighborhood has a poorly ranked public school district doesn't mean that the overall quality of education there is poor.

affordable homes in private-school heavy districts.

Seeking good public schools: Of course, many buyers already name school districts among the key factors in their homebuying decision. Among adults who live with children, nearly two thirds (63 percent) said a neighborhood's school district would be among the most important considerations (aside from the home's price) when searching for a home.

The age of the schools, the condition of their facilities, the student-to teacher ratios and, of course, standardized test scores all contribute to whether a school district is considered high quality or not.

Finding private alternatives: But just because a neighborhood has a poorly ranked public school district doesn't mean that the overall quality of education there is poor. Private schools also play a crucial role in their neighborhoods. While in general, the wealthier, more educated, and more Catholic Metro areas have a higher private school enrollment, there is another catalyst behind heavy private enrollment trends -- poor public school quality.

In areas with lower-quality public schools, parents are more willing to pay for private schooling in the name of a good education. In fact, private school enrollment is roughly four times higher in the lowest GreatSchools ratings districts than in those with the highest ratings, where just 4 percent of kids go to private school.

Parents looking for homes in lower-rated districts but who still want quality education may need to factor in the cost of a private education, which runs well into the thousands per year. Tuition rates vary widely with top-tier prep schools averaging about $40,000 a year for fees while Catholic schools average about $7,000 per year. But the average tuition cost is $10,940, which is the same as $912 per month in mortgage payments, according to a Trulia analysis.

In other words, a homeowner with a $1,326 mortgage payment on a $300,000 house who is also paying the average $912-per-month average tuition could effectively similarly afford a $520,000 house with public school education in a better quality school district. Because home prices and school tuitions vary so widely, buyers will have to calculate these differences on their own.

Considering the future: Even for buyers without children, investing in a home in a good quality school district can also pay off with consistently higher resale values. Homes there tend to sell faster than homes in lower quality school districts. And during tougher economic times that trigger declines in home values, homes in better school districts usually hold their value more than homes in lower quality school districts. In other words, their home prices are more stable and can better weather another housing market crash.

On the downside, these homes in better school districts tend to be more expensive. Buyers here will be paying higher property taxes, and much of that money will be allotted right back the schools. For childless buyers, that's no tax bargain.

But in general, buying in a good school district does matter and, with more stability in home prices and more savings from costly private school education, it usually works in favor of the buyer.

Rebecca McClay is a long-time business journalist who has written extensively on personal finance and real estate issues for a number of national publications, including MarketWatch, the Wall Street Journal and Bloomberg. She has a master's degree in business journalism from the Walter Cronkite School of Journalism and Mass Communication.

Permalink | Email this | Comments

House of the Day: Family Made This Dome a Free-Spirited Home


Filed under: Design, Buying, House of the Day
By Emily Heffter
When it came time to re-do the kitchen floor in their geodesic dome house, the Lawrence family bought a bunch of glass tiles and went to work on a replica of the solar system, complete with all four kids' astrological signs and a spaceship fashioned over the heating duct. In a real estate world where "personal touches" can mean colorful curtains, this free-spirited waterfront dome priced at $790,000 in Kenmore, Washington, stands out as a progressive work of art.
The original owner built the home at 8656 N.E. 170th St. from recycled materials in 1974. He was a TV repairman and used old television screens for the round windows. The house is on the Sammamish River in Seattle's northern suburbs, with a dock and direct access to Lake Washington by boat.
As the story goes, when the U.S. Army Corps of Engineers came through to dredge the river in front of the home, the owner lay down in front of the bulldozers to stop them. As a result, the home is the only one on this stretch of the river with a beach, said Amy Lawrence, who is selling the home.
Lawrence and her husband, David, bought the dome house for $259,000 in 1996, when their four children were young. They expanded it and gave it a contemporary look, perpetuating a spacecraft theme. The home is full of their handiwork, including an oak ceiling that brightens the home and makes it unique among dome houses.


It was the family's mothership, the site of countless Christmas and birthday parties, including one where a nun was paid $100 to slide down the fire pole, according to Lawrence. Now that their kids have grown, the Lawrences have moved to Arizona and are ready to pass on their work of art. Harmony Lawrence made a video about growing up in the home.
"It was wonderful growing up in a house imbued with so much creativity," she said, adding that she and her siblings will miss the house. "We're hoping that a new family can move into it and appreciate it as much as we did when we were kids."
Christine Zahn of Coldwell Banker Bain is the listing agent.
Read | Permalink | Email this | Comments
Is Your Dog on the Insurance Blacklist?

Filed under: News, Lifestyle, Inside Look

Your dog may be your best friend, but that adorable pit bull, Rottweiler, even a fox-faced Schipperke may be on an insurance company's blacklist of "dangerous dogs." If a breed is blacklisted, your insurance company may either refuse to write you a homeowner's policy, or write a policy that excludes any claims related to your dog.

Is Fluffy on the list? Hard to know, because the list is a moving target that changes with the region, underwriter, and a particular insurance company's claim history.

"If a company hasn't paid off claims on a particular breed in a while, that type of dog may be knocked off the list," says Loretta Worters of the Insurance Information Institute in New York City. "If other

"When it comes to dog bites, the lawsuits go through the roof.

breeds experience more problems, they'll put them on the list."

Even the nightly news can propel a breed onto the bad dog list.

In 2001, the media widely covered the lurid death of a San Francisco woman mauled by two Presa Canarios, thick-necked but usually docile dogs originally bred in the Canary Islands as farm helpers.

"Although the Presa Canario remains a quite rare breed in North America, it now seems to appear on every prohibited dog breed list issued by the insurance companies," says dog expert Stanley Coren in Psychology Today.

Insurance underwriters aren't dog haters (necessarily), but they are number crunchers and risk evaluators who recognize that dog bites accounted for a third of all insurance liability claims in 2013, amounting to $483 million in payouts -- with an average $30,000 per claim.

"We'll sue each over anything," says Mark Carrasquillo, a New York City insurance broker for the past 25 years. "And when it comes to dog bites, the lawsuits go through the roof. It could be just a little nip on the ankle by a Chihuahua."

Most dangerous dog lists are based on a 2002 study by the U.S. National Center for Injury Prevention and Control that looked at deaths resulting from dog bites over a 19-year period. Pit bulls and Rottweilers topped the list and accounted for half the 238 deaths where breeds were known, followed by German Shepherds and Huskies.

Some surprising killers were Great Danes, known as gentle giants, and St. Bernards, who have rescued Alpine skiers for centuries.

Carrasquillo says that he's seen Chow Chows and Shar Peis on dog blacklists. In fact, Carrasquillo said that he feared that he would be blackballed from getting an umbrella liability insurance policy because he owns a pit bull-mix named Max.

So, on the application, he described Max as a "chocolate lab mix," and was granted the policy.

"It was probably an accommodation for me because I'm a broker," he says.

Permalink | Email this | Comments

The Right Height for Your Bathroom Sinks, Mirrors and More


Filed under: Design, Home Improvement

By Yanic Simard

A bathroom layout is mostly a pretty easy decision. If the plumbing is already in place and you're using standard-size pieces, like a typical 60-inch bathtub, there aren't a whole lot of options for rearranging that floor plan. However, when bringing your dream design into the real world, you have to consider the third dimension and figure out what height is right for everything you bring into your room. Consider this your guide to hanging, installing and aligning the many small features of your bathroom.

Sinks



The counter height is typically 32 to 34 inches, but what's actually more important is your sink height.




Transitional Bathroom by Decatur Architects & Building Designers TerraCotta Properties
An above-counter vessel sink will naturally sit much higher than an inset below-counter sink, and so a vessel should be placed on a lowered cabinet to compensate. Ultimately, you should try a few different sinks (in store or in bathrooms you like) and figure out the height that feels most comfortable for you.
Mirrors
Likewise, the height of mirrors should be based on your own height. Find an average eyeline for everyone using the mirrors and make sure this height is well within the upper and lower borders of the mirror (5 feet, 6 inches is average, but your household may vary).
In many situations a centerline can be created between the counter and the ceiling for the most symmetrical look. (Using this same centerline for sconces reinforces the effect, as seen here in one of my projects.)
People often place the bottom edge of the mirror above the faucet, but in fact allowing the two to visually overlap can create a very elegant effect.
Makeup Stations
When combining a standing vanity with a sit-down makeup station, you'll need to adjust the height down to about 28 inches or lower (minimum: about 24 inches).
Try sitting at a real desk or vanity and see if it feels comfortable, considering you'll be applying makeup rather than typing -- going on the low side is better for leaning forward.
Showers
Enclosures.

I prefer to run shower enclosure glass to the full ceiling height (with the door just slightly below, to allow for a free swing), as I did in the bathroom shown here. An 18-inch-wide fixed panel and a 24-inch-wide door panel work well for a typical 60-in. tub. Place the doorknob at about 36 inches off the floor or wherever is comfortable for you to reach. (Follow the placement of knobs in other rooms that work well for you.)

Benches.

Shower benches have lots of practical uses, such as giving you a place to perch your leg when shaving. Thus, the top can sit a bit lower (16 inches) than typical seat height.

See more on shower benches

Showerheads.

A showerhead, even a rainshower one, shouldn't sit so low that you must crouch or so high that the water pelts you rather than gently raining down. A height of 6 feet, 6 inches is typical, but this can be adjusted for taller or shorter bathers. Also keep in mind that it must project far enough for you to stand under it, which is especially important to remember when you have a shower bench or a tub-shower combination.

Niches.

I love adding niches to shower areas, for the practical storage capabilities and the beautiful accent. For a tub they make sense just above the tub surface, as you'll be lying down when you reach for that shampoo, but in a shower they should be much higher, around 48 in., so you don't have to lean down to reach anything.

Place your shower controls around 42 to 48 inches at the center, and a tub filler 4 to 6 inches above the top of the tub.

See more on shower niches

Toilet Paper Holders

When placing the paper holder, the tendency can be to picture the roll as hanging lower than it really should. Standard height is about 26 inches off the floor, which is closer to the height of the top of the tank than to the seat, so I recommend placing it on this level for a clean line, like I've done in this bathroom. Attaching it to the side of the vanity (toward the front rather than centered, for reachability) is another option for tighter spaces.

See the absolute right way to hang toilet paper Towel Bars and Hooks

For other accessories, like towel hooks and robe hooks, the height is flexible, but consider the length of what will hang. Towels need at least 36 inches typically; washcloths, 18 inches, and robes, 60 inches -- it's best not to eyeball it. A standard towel rail is 48 inches above the floor, but it can be adjusted to line up with something else (like the knob on the shower door or the towel hooks over the vanity) without being too hard to reach.

Designer secret:

One of the items that I found often goes the most overlooked in bathroom design is actually one that ironically is best left unseen: the electrical outlets.

Here you'll notice that the electrical for the vanity seems, well, to not exist at all. That's because the outlet is actually tucked next to the vanity cabinet, just below the lower edge of the sink counter. This way it's still conveniently positioned for plugging in a blow-dryer or electric shaver but is visually hidden from many angles.

More: Key Measurements to Make the Most of Your Bathroom

Permalink | Email this | Comments

Here's How Much Home $400,000 Buys Now Across America


Filed under: News, Buying, Investing

By Emily Heffter

At more than twice the national median home value, $400,000 will get you a mansion some places and quite the fixer-upper in others. Most places, it's enough to get you a family home. But whether your family home has a Jacuzzi tub will be determined by the home's location.

Here's a look at homes around the country listed for about $400,000.



Read | Permalink | Email this | Comments

Study: Government Wasted Millions on Border Patrol Housing


Filed under: News

By Astrid Galvin

TUCSON, Ariz. -- The federal government wasted millions of dollars in building a housing project for Border Patrol agents in Arizona near the Mexican border, spending nearly $700,000 per house in a small town where the average home costs less than $90,000, a watchdog report found. The analysis by the Department of Homeland Security's inspector general found that U.S. Customs and Border Protection overspent by about $4.6 million on new houses and mobile homes in the small town of Ajo southwest of Phoenix.

The agency has spent about $17 million for land, 21 two- and three-bedroom houses and 20 mobile homes. Construction was completed in December 2012. Customs and Border Protection paid about $680,000 per house and about $118,000 per mobile home, according to the report. The average home cost in Ajo is $86,500.

The agency realized there was a need for more housing around 2008, when the Border Patrol doubled in size. There are currently about 21,000 border agents, roughly 5,000 of whom are in Arizona. In fiscal year 2004, there were about 10,800 agents, with about 2,400 in Arizona. Building in Ajo became a priority because of its proximity to two Border Patrol stations and because nearby towns lacked sufficient public services for agents and their families. [The text of this article continues below the slideshow.]


"CBP did not effectively plan and manage employee housing in Ajo, Arizona, and made decisions that resulted in additional costs to the federal government," the report states. A statement from Customs and Border Protection says that while the agency agrees with recommendations made in the report, it disputes the way the inspector general calculated the cost of each house and mobile home, calling the method "comparing apples to oranges."

"CBP relies on the private housing market to provide housing for its employees, except in a few extreme locations such as Ajo," the agency said in a statement released by spokesman Jim Burns. "In Ajo, CBP built urgently needed housing for employees in accordance with the approved CBP design standards and the U.S. government guidance to be used by executive agencies concerning construction of federally owned housing for civilians." He added that the agency remains committed to providing quality, cost-effective housing to frontline border security personnel and their families.

The report says Customs and Border Protection did not "adequately justify" hiring the U.S. General Services Administration, a government agency, to manage the housing project, and that it overpaid the agency by about $3 million in unspent funds. CBP also increased funding for the project seven times without providing reasons for the increases or explaining how the money was spent.

The government plans to build more houses in Lukeville, which is near Ajo.

AOL Real Estate contributed to this report.

Permalink | Email this | Comments

Parking Spaces Sell for $1 Million at NYC Apartment Building

By Christin DiGangi

It's common knowledge New York City is home to some of the priciest real estate in the country, but still, paying $1 million for a parking space is a little excessive. A luxury building under construction in the trendy SoHo neighborhood will offer the pricey parking spots on a first-come, first-served basis, and they cost more per square foot than the apartments above.

Owning a car is often extremely expensive if you live in one of the biggest cities in the country -- there are all sorts of fees, insurance rates are generally higher, and, oh yeah, you need to find somewhere to put it. In densely populated areas, that's no easy task. If you want a guaranteed spot, you'll pay a

It almost certainly costs more than any car that would sit in it....

premium. For cost reasons alone, many city dwellers choose to ditch their personal vehicles for public transportation or bicycles.

For the likely tenants of this new building in SoHo, a $1 million slab of concrete is probably a small price to pay for easy access to a vehicle: The three-bedroom units will cost between $8.7 million and $10.45 million, and the duplex penthouse is $25 million (though that's nothing compared to this palace in Florida, the most expensive U.S. property on the market right now). If you think of it in terms of monthly expenses (which is how most people deal with buying property) adding $1 million to the price of these units adds just a few thousand dollars to the cost.

These parking spaces aren't the equivalent to a typical home's garage, which the owner would pay for as part of a mortgage. The buyer won't own the parking space in the same way she would own the apartment -- they are being sold as 99-year licenses, allowing the owner to use the spot as long as he or she is a resident of the building. If she moves, she must sell the spot.

Even for New York, where parking spaces like these sell for $136,052, according to the Times, $1 million is an eye-popping figure for such an amenity. It almost certainly costs more than any car that would sit in it, because people don't generally drive excessively luxurious sports cars in Manhattan traffic. This building stands out among other luxury properties because there are as many private spaces as residences, which the developer was able to accomplish by getting a special permit - the city usually limits parking spaces in new buildings to 35% of the units.

Permalink | Email this | Comments

For Sale: 'Ozzie and Harriet' House Gets a Modern Makeover


Filed under: Design, News, Celebrity Homes
By Emily Heffter

Rehabbed from top to bottom, this house will always be remembered as the home of Ozzie and Harriet, America's first real television family between 1952 and 1966. It also served as Ari Gold's home on "Entourage."

When the Los Angeles home last changed hands in 2013 for $3.025 million, the house still had the same kitchen layout as it did on television, and Ozzie's wood-paneled "pub room" stood frozen in time. Owners since Ozzie's death say they would sometimes find a kitchen drawer open beside the sink, presumably because his ghost wanted a bowl of ice cream in the middle of the night.


The developer who bought the house has redone it, bringing the 1916 Hollywood Hills home into the modern age. Selling agent Eric Lowry of Coldwell Banker Residential Brokerage-Sunset Strip says the home is not even haunted anymore.

He has listed it for just under $5 million.

"Everything about the house is perfect," he said. "The house looks like an East Hampton, very light and airy beach house."

The remodel of the five-bedroom, seven-bath, 5,283-square-foot home replaced linoleum with hardwood floors and windows with French doors to the backyard. The pub room off the kitchen has been replaced with a more modern family sitting area.

The new kitchen is all marble with Viking appliances. The remodel did preserve some of the history: The front of the house has been re-sided, but looks the same, with the iconic red door. And two doors with son Ricky's name etched in them were framed and hung in the hallway.

"You won't shed the history, because the house is exactly that," Lowry said. "That was their home."

Read | Permalink | Email this | Comments

These Kitchens Cook With Fresh, Bold Mixes of Color


Filed under: Design, Home Improvement, How To

By Vanessa Brunner

Vibrant reds, bold oranges and electric greens all have their place in the kitchen today -- it's just a matter of finding the right tone and using it correctly. Are you ready to get cooking with color? Take a look at some of Houzz's best kitchen color guides, complete with suggested paint picks and color palettes, and start sampling some fresh new hues on your kitchen cabinets, island and backsplash.



Red
Stimulating shades of red have are purported to up the appetite, which makes it a great kitchen color for families who love to cook (and eat). But should you use a warm red or a cool red? And how much? Get plenty of paint samples before choosing a final tone -- and be aware that red requires at least two coats for full coverage.
Paint picks:
When to Use Red in the Kitchen
Orange
Like red, orange grabs the attention right away and is best used on great features that should be exaggerated. Be careful when playing with light tones, though -- sometimes orange can feel like a pastel, so look for oranges with yellow or brown in them if you want something that isn't too vibrant.
Paint picks:
When to Use Orange in the Kitchen
Green
Green can be a tricky color to work with -- while the right shades feel refreshing and playful, the wrong shades can look almost sickly. This guide has some great advice to get you started: Go for a hue that reminds you of your favorite green food.
Paint picks:
When to Use Green in the Kitchen
Blue
This calming color can make even the most chaotic space feel relaxing. But be careful when using it in the kitchen, since blue may be an appetite suppressant. Instead of going overboard with this watery hue, try using it in small doses -- on islands, cabinetry or backsplashes.
Paint picks:
When to Use Blue in the Kitchen
Black
There's a good reason black is always in style -- it goes with everything. Neutral and colorful kitchens can both make use of this dramatic and dark color. But be careful -- black absorbs a lot of light, so it might not be the best bet for a kitchen that doesn't get much sunshine.
Paint picks:
When to Use Black in the Kitchen
Cabinet Colors
If a new wall color just isn't giving your kitchen the update you want, painting your cabinetry can be an affordable way to amp up your kitchen's style. But it's not just a matter of slapping on some paint -- painting cabinets can be a lot of work, so be careful to choose a palette that you know you'll love.
Paint picks:
8 Great Kitchen Cabinet Color Palettes
Cabinet Stains
Torn between painting your wood cabinets or leaving them in their unadorned beauty? Luckily, there is a compromise. Staining your cabinets can add subtle color to your kitchen but still retain the texture and original wood grain.
Color picks:
Stain Colors for Kitchen Cabinets
Color Combinations
The good news: You've finally decided what color you want for your kitchen. The bad news: This is only the beginning. Take the time to choose accent colors, materials and the proper paint applications to create the perfect palette for your chosen hue.
Paint picks:
8 Great Kitchen Color Schemes
Miss your favorite hue?
Get designer kitchen palette suggestions for every color
Permalink | Email this | Comments
Survey: Generation Z Would Give Up Social Media to Own Home

Filed under: News, Buying, Lifestyle
Can't wait to tweet this: Generation Z, those teens between ages 13 and 17, would give up social media for a year -- and even take Mom or Dad to the prom -- if those teenage sacrifices meant they could someday own a home. Who would have thunk it?

Homeownership has been dropping since the beginning of the Great Recession, down from 69 percent before the bust to 65 percent now. But 82 percent of Generation Z participants -- 4 out of 5 surveyed by Better Homes and Gardens Real Estate -- think owning a home is the most important factor in

Gen Z's view of the American Dream is vastly different from what their slightly older peers believe.

achieving the American Dream.

"Today's teens are fiscally literate and realistic when it comes to their future," says Sherry Chris, president and CEO of Better Homes and Gardens Real Estate. "It's quite profound that a generation that has never known a world without social media is willing to give up such a staple in their modern lives to achieve their dream home."

Homeownership is so important to this group of kids (who can't even vote), that they're willing to sacrifice the very things that, adults think, they live for.

The survey of 1,000 teens conducted in July found that Gen Z also values graduating from college (78 percent), marrying (71 percent), and having children (68 percent).

Nearly all the teens surveyed -- 98 percent -- believe they will someday own a home and would be willing to make the following sacrifices now if it led to homeownership later.
53 percent would give up social media for a year and do double homework every night.
42 percent would attend school seven days a week.
39 percent would take their mom or dad to the prom.
Gen Z's view of the American Dream is vastly different from what their slightly older peers believe. A recent Credit.com survey found that being debt-free was the top financial goal for young adults 18 to 24, and that owning a home fell at the bottom of their priority list.

Homeownership for Millennials -- people reaching adulthood before 2000 -- has fallen to historic lows: 36.2 percent in the first quarter of 2014, down from 36.8 percent in 2013, according to the U.S. Census Bureau.