AOL Real Estate - Blog
AOL Real Estate - Blog
For Sale: Faye Dunaway's Art Deco Duplex

Filed under: News, Buying, Celebrity Homes, Selling
By Emily Heffter

Actress Faye Dunaway has remodeled the historic West Hollywood duplex she lived in for 15 years and put it on the market for $1.75 million. Dunaway paid only $315,000 for the small, charming duplex at 901 N. Spaulding Ave when she bought it in 1998. She lived for many years in the larger half -- a two-bedroom, two-bath space with a small balcony off the dining room and a courtyard in the back. The home is tucked behind hedges and a wall to keep it private.

A recent open house attracted Dunaway fans who wanted to check it out, said listing agent Farrah Aldjufrie of The Agency. She holds the listing along with Eduardo Umansky. The larger unit is staged with memorabilia that is also for sale, including a photograph by Dunaway's ex-husband of her at breakfast, poolside at the Beverly Hills Hotel, with the Academy Award she won for her role in "Network" in 1977.

"She just hoped to find a buyer who would hopefully appreciate the Hollywood history and want to own a piece of her life," Aldjufrie said.

Dunaway's own vision drove the home's remodel. Antique and art deco details -- crown molding, arched windows -- are preserved. But the home has been modernized with contemporary light fixtures and a modern tile backsplash in the kitchen.



Permalink | Email this | Comments

Housing Market's Outlook Muddled by Mixed Reports


Filed under: News, Buying, Economy, Selling
By Kathryn Vasel

The wind might be shifting in the housing market. The Commerce Department reported Thursday that new home sales tumbled 8.1 percent last month to a seasonally-adjusted annual rate of 406,00 -- the slowest pace in three months. What's more, May's numbers were significantly revised downward.

"These numbers are drastically disappointing; it doesn't build an optimistic picture in the near-term for the housing market, which used to be a headwind for the economic recovery," Edison Byzyka, vice

"There is some good news: Inventory of new homes for sale are up 20 percent year-over-year,"

president of investments at Hefty Wealth Partners said.

It's been a mixed bag of economic reports for the housing market recently. Earlier this week, existing-home sales showed strength in June, rising 2.6 percent to a seasonally-adjusted annual rate of 5 million, according to the National Association of Realtors. This was the third consecutive month of increases, and the fastest annual pace since October. Last week, home construction skidded 9.3 percent, the second consecutive month of declines and the weakest showing since September 2013. This news came out the day after data showed homebuilder confidence was sitting at a six-month high.

New home sales make up nearly 10 percent of buying activity in the market. While Jed Kolko, chief economist at Trulia, calls Wednesday's numbers "disappointing" he points out the report can be highly volatile and have a large margin of error. "New home sales are down 5 percent year-over-year, which is a clear sign that new home sales have slowed.... But there is some good news: Inventory of new homes for sale are up 20 percent year-over-year," he said.

Adding to the complicated picture, first-time buyers have been noticeably absent from the housing market in the years following the end of the Great Recession. According to Tom Showalter, chief analytics officer of Digital Risk, this demographic historically makes up about 40% of home sales. Right now, that number sits at 28 percent.

Kolko said first-timers don't normally make up the bulk of new home sales. "New homes right now are larger and tend to be built at the higher-end of the market. Most new buyers are looking for something more affordable," he said. Byzka added that when you combine strict lending rules and a lack of available homes that pushes up prices, affordability is hard to come by in this market.

He went on to say that lack of full-time employment among the millennial generation is weighing down household formation. "Nearly half of those in this demographic are part-time or underemployed. They don't have a strong enough income to purchase a home. For me to go ahead and buy a bigger home, I need a first time to come in a buy my home. And they just aren't doing that. So it clogs the system," Byzka said.

Wages haven't been keeping up with the price acceleration, according to Showalter who said the real median household income was $57,000. Now it's dropped to $51,000.

Despite that, some markets have maintained their energy coming off 2013's growth -- especially areas in Northern and Southern California, Miami, Texas, New York City and Washington, D.C. But markets in the Midwest and Southeast are still struggling.

"You can't walk three block in Dallas without running into someone building a home. But then parts of the Midwest and Southeast are the exact opposite. We have a bifurcated market, the haves and the have-nots," he said.

While Thursday's report shows the recovery is failing to build momentum, Byzka said there's a bigger problem on the horizon: boomer homeowners."

Boomers are retiring in droves, and they are going to want to downsize from their monstrous 4,000 square-foot home with six bedrooms and four bathrooms. The problem is, younger buyers just aren't that interested in that," Byzka said.

Permalink | Email this | Comments

Feds, 15 States Sue Alleged Mortgage-Modification Scammers


Filed under: News, Buying, Foreclosures
By Christine DiGangi

This week the Federal Trade Commission, Consumer Financial Protection Bureau and 15 states announced a slew of lawsuits against companies and individuals for allegedly misleading homeowners and illegally charging them for foreclosure relief that never came. The lawsuits are result of "Operation Mortgage Mismodification," a joint investigation effort that revealed scams that cost consumers millions of dollars in illegal fees and, in many cases, their homes.

The FTC, CFPB and prosecuting states allege firms used deceptive marketing tactics to lure distressed homeowners into their loan modification programs, where consumers were charged steep upfront and monthly fees for nonexistent relief. They also allege that after paying for the services, consumers often never heard from the firms again, leaving them worse off than they were when they started working with the companies.

Companies Allegedly Preyed on Desperate Homeowners: Companies are legally prohibited from taking payment before attaining a loan modification agreement with clients' lenders. In schemes dating back to 2011, possibly as far back as December 2010, companies charged hundreds, sometimes thousands, of dollars in upfront fees, in addition to monthly fees of about $500 for their allegedly false promises of loan modification and legal representation. The lawsuits claim consumers were told they could receive lower interest rates, lower mortgage payments and that foreclosure proceedings would stop. Such deceptive practices are illegal under the Dodd-Frank Wall Street Reform and Consumer Protection Act.

"They promised the homeowners that in exchange for an upfront fee they will obtain a loan modification or help avoid foreclosure by negotiating with the homeowner's lender," said Katie Fallow, FTC deputy director for consumer protection, in a media call announcing the actions. "They made the loss of people's homes even more likely by telling people to stop paying their mortgage."

Companies Under Fire: The CFPB names Clausen & Cobb Management Co., owners Alfred Clausen and Joshua Cobb, and Stephen Siringoringo and Siringoringo Law Firm as defendants in the first suit. The second is against The Mortgage Law Group, the Consumer First Legal Group and attorneys Thomas Macey, Jeffrey Aleman, Jason Searns and Harold Stafford. The third lawsuit includes the Hoffman Law Group, Michael Harper, Benn Wilcox, Marc Hoffman, and the group's affiliated companies: Nationwide Management Solutions, Legal Intake Solutions, File Intake Solutions and BM Marketing Group. Separately, the FTC filed six lawsuits against the following companies: Danielson Law Group, FMC Counseling Services, Lanier Law, Mortgage Relief Advocates, Home Relief Foundation and CD Capital Investments.

The CFPB, FTC and states bring these lawsuits with the intention of seeking restitution for the victims of the alleged scams.The three schemes being pursued by the CFPB apparently cost consumers more than $25 million in illegal fees. Meanwhile, consumers grapple with the weight of their financial losses.

Foreclosure and loan delinquency have seriously negative effects on one's credit standing, which can determine how much consumers pay in interest rates, utility deposits and insurance premiums. (To see how your mortgage affects your credit, you can get two free credit scores through Credit.com.)

In conjunction with the announcement of the enforcement actions, the CFPB published a consumer advisory listing signs of foreclosure relief scams, like demands for upfront payment and guarantees of loan modification.

Permalink | Email this | Comments

3 Splurges Worth the Expense When You're Selling Your Home


Filed under: News, Advice, Selling

By Neil Walton

You're ready to move, you list your house, it's sold. Simple right? Not so fast. Small things like dust and dark photos can make a big difference to the bottom line. To sell your house at top dollar, it's important to avoid cutting corners. These three purchases are worth making before you put your home on the market:


Neil Walton is the Managing Broker for 360dwellings Real Estate in Denver, Colorado with over 15 years experiencing in buying and selling personal residences.

Note: The views and opinions expressed in this article are those of the author and do not necessarily reflect the opinion or position of AOL.

Permalink | Email this | Comments

Mortgage Rates Steady, Little Changed in Latest Survey


Filed under: News, Buying, Financing, Refinancing
WASHINGTON -- Average U.S. long-term mortgage rates were stable to slightly higher this week, remaining near their lows for the year.

Mortgage company Freddie Mac said Thursday that the nationwide average for a 30-year loan was 4.13 percent, unchanged from last week. The average for the 15-year mortgage, a popular choice for people who are refinancing, edged up to 3.26 percent from 3.23 percent last week.

Mortgage rates are below the levels of a year ago, having fallen in recent weeks after climbing last summer when the Federal Reserve began talking about reducing the monthly bond purchases it was making to keep long-term rates low.

The government reported Thursday that sales of new homes in the U.S. plunged by 8.1 percent in June, a sign that real estate continues to be a weak spot in the economy. Home sales had been improving through mid-2013, only to stumble over the past 12 months due to a mix of rising prices, higher mortgage rates and meager wage growth.

At 4.13 percent, the rate on a 30-year mortgage is down from 4.53 percent at the start of the year. Rates have fallen even though the Fed has been trimming its monthly bond purchases. Fed Chair Janet Yellen told Congress last week that the purchases likely will end completely at the end of October.

But at the same time, Yellen said during congressional testimony that the Fed still sees the need to keep its benchmark short-term rate at a record low near zero to give the economy support.

To calculate average mortgage rates, Freddie Mac surveys lenders across the country between Monday and Wednesday each week. The average doesn't include extra fees, known as points, which most borrowers must pay to get the lowest rates. One point equals 1 percent of the loan amount.
The average fee for a 30-year mortgage was 0.6 point, unchanged from last week. The fee for a 15-year mortgage rose to 0.6 point from 0.5 point last week.
The average rate on a five-year adjustable-rate mortgage increased to 2.99 percent from 2.97 percent. The fee rose to 0.5 point from 0.4 point.
For a one-year ARM, the average rate was unchanged at 2.39 percent. The fee held at 0.4 point.
Permalink | Email this | Comments
Why Your Mortgage Might Cost More Than You Expect

Filed under: News, Buying, Financing, Credit
By Scott Sheldon

Applying for a mortgage? Do your fees and rates appear to be a little higher than what you see advertised? If yes, there could be several key factors driving up the cost of your mortgage that you may not know about. These additional mortgage-pricing factors can make your mortgage cost more. Don't be fooled by a lower-priced mortgage offer if your financial picture contains any of these key cost-drivers.

1. Credit Score: Most lenders have a credit threshold of 740 or above. If the middle of the three credit scores the lender pulls is under 740 -- even if it's 739 -- you could be paying slightly more in terms of interest rate and/or associated costs with your new mortgage application. If you attempt to raise your score by opening up new credit or paying off debts, it may or may not help you, depending on your credit history. (Besides, opening new lines of credit too soon before you buy can be seen as a red flag by

If a lender requires a pay stub or a bank statement, get it to them quickly.

lenders, which can hurt your chances of getting a mortgage.) Sometimes your best score is a byproduct of how you've managed your liabilities over time.

2. Equity: This one is a biggie, particularly with conventional mortgages, loans not insured by the Federal Housing Administration, U.S. Department of Agriculture or U.S. Department of Veterans Affairs. The cream of the crop conventional loans can become very pricey if you have less than 25 percent equity and a low credit score, particularly if your score is under 700.

3. Occupancy: If you are financing a property that is not your primary residence, such as an income property/investment property, expect to pay more right out of the gate no matter what your loan-to-value or your credit score. It's not uncommon to see as much as .375 percent higher in rate for income property financing combined with these other risk factors.

4. Loan Size: Let's say you have great credit -- say 740 or above -- and you take out a $160,000 loan on a primary home with 25 percent down. Believe it or not, a loan amount of $200,000 with the same factors will be more competitively priced. Contrary to popular belief, mortgage giants Fannie Mae and Freddie Mac have an appetite for bigger mortgages -- usually at $170,000 or more -- than they do for loans under $170,000. Therefore, Fannie and Freddie price these smaller loans slightly higher, as the interest they collect on monthly payments is below their margins.

5. Co-Signer: Freddie Mac loans are the only loans on the conventional side (non-government) that allow for the use of a co-signer or even a non-occupying co-borrower to help offset a mortgage payment. Freddie Mac inherently prices its loans a bit higher than Fannie Mae loans, but offer this loophole.

6. Time Frame Delays: An interest rate lock extension, if not handled in a timely manner, can be a strong driver of cost. Interest rate lock extension fees can be as high as .375 percent of the loan amount. For a $400,000 loan that's an additional $1,500 for an extra 30-day period of time, while you can expect half that amount for a shorter delay. Lock extensions typically can be for 15 days, or 30 days with most lenders. Want to avoid a time frame delay? If a lender requires a pay stub or a bank statement, get it to them quickly.

How to Reduce Your Rates & Fees: The following scenarios will always yield the best possible combination of rate and fees.

Middle FICO score: 740 or higher -- Lenders consider this the ideal credit score range

LTV (Loan-To-Value): 70 percent or lower -- Equity and/or down payment at 30 percent yields substantially reduced pricing adjustments to rate and fees

Occupancy: Primary residence -- Owner-occupied and second home transactions are the lowest cost mortgage types available. A second home is also classified as a vacation home.

Loan amount: Up to $417,000 -- Using the traditional conforming loan limit at $417,000 in most geographic areas

Lock Period: 30 Days -- Closing escrow within a month. Proactively providing to the lender any documents they may need during the process quickly will keep your rate and fees low.

A 15-day rate lock does have a lower price than a 30-day rate lock because of the time value of money. The longer the holding on that coupon, the more opportunity the market has to change, creating interest rate risk to the lender. By sharing some of that risk with the lender, a savvy consumer may be able to grind out a lower-priced loan.

Ideally, the two biggest factors to pay attention to in reducing your mortgage rates and fees is cash and credit. First, with managing your credit, a qualified mortgage professional with experience should be able to help you manage your liabilities in order to reduce your mortgage costs. Perhaps, it might mean paying off in full or paying down credit cards or even opening up new credit. Also, it helps to get familiar with your credit far in advance of applying for a mortgage - six months or even longer - to give you enough time to address any potential problems. Start by checking your credit reports for any issues, as well as your credit scores. You can check your credit reports for free once a year, and you can check two of your credit scores for free on Credit.com every month.

Secondly, cash is still king. If you have an interest rate and loan program that is not necessarily ideal, getting a larger down payment together so you have an appropriate loan-to-value can easily shave off thousands of dollars in unnecessary interest over the life of your loan.

Finally, a smart consumer should seek to work with an experienced mortgage professional who can proactively help them manage their credit and finances while ultimately reducing mortgage costs.

Permalink | Email this | Comments

New Home Sales Post Biggest Drop in Nearly a Year


Filed under: News, Buying, Economy, Selling
By Lucia Mutikani

WASHINGTON -- Sales of new U.S. single-family homes fell sharply in June and the prior month's data was revised to show less robust growth, suggesting the housing market would struggle to regain momentum.

The Commerce Department said Thursday that sales dropped 8.1 percent, the largest decline since July 2013, to a seasonally adjusted annual rate of 406,000 units.

May's sales pace was revised to 442,000 units from the previously reported 504,000 units.

Economists polled by Reuters had forecast new home sales at a 479,000-unit pace last month. Compared to June of last year, sales were down 11.5 percent.

A run-up in mortgage rates, as well as a shortage of properties for sale, pressured home sales late last year, raising concerns that a weak housing market could undercut economic growth.

Though housing appears to be on the mend with mortgage rates well off their September peak and job growth gathering momentum, the sector will probably continue to lag the overall economy.

Last month, new home sales fell in all four regions, declining by 20 percent in the Northeast.

The inventory of new houses on the market rose 3.1 percent to 197,000 units, the highest number since October 2010. At June's sales pace it would take 5.8 months to clear the supply of houses on the market, the highest since October 2011.



Permalink | Email this | Comments

For Sale: Puddle of Mudd Singer's Home -- With Pool of Algae


Filed under: News, Buying, Celebrity Homes, Selling
Puddle of Mudd frontman Wes Scantlin is looking to unload his rundown West Hollywood pad at a loss of about $200,000. Scantlin purchased the home in 2005 for $1.7 million, right around the height of his career, and seems to have since partied himself out of the three-bedroom, four-bath, 2,350-square-foot home. He's seeking a buyer to give the place some tender love and care for the smaller price tag of just $1,499,000.

There are few pictures to show of Scantlin's property -- and that's not a good sign. With the pool looking like a puddle of algae, it might be no wonder the home has lost some value since its initial purchase about 10 years ago. However, between having epic on-stage meltdowns and being arrested multiple times, maintaining a million-dollar property may be the last thing on this bad boy rockstar's mind.

Nevertheless, the show must go on. According to the listing, the home is "in good condition with great bones." Renovated in 2009, the contemporary home is in a prime Hollywood location as it sits perched up on the Hollywood Hills right above the Sunset Strip. Walls of glass line the living and dining area and offer stunning city and ocean views. The exterior is surrounded by trees and shrubs, giving the pool and patio ultimate privacy.



Permalink | Email this | Comments

Top Designers' Tips on Creating the Perfect Color Scheme

Color has the ability to instantly transform the entire personality of a room. It's the reason designers spend so much time flipping through paint wheels and swatch books. Pinpointing the perfect hue and finding the right combination can be tricky, but when you nail the ideal palette, the results are guaranteed to be dazzling. AD asked some of the top talents in design to share their personal tips for mastering the art of color-from deploying punchy brights to creating golden glows.

Click to read what designers such as Bunny Williams and Miles Redd had to say.


See the full slideshow at ArchDigest.com

More From Architectural Digest:
Radical Houses Around the World

Permalink | Email this | Comments

For Sale: Leona Helmsley's Summer Home


Filed under: News, Celebrity Homes, Selling
By Emily Heffter

The Greenwich, Connecticut, summer home where hotelier Leona Helmsley died has been completely renovated and is back on the market for $65 million. The mansion was at the center of the tax evasion scheme that landed Helmsley in jail in the 1990s. The case took Helmsley and her husband, Harry, from glamorous to notorious as the case played out in the press. Helmsley was dubbed the "Queen of Mean" and famously was quoted as saying that "only the little people pay taxes."

The billionaire couple were indicted for claiming as business expenses things they purchased for the 17,493-square-foot brick estate, which sits on 40 acres on Round Road, one of the most famous parts of Greenwich. Among the luxuries they added to the home: a marble dance floor above the swimming pool, a $45,000 silver clock and $500,000 worth of jade art objects, according to The New York Times.

After Helmsley's death, her Greenwich estate was originally listed for $123 million, but several price cuts led to its eventual sale to the current owners, for $35 million. They listed it soon after buying it, for $42.9 million, then took it off the market and set to work renovating the 1918 estate from top to bottom.


They tore some of it down (the home is 3,000 square feet smaller than it was when they bought it) and modernized it considerably. They also restored original teak floors and limestone walls and fireplaces, and added new technology, appliances and equipment.

The tile roof was removed, restored and put back on.

The estate has views of the Long Island Sound and luxurious touches such as the freestanding, oversized bathtub in the master bathroom. The listing is held by Jane Howard Basham of David Ogilvy & Associates, part of Christie's International Real Estate.

Read | Permalink | Email this | Comments

Viewpoint: How to Make Mortgage Interest Deduction More Fair


Filed under: News, Buying, Economy, Home Equity
By Bonnie Lee

One of the most lucrative tax deductions for homeowners is the mortgage interest deduction. The deduction is the government's way of incentivizing people to become home owners by offering a significant tax break. While effective, it's inherently unfair.

Those who can afford to buy a home are rewarded with a reduced tax liability thanks not just to the mortgage interest deduction, but also the deduction of property tax payments. The ability to take advantage of these deductions opens up the entire Schedule A Itemized Deductions that often leads to

"The upwardly middle-class, aged 25-35, who have not yet reached their peak earning years, with no home, no kids, are the ones who receive no benefit from the existing tax code."

substantial deductions for things like: charitable contributions, medical expenses, vehicle registrationfees and state income taxes paid, just to name a few. This benefit enables taxpayers to often double, triple and even quadruple the amount of the standard deduction taken by taxpayers who don't own homes.

The less fortunate don't miss out completely. The Earned Income Credit, which can refund as much as $5,666 with three qualifying children, can bring significant tax benefits for low income individuals and families. Taxpayers with dependent children receive extra dependency exemptions: the child tax credit, dependent care credit, additional child tax credit and tax credits for post-secondary education costs, to name a few.

The very wealthy or the elderly on fixed incomes may have paid off their homes and aren't eligible for the mortgage interest deduction. However, they tend to enjoy lower tax rates for capital gains income from their investments. There seems to be a little bit of something for everyone.

Not necessarily. I can easily construct a situation in which a taxpayer essentially enjoys no tax benefits whatsoever. How about the single individual or possibly a married couple without children, who make just enough to make ends meet but still cannot save to buy a house? Or possibly, they prefer renting to the onerous commitment of home ownership. There doesn't appear to be any tax breaks for them.

Jason Fichtner, senior research fellow at the Mercatus Center at George Mason University agrees. "The upwardly middle-class, aged 25-35, who have not yet reached their peak earning years, with no home, no kids, are the ones who receive no benefit from the existing tax code."

Fichtner along with research analyst Jacob Feldman have written a paper, "Reforming the Mortgage Interest Deduction," proposing the replacement of the mortgage interest deduction with a fixed $900 tax credit for all taxpayers with a mortgage. Fichtner states, "It would be revenue neutral and would encourage homeownership without encouraging greater debt-financing by home purchasers."

According to the report, in 1986 when the deduction for consumer debt was repealed, taxpayers began to shun credit card debt in favor of increasing debt secured by their personal residences.

Fichtner is also in favor of the Tax Reform Act of 2014 by House Ways and Means Chairman David Camp (R-Mich.), which would repeal the mortgage deduction and replace it with a higher standard deduction.
The move would level the playing field and not favor homeowners over renters. But like all major tax reform proposed during the last 20 years, it sits on the shelf, waiting for a Congress to take action. "It won't happen this year," Fichtner says. "It's an election year and no one wants to stick his neck out."

Well, there's always next year. One can hope.

Note: The views and opinions expressed in this article are those of the author and do not necessarily reflect the opinion or position of AOL.

Bonnie Lee is an Enrolled Agent admitted to practice and representing taxpayers in all 50 states at all levels within the Internal Revenue Service. She is the owner of Taxpertise in Sonoma, Calif., and the author of Entrepreneur Press book, Taxpertise, The Complete Book of Dirty Little Secrets and Hidden Deductions for Small Business that the IRS Doesn't Want You to Know. Her new e-book Taxpertise for the Creative Mind Murder, Mayem, Romance, Comedy and Tax Tips for Artists of all Kinds is available at all major booksellers. Follow Bonnie Lee on Twitter at BLTaxpertise and at Facebook.

Permalink | Email this | Comments

Room of the Day: Modern Family Room Embraces Earthy Comforts


Filed under: Design, News, How To

By Becky Harris

Creating a family room that could stand up to two young boys was "pretty easy" here, says interior designer Sophia Reay -- these clients are very down-to-earth, laid-back and fuss free. Bringing architectural interest and natural elements into the room was the bigger issue. "This is a subdivision home that didn't have much interior architectural value," Reay says. She remedied that by adding a fireplace, cabinets, windows, millwork, layers of texture and comfy seating. Here's how she turned a blank slate into a comfortable family gathering spot.


Transitional Family Room by Salem Interior Designers & Decorators LemonTree & Co. Interiors
Photos by Click Photography
The clients' style is "traditional with a funky edge," says Reay, of
LemonTree & Co. Interiors
. They love midcentury modern pieces, and Reay wanted to create an organic feeling with the textures of nature.
The house sits next to a large wooded area, and Reay brought in some of its feeling. "I don't think people can connect with a room without connecting the room to nature," she says.
A fireplace, built-in cabinetry, baseboards, crown molding, leaded glass windows and a painted wood ceiling give the room the architectural details the owners were after. Reay extended the bulkhead all the way around the room; recessed lights in it illuminate the built-ins.
Two new windows on either side of the fireplace bring in natural light; their placement and leaded glass preserve privacy. (There is another house close to that side of the house.)
Woodwork: Van-Del Custom Millwork; wall paint: Revere Pewter HC-172, Benjamin Moore; sofa: Ikea, with legs from Etsy; Glass Waterfall Coffee Table: Buona Furniture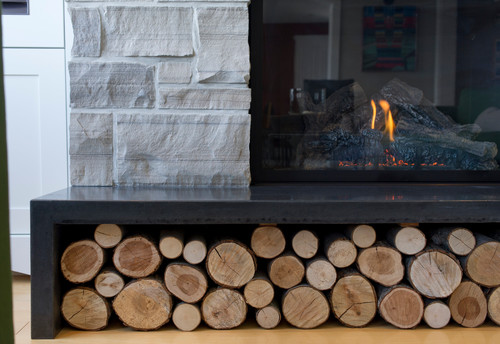 The gas fireplace features a local
Bruce Grey ledgerock
surround and a long poured concrete hearth. Crisply cut hardwood logs aren't intended for the actual fire; they add a sculptural element and pattern that complement the stone.
Reay flanked the fireplace with built-ins for media equipment, toys and the owners' books. One of the owners is very much into photography, so his albums are in there; the other loves to make books for each boy representing every year of his life. The cabinets have concrete countertops that match the hearth, and the hardware is oil-rubbed bronze.
Cabinet hardware: Lee Valley; concrete work: Creative Concrete Designs
Washable fabric on the cheery grass-green sofas stands up well to spills. Theglass coffee table keeps the view to the fireplace open, and those burlap laundry sacks underneath help keep the room tidy. Their built-in wiring makes them expandable, so the boys can collect their toys at the end of the day and carry them back to their rooms.
Opting for a
TV over the fireplace
came with challenges. To keep a TV from taking over, Reay recommends that if it isn't
concealed
, it should not be larger than the fireplace box. "This is a tough challenge with some of my bachelor clients who love giant TVs," she says, laughing. The fireplace dictates the mantel, including how far a wood mantel needs to be from the firebox for safety, and how far it needs to stick out to protect the TV screen from the gas heat.
"I hate wires, and I hate speakers," Reay says. The wires were framed in the stud cavities, and the sound system's three speakers blend into the walls and fireplace.
Burlap laundry baskets: HomeSense; sofa: Ikea, with legs from Etsy; Glass Waterfall Coffee Table: Buona Furniture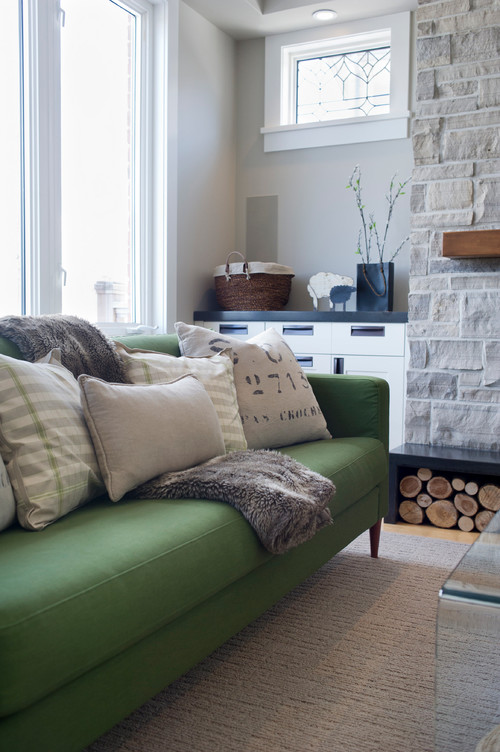 In addition to the room's clean lines and uncluttered feel, these leather reclining chairs nod to the couple's love of midcentury modern style. The chairs are very comfortable without being clunky, and the leather is easy to wipe up in case of spills.
Reay has been helping the young family spruce up their home at a rate of about one room per year since 2009.
See more of her work on this project
.
Chairs: Thayer Coggin
Permalink | Email this | Comments
Mortgage Applications Rise, Led by Refinances

Filed under: News, Buying, Financing, Refinancing
By Caroline Valetkevitch

Applications for U.S. home mortgages rose last week as both purchase and refinancing applications picked up, an industry group said on Wednesday. The Mortgage Bankers Association said its seasonally adjusted index of mortgage application activity, which includes both refinancing and home purchase demand, rose 2.4 percent in the week ended July 18.

The MBA's seasonally adjusted index of refinancing applications climbed 4.1 percent, while the gauge of loan requests for home purchases, a leading indicator of home sales, rose 0.3 percent.
Fixed 30-year mortgage rates averaged 4.33 percent in the week, unchanged from the week before.\

The survey covers over 75 percent of U.S. retail residential mortgage applications, according to MBA.

Permalink | Email this | Comments

Top 10 Places for Vacation Homes Near Water


Filed under: News, Buying, Investing, Lifestyle
By Sharona Ott

Looking to skip the hotel room and enjoy life on the water from your own private abode? Consider finding a home in one of the waterfront cities included in Zillow's Best Places to Buy a Vacation Home list.
To make the interactive list, the city had to have more than 15 percent of its real estate dedicated to vacation homes. The homes also had to be within five miles of a body of water spanning more than 40 square miles.
If you're hoping to turn that vacation home into an investment property, homes in these cities are expected to see strong home value gains (making for a better investment) and they also have good rental income potential (due to a low price-to-rent-ratio).
Here's a look at 10 great places to buy a vacation home for beaches and boating. Anchors aweigh!


Read | Permalink | Email this | Comments
Chris Bosh Finally Ready to Sell Magnificent California Mansion

Filed under: News, Buying, Celebrity Homes, Selling
NBA baller Chris Bosh is showing us the literal meaning of the term now that his Pacific Palisades home has hit the market for $14,500,000, as first reported by the Los Angeles Times. The NBA star, who currently dribbles for the Miami Heat, is away from this home so frequently that it's time to finally give it up. He'd hung on to it for a few years and had it for rent for $45,000 a month.

With a life in gorgeous Miami and a $12.333 million mansion on the water there, Chris and his wife no longer needed the to-die-for spread in that West Los Angeles neighborhood. Chris' for-sale place on the West Coast is a real palace in the Palisades. For a mere $14.5 million, you'll get a wonderful ocean-view gated estate on approximately an acre-and-a-half.

Secluded at the top of a knoll, the home has spectacular unobstructed views of the gorgeous Pacific Ocean and mountains. The outdoor area is punctuated with a resort-style infinity pool with swim up bar and lounge areas. A huge outdoor eating area features a full outdoor kitchen with pizza oven. There's even an outdoor shower and large flat grassy area, perfect for extravagant entertaining. Inside, you'll find a movie theatre, bar area with billiards, basically a total sports bar within the house.

The home is perfect for the CEO-type, with it's ultra-luxurious office/library. Last but not least, the home has a huge master suite with dual master baths with huge walk-in closets and large ocean view balcony with spa off the master.

For those who need a little extra help around the (giant) house, the home comes with fully-equipped staff quarters.

Baller!

Shen Shultz of Sotheby's International Realty holds the listing.



Permalink | Email this | Comments

Filed under: Design, News, How To

Your house looks great, but how does it feel? If you think your home is falling victim to clutter and chaos, the Chinese practice of feng shui may be able to help! Feng shui incorporates age-old principles for maximizing positive vibes in the home. While some laws of feng shui call for more elaborate considerations, there are plenty of simple tweaks that you can try in just a few minutes!