AOL Real Estate - Blog
AOL Real Estate - Blog
Tales From Real Estate's Dark Side

Filed under: News, Buying, Selling

Most real estate agents are really nice people. And choosing one that can get the job done is not that hard. But just like dating or marriage, sometimes you just don't know what you've gotten into until, well, until the relationship goes sour -- or worse.


Two Pasco County, Florida, real estate agents were found dead last week after one shot the other, and then turned the gun on herself, reported WTSP news in Hudson, Florida. Deputies say broker Rhonda Patterson killed fellow realtor Robert Clark, who was also her live-in boyfriend. The two were found in the bedroom of their house, which is also listed as her business, Waterfront and Preferred Homes Realtors, in Hudson.

In Ottawa, this spring, another real estate agent accused of attempted murder allegedly took a baseball bat to his wive's head after telling her to close her eyes and await a surprise. Neighbors saw him standing over her, bat-in-hand, as she lay in the driveway, reported the Ottawa Citizen. Luckily, she lived.

Granted, these incidents were domestic, and there's no reason to think that agents are more prone to violence or crime than any other segment of the population. But they are a reminder to safeguard yourself when you view homes for sale, and to have a friend or family member tag along with you and the agent. (The same cautions should, of course, apply to agents, who in recent years have increasingly found themselves the targets of violent attacks.)

And when you list your house on the market, security cameras can come in quite handy when needed to catch a thief, or agents doing bad inside your home.

Here's a look at some cases in which real estate agents made or are alleged to have made their clients their victims.


HE MADE HIS SALES AT THE PAWNSHOP: Ray Glen Greene, a 49-year-old used his agent key codes to enter homes for sale in metro Atlanta and rather than just admire hardwood floors or marble baths, he stole jewelry and other items.

In June he pleaded guilty to eight counts of burglary and eight counts of theft by taking, the District Attorney's office there told the Atlanta Journal Constitution. For that he must serve at least eight years in prison.

Greene told the court that he did not sell a single home in more than a year and supported himself by pawning the stolen jewelry, including a wedding ring he stole from the home of a Cobb County police captain, whose wife had passed away. The pawn shop returned the ring to the captain and the jig was up for Greene.

In addition to the prison time, Greene had to surrender his real estate license and he is barred from working in the industry. He also is not allowed to enter any house in which the homeowner is not present. Greene also was ordered to pay restitution of just over $29,000, according to the AJC.


BRIEFLESS ENCOUNTERS: One set of New Jersey homeowners reportedly caught their real estate agent having romantic encounters in their home for sale on more than 10 occasions. The evidence: The home's security video footage.

The liaisons between two now-former Coldwell Banker agents, Robert Lindsay and Jeannemarie Phelan, ended at the property when homeowner Sandra Weiner called police after viewing a remote security camera program and saw nude people in her home.

The security cameras allegedly captured the agents hugging and kissing in the kitchen before undressing and having sex on the Weiners' bed. The homeowners sued Lindsay, claiming that he had listed their house at so high a price -- in order to continue the trysts -- that buyers wouldn't be interested in it. The suit says that the video shows the pair allegedly hooking up many more times until they were caught by police in January 2012.

The police reportedly opened the door to the house and found Lindsay pulling up his pants.

Lindsay and Phelan have since countersued the Weiners, claiming that the homeowners attempted to extort $1 million from them to prevent release of the video.



SKIMMING SCAM:

Philadelphia real estate agent Joseph N. Reilly accused of stealing more than $1 million in rent, tax and bill payments that were supposed to be passed along to the clients of his property management company, pleaded guilty in May, 2014 of pocketing hundreds of thousands in rent intended for owners whose properties he managed, reported the Phildelphia Inquirer.

Reilly allegedly altered statements to make it appear as though Reilly Real Estate had sent rent and bill payments on to property owners and utilities companies. Prosecutors said Reilly actually pocketed the money, stealing an estimated $1,048,639 in payments from 50 clients.

One suit filed against him in June 2010 claims Reilly rented out a property for nine months without the owner's permission. Reilly then failed to turn over more than $18,200 in rental and water bill payments he collected from tenants, the Inquirer says the suit states.

Because Reilly allegedly mailed false statements to clients, the issue became a mail fraud case. He faces a maximum possible penalty of 20 years in prison, a $250,000 fine, three years of supervised release and a $100 special assessment.

But other than that, Philadelphia, home of the Liberty Bell, is actually a great place to visit or stick around to buy a home.

BOTTOM DRAWERS: Watch your lingerie drawer! Virginia Realtor Stephen Brumme was arrested after hidden camera video caught him rifling through the dresser drawer and closet of one homeowner, and apparently seems to stuff a lady's garment into his pocket.



Brumme entered the house legally and signed in as a real estate agent, in advance of a client showing up to tour the home, according to Arlington Now news site.

Arlington County Police, who charged him with burglary, suspect that the casual behavior of Brumme in the video suggests that there might be other victims.


MISSING MEDS: In another tragic case out of Florida, a Daytona Beach police sergeant's wife who worked as a real estate agent was charged with stealing prescription medication from clients. She subsequently shot and killed herself. Jessica Lynn Morford, 32, was found dead behind her home on in April 2013, reported Florida TV station WESH.

Clients of hers in Port Orange told police that for the previous 12 months, they'd seen prescription medications and money disappear from their home, during the same period when Morford had been showing the property for them. The suspicious homeowners set up a tiny video camera, hidden in a plant in the master bedroom. Morford allegedly took 17 of the 43 pills in the jar that day.

Go to Twitter and share your best and worst tales of real estate agents with @shereecurry. Have too many agents gone over to the #REdarkside?
Permalink | Email this | Comments
Chase Says It's 'Struggling' With FHA Loans

Filed under: News, Buying, Financing, Credit
By Chris Birk

The nation's second-largest mortgage lender recently raised eyebrows after suggesting it might stop making FHA loans. JPMorgan Chase has already scaled back lending to lower-credit borrowers, citing the increased costs of foreclosure and regulatory action. But the firm's chief executive went a step further in a conference call last week, noting Chase is "struggling" with whether to abandon the government-backed program entirely.

That comment may be more political posturing than a seismic shift in strategy, but it highlights the tension many lenders face between expanding access to credit and remaining financially competitive. For prospective homebuyers, the good news is that Chase is swimming against the current. Lenders as a whole have loosened their credit requirements in recent months.

But borrowers can still run into hurdles depending on their lender and their own unique circumstances. That's why it's critical to fully understand your mortgage options while staying on top of your credit.

Know Your Credit: Lenders continue to lower their credit benchmarks as the economy rebounds. The average credit score for all closed loans last month was 728, compared to 746 in June 2012, according to mortgage software firm Ellie Mae. That two-year drop has been more pronounced with FHA loans than conventional financing.

FHA loans tend to have the most lenient credit standards. Here's a brief snapshot of the average FICO scores last month for the three major loan types:
Conventional: 755
VA: 708
FHA: 683
But bear in mind two key facts. One is that these are averages. Two is that lenders set their own credit score requirements, which can vary depending on the company, your financial background and more. It's ideal to check your credit well in advance of applying for a loan -- six months, or even longer -- to work toward improving your credit score. (You can pull your credit reports for free once a year to check for problems that are lowering your score, and you can use a free service -- like Credit.com - to monitor your credit score for progress.)

Bolstering your credit score can help you nab a great interest rate and boost your chances of loan approval. However, a score that's just above subprime (typically at least a 620) could still get you into a home loan. Some FHA lenders may even go as low as a 580 score. That's a big reason why it's so important to understand your lending options.

Know Your Options: Borrowers seeking a conventional mortgage will typically need good to excellent credit and enough cash on hand to put down at least 5% of the purchase price. The FHA program can help buyers with more pockmarked credit. But you'll still need to muster a down payment of at least 3.5%. It's certainly not an easy task, but most borrowers will be better served financially if they can spend more time working on their credit and assets to qualify for conventional financing.

FHA loans come with an expensive form of mortgage insurance that now lasts for the life of the loan. For some borrowers, that added expense is simply the cost of getting into a home now rather than years later. Veterans and current military members may be able to utilize the VA loan program, which comes with no down payment or mortgage insurance requirement.

There's no formula or flowchart to determine which loan is right for you. A veteran with sterling credit and enough cash to put down at least 20% will absolutely want to compare conventional and VA financing. Talk with multiple lenders, and remember that credit and underwriting standards can and will vary. Just because one lender is ratcheting up requirements doesn't mean your path will be any tougher. In fact, in many ways, it's getting easier by the month to secure a mortgage.

Permalink | Email this | Comments

For Sale: Renee Zellweger's Updated-but-Comfy Country House


Filed under: News, Buying, Celebrity Homes, Selling
By Emily Heffter

You had me at seven fireplaces (and a bread oven). Actress Renee Zellweger's Connecticut country home, on the market for $1.6 million, is hardly roughing it. The luxury farmhouse, built in 1770 and updated in 2004, is a stylish and luxurious country getaway.

Set on 38 acres overlooking the Quinebaug River in rural Pomfret Center, the retreat at 96 Cotton Road is 3,463 square feet with a top-of-the-line kitchen, a bread oven in the family room and a swimming pool. The updated home has old-fashioned charm with exposed beams and architectural details, and there's also a guesthouse and a recreation space in the barn.

Zellweger, who won the Academy Award for Best Supporting Actress for her role in "Cold Mountain," broke out with her 1996 performance in "Jerry Maguire" and endeared herself to audiences in "Bridget Jones's Diary" by wearing giant underpants.

She bought the Connecticut getaway in 2004 and has listed it at least once before. The listing is held by Joanna Dresser of Christie's International Real Estate.



Read | Permalink | Email this | Comments

Cool Ways to Hide the Air Conditioner in Your Yard


Filed under: Design, News, How To

By Mariana Pickering

If you live in a hot climate, your air conditioner is probably your favorite major appliance. However, it can quickly become a major party crasher in the middle of your backyard summer barbecue. That same hulking, boxy piece of machinery that cools your house can be an eyesore in your garden. But don't sweat it. There are plenty of ways you can hide, mask, conceal and block your air conditioning unit so you won't even know it's there. Here's how to keep your cool.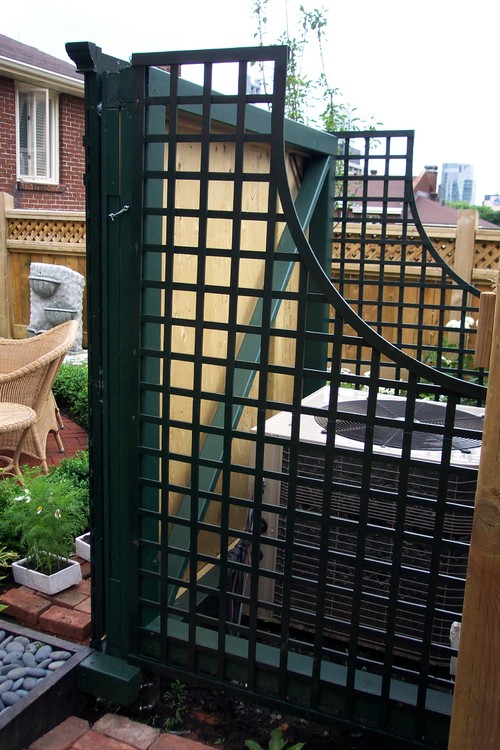 Modern Spaces
by
Montreal Landscape Architects & Landscape Designers
Sasha Newman
First keep in mind how your air conditioner works and what keeps it happy and efficient. An A/C unit needs space to breathe. Because it works so hard to make the inside of your house cool, it needs to vent a bunch of generated heat. The reason that the metal casings of air conditioning units are perforated is to do just that. Keep this in mind when adding any sort of cover or obstruction near your machine. To be safe, check the manufacturer's recommended distances for any sort of enclosure.
When designing your new house or retrofitting for a new system, remember that a happy air conditioner is one that doesn't have to work so hard. One way to ensure this is to use energy-efficient methods of home design that can reduce your reliance on air conditioning and keep as much cool air inside your home as possible.
Another way to design an efficient system is to make sure that your unit has a cool, shady spot in which to work. Place it on the side of the house with the most protection from the sun, so that it doesn't heat up too much. This will keep it running more efficiently (which is great for the wallet) and can help avoid noises and malfunctioning associated with overheating.
See how to design a home without an air conditioner
Now on to the tips for minimizing visual impact.
Fence It In
One of the most common approaches is to simply hide the air conditioner from view. For ideas on fences and screens that could work for your garden, take cues from elements you already have in your garden to maintain an integrated look. You can also check out some of the great ideas on Houzz for fencing.
See more on how to choose the right fence
Build a Dedicated Structure
Keeping space for ventilation in mind, consider creating a dedicated structure to offer shade to a machine that may not be located in the best spot. Depending on your garden needs, this could even be incorporated with a place to store the lawnmower, hose, pool care supplies or other stuff. In this example a structure built on to the side of the house disguises the unit while also providing a spot for garden tools.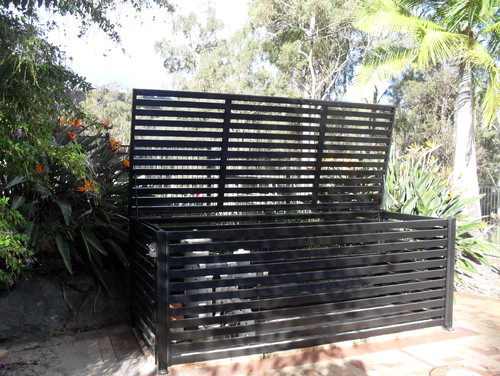 Another idea is to group your outdoor machinery into one accessible, well-ventilated structure. The example shown here is an enclosure for a pool pump, but it could easily be modified to fit the size needed for an air conditioner. Taking it a step further, you could even build a full-height equipment shed, capable of housing your unit, any pumps you have for your garden and whatever garden tools you need to store.
See more on adding a backyard shed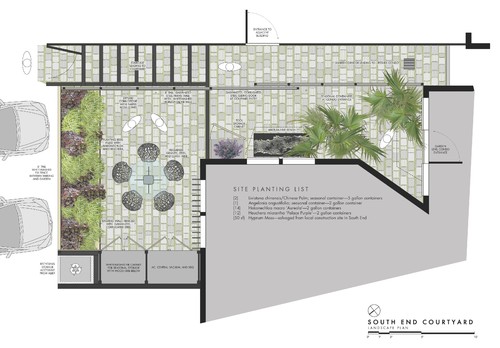 Redesign Your Backyard
If you're considering a garden makeover anyway (to prepare for all of the awesome summer barbecue parties you'll be having), this may be a good opportunity to design a system of utility spaces that are closed off from view. In this example a relatively small courtyard in Boston has been optimized for some garden storage solutions, as well as for a utility closet that houses the A/C unit, seen at the bottom left portion of the rendering.
Here's the built structure from the previous rendering. From the main sitting area, you would never guess that to the left of the firewood stash is an access door to the air conditioner. With the storage cleverly disguised as part of the courtyard boundary wall, the rest of the exterior space is open and ready for guests.
Add Structural and Vegetation Screens
A custom cover or integrated patio furniture may be a little expensive for some; a plant screen is a good budget alternative. This simple trellis covers the air conditioner, leaving access to it from behind and adding a vertical element to the garden design. You could even integrate this with your veggie garden to allow climbing plants, like beans, to grow vertically. Some premade trellis systems, like this one, also have an access door from the front.
Guide the View and Distract
Savvy landscape designers will tell you that the key to a beautiful garden, even one with a large air conditioner in the corner, is to direct the eye to a beautiful framed view. In this garden the unit on the right behind the low fence is hardly noticeable, because our eyes are drawn down the path, while the matching fences become backgrounds to lush vegetation.
Your turn:
How do you disguise your air conditioner?
Tell us in the Comments.
Coming next:
What to do about that air conditioning unit
indoors
.
See how to design a home without an air conditioner
Permalink | Email this | Comments
Fire Pits With a Spark of Inspiration

Filed under: Design, News, Home Improvement
By Erika Riggs

Once upon a time, fire pits were built out of necessity, for both warmth and cooking. But today's fire pits are more stylish than ever. The new fire pits -- including gas-powered versions -- add serious drama when it's time for s'mores.

See more fire pit ideas on Zillow Digs.
Read | Permalink | Email this | Comments
For Sale: Faye Dunaway's Art Deco Duplex

Filed under: News, Buying, Celebrity Homes, Selling
By Emily Heffter

Actress Faye Dunaway has remodeled the historic West Hollywood duplex she lived in for 15 years and put it on the market for $1.75 million. Dunaway paid only $315,000 for the small, charming duplex at 901 N. Spaulding Ave when she bought it in 1998. She lived for many years in the larger half -- a two-bedroom, two-bath space with a small balcony off the dining room and a courtyard in the back. The home is tucked behind hedges and a wall to keep it private.

A recent open house attracted Dunaway fans who wanted to check it out, said listing agent Farrah Aldjufrie of The Agency. She holds the listing along with Eduardo Umansky. The larger unit is staged with memorabilia that is also for sale, including a photograph by Dunaway's ex-husband of her at breakfast, poolside at the Beverly Hills Hotel, with the Academy Award she won for her role in "Network" in 1977.

"She just hoped to find a buyer who would hopefully appreciate the Hollywood history and want to own a piece of her life," Aldjufrie said.

Dunaway's own vision drove the home's remodel. Antique and art deco details -- crown molding, arched windows -- are preserved. But the home has been modernized with contemporary light fixtures and a modern tile backsplash in the kitchen.



Permalink | Email this | Comments

Housing Market's Outlook Muddled by Mixed Reports


Filed under: News, Buying, Economy, Selling
By Kathryn Vasel

The wind might be shifting in the housing market. The Commerce Department reported Thursday that new home sales tumbled 8.1 percent last month to a seasonally-adjusted annual rate of 406,00 -- the slowest pace in three months. What's more, May's numbers were significantly revised downward.

"These numbers are drastically disappointing; it doesn't build an optimistic picture in the near-term for the housing market, which used to be a headwind for the economic recovery," Edison Byzyka, vice

"There is some good news: Inventory of new homes for sale are up 20 percent year-over-year,"

president of investments at Hefty Wealth Partners said.

It's been a mixed bag of economic reports for the housing market recently. Earlier this week, existing-home sales showed strength in June, rising 2.6 percent to a seasonally-adjusted annual rate of 5 million, according to the National Association of Realtors. This was the third consecutive month of increases, and the fastest annual pace since October. Last week, home construction skidded 9.3 percent, the second consecutive month of declines and the weakest showing since September 2013. This news came out the day after data showed homebuilder confidence was sitting at a six-month high.

New home sales make up nearly 10 percent of buying activity in the market. While Jed Kolko, chief economist at Trulia, calls Wednesday's numbers "disappointing" he points out the report can be highly volatile and have a large margin of error. "New home sales are down 5 percent year-over-year, which is a clear sign that new home sales have slowed.... But there is some good news: Inventory of new homes for sale are up 20 percent year-over-year," he said.

Adding to the complicated picture, first-time buyers have been noticeably absent from the housing market in the years following the end of the Great Recession. According to Tom Showalter, chief analytics officer of Digital Risk, this demographic historically makes up about 40% of home sales. Right now, that number sits at 28 percent.

Kolko said first-timers don't normally make up the bulk of new home sales. "New homes right now are larger and tend to be built at the higher-end of the market. Most new buyers are looking for something more affordable," he said. Byzka added that when you combine strict lending rules and a lack of available homes that pushes up prices, affordability is hard to come by in this market.

He went on to say that lack of full-time employment among the millennial generation is weighing down household formation. "Nearly half of those in this demographic are part-time or underemployed. They don't have a strong enough income to purchase a home. For me to go ahead and buy a bigger home, I need a first time to come in a buy my home. And they just aren't doing that. So it clogs the system," Byzka said.

Wages haven't been keeping up with the price acceleration, according to Showalter who said the real median household income was $57,000. Now it's dropped to $51,000.

Despite that, some markets have maintained their energy coming off 2013's growth -- especially areas in Northern and Southern California, Miami, Texas, New York City and Washington, D.C. But markets in the Midwest and Southeast are still struggling.

"You can't walk three block in Dallas without running into someone building a home. But then parts of the Midwest and Southeast are the exact opposite. We have a bifurcated market, the haves and the have-nots," he said.

While Thursday's report shows the recovery is failing to build momentum, Byzka said there's a bigger problem on the horizon: boomer homeowners."

Boomers are retiring in droves, and they are going to want to downsize from their monstrous 4,000 square-foot home with six bedrooms and four bathrooms. The problem is, younger buyers just aren't that interested in that," Byzka said.

Permalink | Email this | Comments

Feds, 15 States Sue Alleged Mortgage-Modification Scammers


Filed under: News, Buying, Foreclosures
By Christine DiGangi

This week the Federal Trade Commission, Consumer Financial Protection Bureau and 15 states announced a slew of lawsuits against companies and individuals for allegedly misleading homeowners and illegally charging them for foreclosure relief that never came. The lawsuits are result of "Operation Mortgage Mismodification," a joint investigation effort that revealed scams that cost consumers millions of dollars in illegal fees and, in many cases, their homes.

The FTC, CFPB and prosecuting states allege firms used deceptive marketing tactics to lure distressed homeowners into their loan modification programs, where consumers were charged steep upfront and monthly fees for nonexistent relief. They also allege that after paying for the services, consumers often never heard from the firms again, leaving them worse off than they were when they started working with the companies.

Companies Allegedly Preyed on Desperate Homeowners: Companies are legally prohibited from taking payment before attaining a loan modification agreement with clients' lenders. In schemes dating back to 2011, possibly as far back as December 2010, companies charged hundreds, sometimes thousands, of dollars in upfront fees, in addition to monthly fees of about $500 for their allegedly false promises of loan modification and legal representation. The lawsuits claim consumers were told they could receive lower interest rates, lower mortgage payments and that foreclosure proceedings would stop. Such deceptive practices are illegal under the Dodd-Frank Wall Street Reform and Consumer Protection Act.

"They promised the homeowners that in exchange for an upfront fee they will obtain a loan modification or help avoid foreclosure by negotiating with the homeowner's lender," said Katie Fallow, FTC deputy director for consumer protection, in a media call announcing the actions. "They made the loss of people's homes even more likely by telling people to stop paying their mortgage."

Companies Under Fire: The CFPB names Clausen & Cobb Management Co., owners Alfred Clausen and Joshua Cobb, and Stephen Siringoringo and Siringoringo Law Firm as defendants in the first suit. The second is against The Mortgage Law Group, the Consumer First Legal Group and attorneys Thomas Macey, Jeffrey Aleman, Jason Searns and Harold Stafford. The third lawsuit includes the Hoffman Law Group, Michael Harper, Benn Wilcox, Marc Hoffman, and the group's affiliated companies: Nationwide Management Solutions, Legal Intake Solutions, File Intake Solutions and BM Marketing Group. Separately, the FTC filed six lawsuits against the following companies: Danielson Law Group, FMC Counseling Services, Lanier Law, Mortgage Relief Advocates, Home Relief Foundation and CD Capital Investments.

The CFPB, FTC and states bring these lawsuits with the intention of seeking restitution for the victims of the alleged scams.The three schemes being pursued by the CFPB apparently cost consumers more than $25 million in illegal fees. Meanwhile, consumers grapple with the weight of their financial losses.

Foreclosure and loan delinquency have seriously negative effects on one's credit standing, which can determine how much consumers pay in interest rates, utility deposits and insurance premiums. (To see how your mortgage affects your credit, you can get two free credit scores through Credit.com.)

In conjunction with the announcement of the enforcement actions, the CFPB published a consumer advisory listing signs of foreclosure relief scams, like demands for upfront payment and guarantees of loan modification.

Permalink | Email this | Comments

3 Splurges Worth the Expense When You're Selling Your Home


Filed under: News, Advice, Selling

By Neil Walton

You're ready to move, you list your house, it's sold. Simple right? Not so fast. Small things like dust and dark photos can make a big difference to the bottom line. To sell your house at top dollar, it's important to avoid cutting corners. These three purchases are worth making before you put your home on the market:


Neil Walton is the Managing Broker for 360dwellings Real Estate in Denver, Colorado with over 15 years experiencing in buying and selling personal residences.

Note: The views and opinions expressed in this article are those of the author and do not necessarily reflect the opinion or position of AOL.

Permalink | Email this | Comments

Mortgage Rates Steady, Little Changed in Latest Survey


Filed under: News, Buying, Financing, Refinancing
WASHINGTON -- Average U.S. long-term mortgage rates were stable to slightly higher this week, remaining near their lows for the year.

Mortgage company Freddie Mac said Thursday that the nationwide average for a 30-year loan was 4.13 percent, unchanged from last week. The average for the 15-year mortgage, a popular choice for people who are refinancing, edged up to 3.26 percent from 3.23 percent last week.

Mortgage rates are below the levels of a year ago, having fallen in recent weeks after climbing last summer when the Federal Reserve began talking about reducing the monthly bond purchases it was making to keep long-term rates low.

The government reported Thursday that sales of new homes in the U.S. plunged by 8.1 percent in June, a sign that real estate continues to be a weak spot in the economy. Home sales had been improving through mid-2013, only to stumble over the past 12 months due to a mix of rising prices, higher mortgage rates and meager wage growth.

At 4.13 percent, the rate on a 30-year mortgage is down from 4.53 percent at the start of the year. Rates have fallen even though the Fed has been trimming its monthly bond purchases. Fed Chair Janet Yellen told Congress last week that the purchases likely will end completely at the end of October.

But at the same time, Yellen said during congressional testimony that the Fed still sees the need to keep its benchmark short-term rate at a record low near zero to give the economy support.

To calculate average mortgage rates, Freddie Mac surveys lenders across the country between Monday and Wednesday each week. The average doesn't include extra fees, known as points, which most borrowers must pay to get the lowest rates. One point equals 1 percent of the loan amount.
The average fee for a 30-year mortgage was 0.6 point, unchanged from last week. The fee for a 15-year mortgage rose to 0.6 point from 0.5 point last week.
The average rate on a five-year adjustable-rate mortgage increased to 2.99 percent from 2.97 percent. The fee rose to 0.5 point from 0.4 point.
For a one-year ARM, the average rate was unchanged at 2.39 percent. The fee held at 0.4 point.
Permalink | Email this | Comments
Why Your Mortgage Might Cost More Than You Expect

Filed under: News, Buying, Financing, Credit
By Scott Sheldon

Applying for a mortgage? Do your fees and rates appear to be a little higher than what you see advertised? If yes, there could be several key factors driving up the cost of your mortgage that you may not know about. These additional mortgage-pricing factors can make your mortgage cost more. Don't be fooled by a lower-priced mortgage offer if your financial picture contains any of these key cost-drivers.

1. Credit Score: Most lenders have a credit threshold of 740 or above. If the middle of the three credit scores the lender pulls is under 740 -- even if it's 739 -- you could be paying slightly more in terms of interest rate and/or associated costs with your new mortgage application. If you attempt to raise your score by opening up new credit or paying off debts, it may or may not help you, depending on your credit history. (Besides, opening new lines of credit too soon before you buy can be seen as a red flag by

If a lender requires a pay stub or a bank statement, get it to them quickly.

lenders, which can hurt your chances of getting a mortgage.) Sometimes your best score is a byproduct of how you've managed your liabilities over time.

2. Equity: This one is a biggie, particularly with conventional mortgages, loans not insured by the Federal Housing Administration, U.S. Department of Agriculture or U.S. Department of Veterans Affairs. The cream of the crop conventional loans can become very pricey if you have less than 25 percent equity and a low credit score, particularly if your score is under 700.

3. Occupancy: If you are financing a property that is not your primary residence, such as an income property/investment property, expect to pay more right out of the gate no matter what your loan-to-value or your credit score. It's not uncommon to see as much as .375 percent higher in rate for income property financing combined with these other risk factors.

4. Loan Size: Let's say you have great credit -- say 740 or above -- and you take out a $160,000 loan on a primary home with 25 percent down. Believe it or not, a loan amount of $200,000 with the same factors will be more competitively priced. Contrary to popular belief, mortgage giants Fannie Mae and Freddie Mac have an appetite for bigger mortgages -- usually at $170,000 or more -- than they do for loans under $170,000. Therefore, Fannie and Freddie price these smaller loans slightly higher, as the interest they collect on monthly payments is below their margins.

5. Co-Signer: Freddie Mac loans are the only loans on the conventional side (non-government) that allow for the use of a co-signer or even a non-occupying co-borrower to help offset a mortgage payment. Freddie Mac inherently prices its loans a bit higher than Fannie Mae loans, but offer this loophole.

6. Time Frame Delays: An interest rate lock extension, if not handled in a timely manner, can be a strong driver of cost. Interest rate lock extension fees can be as high as .375 percent of the loan amount. For a $400,000 loan that's an additional $1,500 for an extra 30-day period of time, while you can expect half that amount for a shorter delay. Lock extensions typically can be for 15 days, or 30 days with most lenders. Want to avoid a time frame delay? If a lender requires a pay stub or a bank statement, get it to them quickly.

How to Reduce Your Rates & Fees: The following scenarios will always yield the best possible combination of rate and fees.

Middle FICO score: 740 or higher -- Lenders consider this the ideal credit score range

LTV (Loan-To-Value): 70 percent or lower -- Equity and/or down payment at 30 percent yields substantially reduced pricing adjustments to rate and fees

Occupancy: Primary residence -- Owner-occupied and second home transactions are the lowest cost mortgage types available. A second home is also classified as a vacation home.

Loan amount: Up to $417,000 -- Using the traditional conforming loan limit at $417,000 in most geographic areas

Lock Period: 30 Days -- Closing escrow within a month. Proactively providing to the lender any documents they may need during the process quickly will keep your rate and fees low.

A 15-day rate lock does have a lower price than a 30-day rate lock because of the time value of money. The longer the holding on that coupon, the more opportunity the market has to change, creating interest rate risk to the lender. By sharing some of that risk with the lender, a savvy consumer may be able to grind out a lower-priced loan.

Ideally, the two biggest factors to pay attention to in reducing your mortgage rates and fees is cash and credit. First, with managing your credit, a qualified mortgage professional with experience should be able to help you manage your liabilities in order to reduce your mortgage costs. Perhaps, it might mean paying off in full or paying down credit cards or even opening up new credit. Also, it helps to get familiar with your credit far in advance of applying for a mortgage - six months or even longer - to give you enough time to address any potential problems. Start by checking your credit reports for any issues, as well as your credit scores. You can check your credit reports for free once a year, and you can check two of your credit scores for free on Credit.com every month.

Secondly, cash is still king. If you have an interest rate and loan program that is not necessarily ideal, getting a larger down payment together so you have an appropriate loan-to-value can easily shave off thousands of dollars in unnecessary interest over the life of your loan.

Finally, a smart consumer should seek to work with an experienced mortgage professional who can proactively help them manage their credit and finances while ultimately reducing mortgage costs.

Permalink | Email this | Comments

New Home Sales Post Biggest Drop in Nearly a Year


Filed under: News, Buying, Economy, Selling
By Lucia Mutikani

WASHINGTON -- Sales of new U.S. single-family homes fell sharply in June and the prior month's data was revised to show less robust growth, suggesting the housing market would struggle to regain momentum.

The Commerce Department said Thursday that sales dropped 8.1 percent, the largest decline since July 2013, to a seasonally adjusted annual rate of 406,000 units.

May's sales pace was revised to 442,000 units from the previously reported 504,000 units.

Economists polled by Reuters had forecast new home sales at a 479,000-unit pace last month. Compared to June of last year, sales were down 11.5 percent.

A run-up in mortgage rates, as well as a shortage of properties for sale, pressured home sales late last year, raising concerns that a weak housing market could undercut economic growth.

Though housing appears to be on the mend with mortgage rates well off their September peak and job growth gathering momentum, the sector will probably continue to lag the overall economy.

Last month, new home sales fell in all four regions, declining by 20 percent in the Northeast.

The inventory of new houses on the market rose 3.1 percent to 197,000 units, the highest number since October 2010. At June's sales pace it would take 5.8 months to clear the supply of houses on the market, the highest since October 2011.



Permalink | Email this | Comments

For Sale: Puddle of Mudd Singer's Home -- With Pool of Algae


Filed under: News, Buying, Celebrity Homes, Selling
Puddle of Mudd frontman Wes Scantlin is looking to unload his rundown West Hollywood pad at a loss of about $200,000. Scantlin purchased the home in 2005 for $1.7 million, right around the height of his career, and seems to have since partied himself out of the three-bedroom, four-bath, 2,350-square-foot home. He's seeking a buyer to give the place some tender love and care for the smaller price tag of just $1,499,000.

There are few pictures to show of Scantlin's property -- and that's not a good sign. With the pool looking like a puddle of algae, it might be no wonder the home has lost some value since its initial purchase about 10 years ago. However, between having epic on-stage meltdowns and being arrested multiple times, maintaining a million-dollar property may be the last thing on this bad boy rockstar's mind.

Nevertheless, the show must go on. According to the listing, the home is "in good condition with great bones." Renovated in 2009, the contemporary home is in a prime Hollywood location as it sits perched up on the Hollywood Hills right above the Sunset Strip. Walls of glass line the living and dining area and offer stunning city and ocean views. The exterior is surrounded by trees and shrubs, giving the pool and patio ultimate privacy.



Permalink | Email this | Comments

Top Designers' Tips on Creating the Perfect Color Scheme

Color has the ability to instantly transform the entire personality of a room. It's the reason designers spend so much time flipping through paint wheels and swatch books. Pinpointing the perfect hue and finding the right combination can be tricky, but when you nail the ideal palette, the results are guaranteed to be dazzling. AD asked some of the top talents in design to share their personal tips for mastering the art of color-from deploying punchy brights to creating golden glows.

Click to read what designers such as Bunny Williams and Miles Redd had to say.


See the full slideshow at ArchDigest.com

More From Architectural Digest:
Radical Houses Around the World

Permalink | Email this | Comments

For Sale: Leona Helmsley's Summer Home


Filed under: News, Celebrity Homes, Selling
By Emily Heffter

The Greenwich, Connecticut, summer home where hotelier Leona Helmsley died has been completely renovated and is back on the market for $65 million. The mansion was at the center of the tax evasion scheme that landed Helmsley in jail in the 1990s. The case took Helmsley and her husband, Harry, from glamorous to notorious as the case played out in the press. Helmsley was dubbed the "Queen of Mean" and famously was quoted as saying that "only the little people pay taxes."

The billionaire couple were indicted for claiming as business expenses things they purchased for the 17,493-square-foot brick estate, which sits on 40 acres on Round Road, one of the most famous parts of Greenwich. Among the luxuries they added to the home: a marble dance floor above the swimming pool, a $45,000 silver clock and $500,000 worth of jade art objects, according to The New York Times.

After Helmsley's death, her Greenwich estate was originally listed for $123 million, but several price cuts led to its eventual sale to the current owners, for $35 million. They listed it soon after buying it, for $42.9 million, then took it off the market and set to work renovating the 1918 estate from top to bottom.


They tore some of it down (the home is 3,000 square feet smaller than it was when they bought it) and modernized it considerably. They also restored original teak floors and limestone walls and fireplaces, and added new technology, appliances and equipment.

The tile roof was removed, restored and put back on.

The estate has views of the Long Island Sound and luxurious touches such as the freestanding, oversized bathtub in the master bathroom. The listing is held by Jane Howard Basham of David Ogilvy & Associates, part of Christie's International Real Estate.

Read | Permalink | Email this | Comments

Viewpoint: How to Make Mortgage Interest Deduction More Fair


Filed under: News, Buying, Economy, Home Equity
By Bonnie Lee

One of the most lucrative tax deductions for homeowners is the mortgage interest deduction. The deduction is the government's way of incentivizing people to become home owners by offering a significant tax break. While effective, it's inherently unfair.

Those who can afford to buy a home are rewarded with a reduced tax liability thanks not just to the mortgage interest deduction, but also the deduction of property tax payments. The ability to take advantage of these deductions opens up the entire Schedule A Itemized Deductions that often leads to

"The upwardly middle-class, aged 25-35, who have not yet reached their peak earning years, with no home, no kids, are the ones who receive no benefit from the existing tax code."

substantial deductions for things like: charitable contributions, medical expenses, vehicle registrationfees and state income taxes paid, just to name a few. This benefit enables taxpayers to often double, triple and even quadruple the amount of the standard deduction taken by taxpayers who don't own homes.

The less fortunate don't miss out completely. The Earned Income Credit, which can refund as much as $5,666 with three qualifying children, can bring significant tax benefits for low income individuals and families. Taxpayers with dependent children receive extra dependency exemptions: the child tax credit, dependent care credit, additional child tax credit and tax credits for post-secondary education costs, to name a few.

The very wealthy or the elderly on fixed incomes may have paid off their homes and aren't eligible for the mortgage interest deduction. However, they tend to enjoy lower tax rates for capital gains income from their investments. There seems to be a little bit of something for everyone.

Not necessarily. I can easily construct a situation in which a taxpayer essentially enjoys no tax benefits whatsoever. How about the single individual or possibly a married couple without children, who make just enough to make ends meet but still cannot save to buy a house? Or possibly, they prefer renting to the onerous commitment of home ownership. There doesn't appear to be any tax breaks for them.

Jason Fichtner, senior research fellow at the Mercatus Center at George Mason University agrees. "The upwardly middle-class, aged 25-35, who have not yet reached their peak earning years, with no home, no kids, are the ones who receive no benefit from the existing tax code."

Fichtner along with research analyst Jacob Feldman have written a paper, "Reforming the Mortgage Interest Deduction," proposing the replacement of the mortgage interest deduction with a fixed $900 tax credit for all taxpayers with a mortgage. Fichtner states, "It would be revenue neutral and would encourage homeownership without encouraging greater debt-financing by home purchasers."

According to the report, in 1986 when the deduction for consumer debt was repealed, taxpayers began to shun credit card debt in favor of increasing debt secured by their personal residences.

Fichtner is also in favor of the Tax Reform Act of 2014 by House Ways and Means Chairman David Camp (R-Mich.), which would repeal the mortgage deduction and replace it with a higher standard deduction.
The move would level the playing field and not favor homeowners over renters. But like all major tax reform proposed during the last 20 years, it sits on the shelf, waiting for a Congress to take action. "It won't happen this year," Fichtner says. "It's an election year and no one wants to stick his neck out."

Well, there's always next year. One can hope.

Note: The views and opinions expressed in this article are those of the author and do not necessarily reflect the opinion or position of AOL.

Bonnie Lee is an Enrolled Agent admitted to practice and representing taxpayers in all 50 states at all levels within the Internal Revenue Service. She is the owner of Taxpertise in Sonoma, Calif., and the author of Entrepreneur Press book, Taxpertise, The Complete Book of Dirty Little Secrets and Hidden Deductions for Small Business that the IRS Doesn't Want You to Know. Her new e-book Taxpertise for the Creative Mind Murder, Mayem, Romance, Comedy and Tax Tips for Artists of all Kinds is available at all major booksellers. Follow Bonnie Lee on Twitter at BLTaxpertise and at Facebook.